What makes your assistants valuable to you? Intriguing answers from Head Coaches!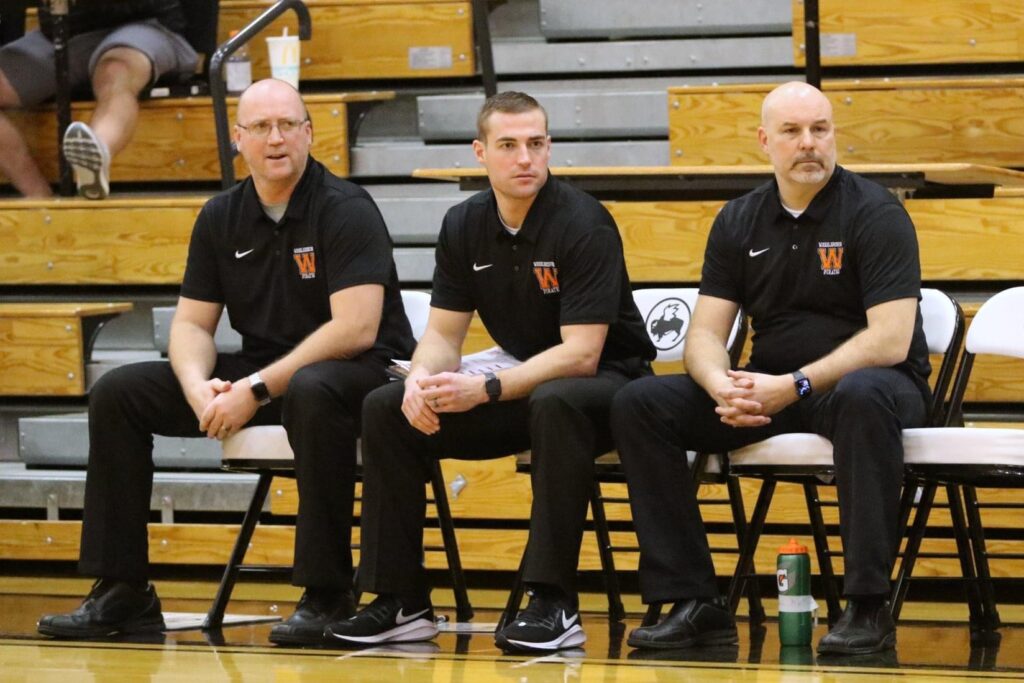 A major piece of my newest book. The Head Coach Blueprint, was interview nearly 500 Head Coaches from all over America.  I asked them each Head Coach SEVENTY SEVEN questions!  This book will be jam-packed with authentic information from real coaches just like you!  It will truly serve as a "Comprehensive gameplan for coaches to become Head Coaches."   Nobody has ever done research like this, I can guarantee you that!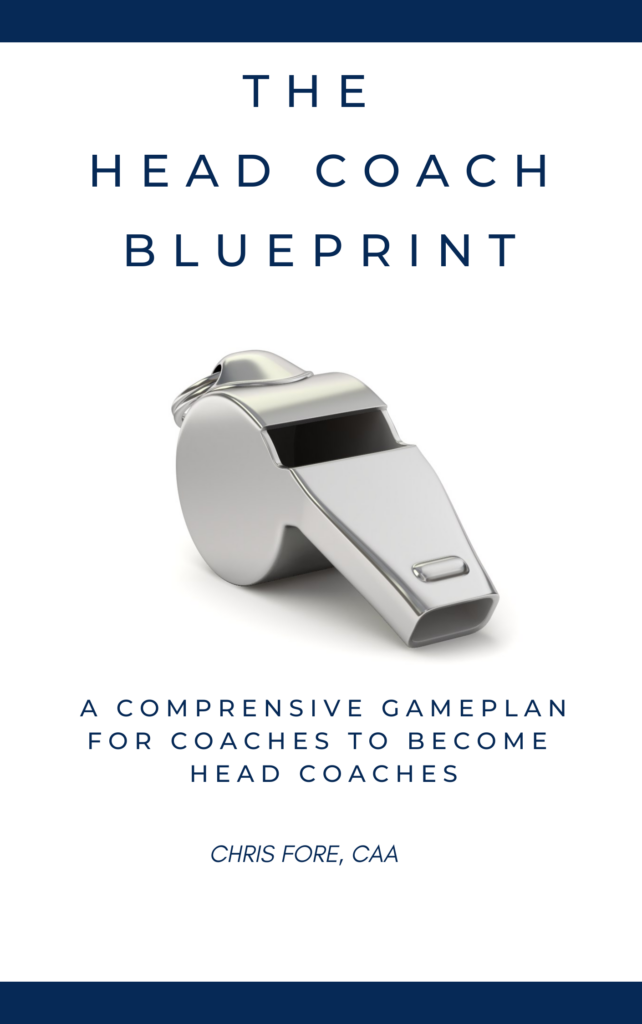 One question that I asked nearly 500 Head Coaches was "What makes your assistants valuable to you?"
Here are there totally unedited answers!  Enjoy!
💯 support my mission and vision
1. Being able to teach the players well
2. Building on the culture of the team
3. Caring about the experience for every player
4. Keeping me accountable that every kid gets some sort of playing time
1) A get it done mentality. Find work…no job is too small or big
2) Love the kids, more than just football
3) Ego is in check. We won't use all your suggestions, don't get sensitive
4) Be prepared
Ability to build our culture and buy in to the direction we are moving
Ability to communicate, follow direction but be creative
Ability to form closer relationships with position group. Different perspectives on issues.
Ability to handle their position groups.
Ability to make suggestions in the game plan but not feel hurt when their suggestions are not used. Ability to build camaraderie within their position group. Ability to plan practice segments for their position group.
Ability to relate to the players, have a positive relationship and run effective periods with their group. Collaboration as well with the staff and giving input as well as helping out with the game planning and non football related items.
Ability to teach and connect with players, willingly taking on administrative duties
Ability to teach their position. Need to be guys of high character that will relate well to boys.
Accountability and commitment
Accountability and trust
Acts of service. Helping with all things behind the scenes
All my coaches were given the freedom to coach their groups and for the most part did a great job.
Allow me to be able to spend time with multiple groups every day.
Allows me to delegate responsibility and brainstorm on draw with
Always looking for what they can do to move the team. Even when it isn't glamorous.
Any chance they can help to take something off a HC plate is a bonus whether that be helping lead the team warm up everyday to helping get a water cooler ready for team dinner.
Appreciate them spending their time
Assistance will probably know the kids more and their abilities and they also are there to coach the kids specifically on the position group
Assistant are like the lifeline to your players. They develop really close relationships with them and know a lot of things going on personally with kids. They are the eyes and ears on the ground. As the HC you got so many things on your plate and it is difficult to develop those close relationships with all of your student athletes .
Assistants are the heart and soul of your program. They are the ones that make deep personnel connections with your student athletes , the have a good pulse on how they are feeling, and are ambassadors of the program. Treat em right .. plenty of food and gear ..
Assistants are the most important part. You are only as good as your assistant coach Ed. They teach you're plan to the players they carry out the plan and teach the culture and make sure the plan is followed and executed.
Assistants are what makes a program work. They are the most hands on coaches in terms of working with players. Oftentimes, they are far more tuned into the mood of a team than anyone.
Assistants are who the players spend the most time with. Their influence on the students is so important. They teach the basics, that if not learned, we wouldn't be able to function properly when we come together as a team.
Assistants need to love kids, be relationship builders and have no ego and willing to do whatever the program needs.
Assistants play a major role. You need guys that you can trust and are willing to put the time in. My goal was to always get them thinking and to prepare them to be coordinators some day.
Assistants that "Paul Revere" each other. Coaches that promote their colleagues when they get a chance to tell kids how lucky they are to be coached by their position coach etc. Assistants that will confront and demand the standards of our program are worth every penny. Coaches that can teach and develop relationships with kids are important too. I value all of these types of traits or knowledge of ball. We will get you up to speed there. If you are growth minded and strive to be the best, success is a byproduct.
Assistants that are willing to do what's best for the team and not what's best for them. I need a coach that understands my expectations and willing to uphold our program philosophies/goals.
Assistants that truly care about the kids and believes in the system while working selflessly.
Attendance is most important to me. Building relationships is a close second followed by coaching ability.
Be you! Don't be a mini-me!
Being a good soldier. Not counting the hours. Ready for any challenges.
Being able to do a job to make the head coaches job easier even without asking
Being able to support the program in the community and preventing negative talk.
Being able trust that they can teach.
Being kids-first coaches who are there to help our guys grow as young men, and being willing to work and learn to become good position coaches.
Being on the same page
Being prepared
Believe in the vision you have for the program.
Bring ideas, loyal, willing to help
Building the close relationships they can build with their position players
Buy in and work ethic
Buy into & push the philosophy of the HC.
Can't do anything alone.
We're all in this together
Can't do it alone. Different personalities attract different kids. Building relationships is crucial. Also must have to coach the details.
Can't do any of this without the
Can't do it without them.
Can't reach potential unless everyone is on the same page and working hard to move up
Carrying out the vision of the program
Character. Capability. Competence.
Commitment, coaching/interpersonal skills, energy/enthusiasm, technical knowledge
Connection with players, willing to invest time in their own development
Consistency
Consistent, reliable, punctual, great attitude and effort to coach players to the best of their ability
Coomunication, give feedback, see the vision of the program
Courage to step up, take responsibility.
Dedicated people who place the athlete's growth before performance.
Delegating, relationships, work hard
Delegation
Dependable and good with kids
Dependable. Not going to create more issues for me.
Desire to learn and help kids
Different age, knowledge of positions, eagerness to learn if young assistant.
Different perspectives, things they may bring to the table
Different styles reach different kids and it takes a village.
Doing their duties but helping out others when needed
Energy, ability to connect with kids
Especially in FB, you have to trust that your assistants uphold the values of your program and can get their job done. Good assistants are essential. They don't have to be the most knowledgeable FB people, but they have to be willing work and be able to build relationships.
Every coach has a place and is a part of the success of a team.
every ounce and inch of planning, support and interaction becomes valuable to the bigger picture.
Everything. They make the football portion go
Extension of me as the HC but with their own flavor.
Extension of the positivity I'm trying to cultivate in my program. They have the pulse of their position groups and provide valuable feedback.
Extremely valuable
Frankly, a good assistant makes my job easier. I can come to them for input and I trust they can bring valuable knowledge to the table.
Freedom to focus on everything not just a few things
Freeing up the HC for program management and administration.
Getting their ideas and thoughts on how to build a model program. Making them partners in our program.
Good assistants help grow the program.
Good men. Know their craft.
Good with kids.
Good people
Good teachers and communicators who care about kids
Good with kids dependable
Great teachers; tremendous role model to the players; loyalty; energy
Great with kids, learners, confidence to express ideas, willing to put in work
Guys that are willing to buy into our systems. Some have massive egos and think they know everything and you can't get through to them. The kids see it.
Guys who were excited to work with and better kids and not worry about reliving their glory days. Kids dont care that you were all conference in 1998.
Handling problems before they come to me.
Hard working
hard working, not having to explain a bunch of stuff over and over "the ability to FIFO"
Having same program vision, being relatable
Help with the day to day
Helping to game plan and gathering ideas
Honesty and loyalty.
How prepared they are, how good they are with the kids. How aligned they are with the philosophy of the program.
How they buy into my vision and drive it
I can trust them to do their jobs correctly and they take initiative
I can trust them to doing the right thing when I'm not watching
I delegate better than when I was younger and they are invaluable to our program.
I have a tremendous staff who works their tails off. They develop relationships with our players and are incredible roll models for them. They could run the program without me with no trouble.
I have been fortunate to hire great coaches who appreciate that me and our coordinators do not micro manage them. This results in a high level of commitment and a willingness to work and take ownership over their positions. I appreciate their initiative and ownership of their roles.
I like GSD Guys (Get Shit Done) no task too big or too small.
I need loyal coaches who can relate to our players and get them ready to play.
I only had one and he was the AD
I think just in general, I've found that having a variety of perspectives and backgrounds hold true value in a staff. I truly believe that having someone from the medical profession has helped me greatly in years past!
I trust them to take care of my student-athletes and trust them to check grades, check on well being and to watch film and carry out our policies. If they can't do that they can't be assistant coaches for us.
I want assistants who will hold their players accountable and help implement the culture that we want.
Ideas, creativity, and relationships with the players
If they are good, they take a lot off your plate. It helps you be better at your job.
Also, I love guys who are good role models and people that my athletes can look up to.
Initiative. Buying into the program philosophy.
Input and its all about the program
Insight. What are they seeing. Relationships: who needs a
Something. Who has their feelings hurt and why?
Investment
It's
The only way you can be successful! You need those assistants to not only be good at ball but accepting of your image for the program.
Knowing I don't have to coach anything
Knowing our schemes, loving our players. Being good people.
Knowing that they're there for the right reasons
Knowledge of the game
Knowledge, do the kids respect them.
Knowledge, loyalty, experience, honesty.
Knowledgeable about their position. Able to communicate what we are try to accomplish. Get to know their kids.
Leading meetings, scouting, handling gear, running the weight room.
Letting them coach and not micro manage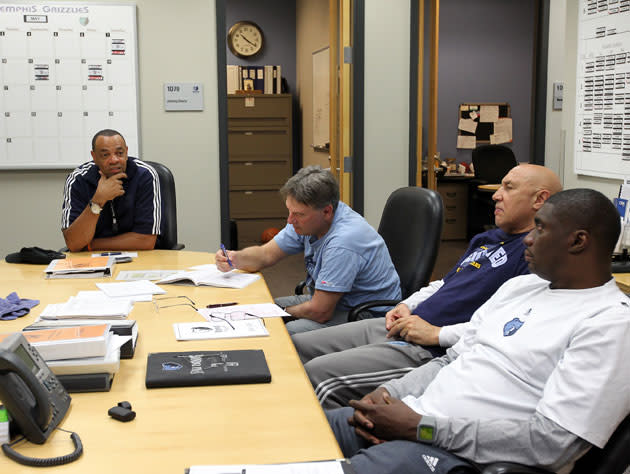 Letting them develop and be an extension of me rather than a threat
Longevity, cohesion
Loyal
Loyal
Loyal
Hard working
Willing to do whatever is needed to make the program better Willing to learn
Loyal and accountable and communicate well
Loyal and accountable. I trust them and can always count on them to do their job to the best of their ability. They must be kid magnets!
Loyal and committed and so the job asked of them
Loyal and passionate
Loyal and smart, great teachers
Loyal to me and the team. Willing to go the extra mile. Willing to take on responsibilities.
Loyal to the vision of the program, & genuinely care about guiding young men to lead better lives through caring relationships.
Loyal with a sensitivity to the players struggles.
Loyal; player-first; shared vision
Loyal. Willing to learn. Open to being coached
Loyalty
Loyalty
Loyalty
Loyalty
Loyalty
Loyalty
Loyalty
Loyalty
Loyalty , doing the little things correctly
Loyalty & no egos.
loyalty and commitment
Loyalty and energy
Loyalty and good with kids
Loyalty and hard work. Show up on time and work for the kids
Loyalty and time spent in our program.
Loyalty and trustworthiness
Loyalty and work ethic are invaluable in assistant coaches. Having people you can trust and who will work hard contributes greatly to a winning program. I struggled to find enough assistant coaches who could devote the necessary time to building a strong program. Having assistants who care about kids, are knowledgeable about the fundamentals of the game or are willing to learn, and understand the tough time commitments in high school football is vital.
Loyalty over anything
Loyalty to the program and being able to connect with the kids.
Loyalty, ability to teach
Loyalty, consistency, team & solution oriented. Great role models for the players. Reflective in their professional development. Enthusiastic & engaged with the players.
Loyalty, flexibility, willingness to commit time
Loyalty, focused on same Mission statement and belief in our culture.
Loyalty, great with kids, excited to work everyday
Loyalty, hardworking, professional and caring for the kids / program.
Loyalty, loyalty, trustworthy, not afraid to work
Loyalty, making connections with the players they coach
loyalty, not yes men! ( people) Tell me the truth, but total support for decisions made.
Loyalty. Commitment.
Loyalty. Dependability. The mentality they are head coaches at their position groups.
Loyalty. They help make sure your vision is being preached and achieved.
Loyalty. You have to get people you trust. Better to coach up loyal coaches than someone who knows slot but you can't trust
Management, knowledge and common goals of passion for students and football
More than I thought before becoming a HC. The level to which they are committed and bought in will often mirror your teams' success.
More time for me to focus on my side of the ball.
Motivation and knowledge
Motivation and skill development
My assistants are the most important part of our program. They handle much of the unseen jobs on the practice field and in the classroom. They spend more
Time individually with the players than I do, so their communication is what ultimately creates the culture.
My assistants were my voice to the players. When the kids hear the same voice from top to bottom, they know what to expect. This helps everyone stay on the same page.
Nothing more valuable than good coaches
Off field responsibilities
Own their position group. Hold them accountable on and off the field. Be fundamentally sound on the field .
positional awareness, teaching ability and mentorship
Practice reps. Game plans are made together and a different perspective
Pride in their work
Proactive. Willing to not be afraid to make suggestions. And is ok if they are or not taken.
Program first. Protect the programs values and head coach. Have to be great people and mentors. I can teach to coach.
Relatability and efficiency
Relate to kids, teach fundamentals, loyal
Relationships with players and willingness to do things that have to be done to make a program successful (paint the fields, equipment, etc).
relationships with the players. add value to game planning and play book. not have an ego and be a team worker
Relationships, loyalty, capable of being coached and owning their role
Reliability and competency.
reliability is most important. Everything else is a distant 2nd
Role models and energy
See above answers with coordinators. Good assistants have a finger on the pulse of the kids where the head coach may not. They have to be relational guys. They have to love the kids and the game. If they can get the trust of the boys, they boys will run through the wall for them. I also need loyalty out of my assistants. Do they have the program's back when destructive outside forces are trying to tear it apart.
Self determination, ownership, love for our players. I expect them to go above and beyond to learn more about our philosophy & schemes, practice organization, effective use of time in practice, and doing their job during games, not simply watching the game.
Sharing responsibility. Friendship. Bringing ideas and problem solving ability to the staff.
Sounding board
Sounding boards
Staff is so important! You need Football guys. Not coaches who are collecting a check.
support the vision
Take things off my plate
Taking direction and delegation & ability to complete tasks assigned, but also work independently to make decisions on the fly.
Taking initiative
That answer is different now than it was back the. Now I need them to know their guys and how they tick. Then I just wanted someone who could teach em what I wanted them to know.
That I can trust then to develop the fundamentals of their positions and make the right choice on the best players for their positions
That they are doers and dazzlers. Close knit and supportive.
That they can coach and build relationships with their groups in accordance with our team mission and vision
That they cared about our players as people not just as athletes.
That they're good coaches that can do their job without have "their hand held"
That trust them to do their job, that they are in it for their players and that they are prepared.
The ability to connect and mentor kids. The desire and hunger to learn.
THE ABILITY TO CULITIVATE RELATIONSHIPS (PLAYERS & STAFF) AND GROW WITHIN TEH PROFESSION
The ability to delegate
The ability to divide up work and for them to make individual connections with players in a big program.
The ability to teach detail
The ability to teach whole dividing and conquering
The amount of time and energy they put into our kids. They truly care about them.
The are solely responsible for getting their position ready to perform necessary skills of their position
The are teaching their groups what I want done.
The connections they have to the players. Truly, ANYONE can blow a whistle and run drills, and most of us can figure out pretty quickly who our best athletes are at each position. You need to use those guys to make sure that the players in their position group feel like they're wanted and loved
The connections they have with the players and the knowledge they bring with them.
The input they gave me
The kind of people they are
The most valuable people in the program as they are the people who actually convey/teach a lot the philosophical views of your program. As for being valuable, those who just take the initiative and get things done. You inform all of what must be done and they just get it done without having to be micromanaged. Self-starters and those with a lunch bucket mentality are worth their weight in gold. The true backbone of any program.
The REAL football coaches. Assistants in our program were responsible for all the little tasks; equipment manager, field setup, etc…they are the real guys that make things happen
The relationships they build with their group of kids and how active they are in the school and the local community. I don't hire guys that only show up on Friday nights.
The time and effort they put in to loving and caring for our players
The trust they have in our mission and objective to build young men and future leaders.
The willingness to do anything to help the team. This includes extra work (non-football stuff) and coaching up the youngsters.
The willingness to do whatever is needed for the program. Loyalty and being on the same page. I want coaches who will bring ideas to the table, but be a united front in front of the team and in the community.
The willingness to work and do jobs that necessary
The work, time and relationship building they are willing to put in.
Their ability to build great relationships with our players.
Their ability to complete the tasks that were assigned to them.
Their ability to do jobs better than I can do
Their ability to help players in a way that a HC can't.
Their ability to stay true to their values and give me input regardless of how I may feel
Their ability to take on roles that make being a head coach easier, have to delegate.
Their belief in my vision and what Ibwant done for the program.
Their bought in
Their commitment to the players and their ability to impact the athletes in a positive way.
Their commitment to the program and willingness to commit to the mission of the program
Their connections with athletes and willingness to work.
Their dedication to my players and their ability to make changes and understand our players
Their insight and dedication
their knowledge and input
Their knowledge of the sport & locality
Their loyalty but not always agreeing with me
Their passion for what they do
Their presence and relationships with players make my job easier.
Their relationships with their groups.
Their time in preperation
Their willingness to do why I ask of them. They break down film, wash uniforms, set up equipment, etc.
Their willingness to learn and help build our culture.
Their willingness to take work off of my plate – to share the load.
There are several things that make an assistant coach valuable. In no particular order:
– They are positive role models for the players
– They share my vision and beliefs on how to make the program and players successful, even if they communicate their message in their own unique way.
– They understand their role(s) on the staff and execute their responsibilities consistently in accordance with my expectations.
– They are prepared every day for practice
– They are good problem solvers
– They have a tremendous enthusiasm for both the game and the kids
– They can find creative ways to help the players improve and grow their confidence
– They stay connected with the players year round, not just in season
There for the kids first and understanding it's not all about winning
There is no small job. All tasks getting done with detail and on-time is critical to the whole operation.
They ALL are like Family to me. I need them to teach and represent our Standards of our Program.
They all have different personalities so our kids can relate to at least one of them and build relationships from there.
They all have the freedom to speak their minds to me. This brings tough conversations sometimes, but it brings buy in and a feeling of ownership.
They are able and willing to carry out the game plan in practice and can be trusted with daily operation tasks to make the program run smoothly.
They are amazing men that take their jobs very seriously. Most of all, they are my friends and they care for me. They are able to help in times of need.
They are an extension of myself and out culture! They implement our culture at the ground level.
They are an extension of myself, and can effectively teach our scheme while maintaining strong relationships with the student-athletes. They are dedicated to the overall success of the team.
They are comfortable telling me no and putting their own two cents in.
They are critical. They make or break your program.
They are everything to me. I am the head of the ship but the ship doesn't work and can't operate with the assistants taking on the daily needed tasks of commanding the ship. They are the other officers within the squad
They are extensions of you – but with their own unique abilities to connect and teach the players.
They are extensions of you and the program
They are great relationship guys, they are great drill coaches. They know how to "coach them up."
They are great teachers and love the kids
They are in charge of their position and they help decide what we will do
They are just good people and great for our kids.
They are like my extended family and best friends in the world
They are loyal, reliable, and can deal with problems, not just pass them on to me.
They are my eyes and ears, my sergeants in arms, my brothers!
They are my friends and they are everything to our kids. We are nothing with all of them.
They are the backbone of any program, they do a great job of the day to day implementation of techniques, scheme and developing relationships with their players.
They are the backbone of what we are doing on O and D. The fundamentals are coached and techniques are taught.
They are the boots on the ground of our program.
They are the boots on the ground. Lots of great information can be received about the team.
They are the engine that makes the car go. We cannot drive towards our team goals and mission without them embracing their roles and pouring into the kids.
They are the foot soldiers and without them we would not have a program.
They are the heart of the program.
They are the most important people to the program.
They are the relationship builders. If your culture is going to succeed it is because your assistants establish it.
They are the spokes on the wheel. They make the team turn.
They are the the bridge to the players. They are the ones that work to instal and perfect our team on and off the field.
They are who the kids go to with issues. Has to be trust
They are willing to help out whenever.
They bring knowledge. I also want them to be sounding boards and not yes men. More hands make the job easier than one person doing everything
They build
Positive relationships with players, teach technique, and stand behind my decisions at all times. And they are reliable!
They buy in to the program and promote it in every aspect of what we do. I want to trust they know what the expectation is for them and their position group, and that they are carrying out those duties without me having to hover around. I loved seeing the assistants build relationships with their position players and watching that build over the course of the year. If a rapport and relationship didn't seem to build within the group it raises some red flags.
They can all bring value to an area where you may not be as experienced at, need to be good teachers and can recruit student athletes.
They care about the players and are prepared to learn. I like to give them as much responsibility as they are ready to take on.
They carry the program.
They cover the areas of my weaknesses.
They did things before being told and solved problems before they got to me.
They do all the little things while I'm buried with paperwork
They give me feedback and hold their positions accountable. The great assistants hold their positions accountable in and out of season. A valuable assistant also communicates about everything.
They give up their time to help kids. It is not about money. They are their to help kids. Nothing more valuable than that. Any person to put forth that much effort deserves to be valued.
They have a servant mentality.
They have the feel for their group of kids
They have the heartbeat of each of their individual position groups. They recruit the kids in our Program every day and they present fresh ideas schematically and culturally with firsthand insight I can't get as Head Coach.
They have to be kid guys. If a kid hates you, they won't play hard for you. I'd rather have someone who wasn't as great scheme wise but was a great kid guy because they'll run through a wall for you if they know you care about them.
They help keep the ship sailing. They make the job easier. It's like co-parenting.
They help run the program and divide the work load
They help with coordinators to run our program based on the values and vision we established
They look for things to be done and do them. Self starters
They make sure fundamentals are taught daily
They make the machine go. Without them it would be really hard to be successful.
They must add value
They must do their part for the engine to run.
They must have rapport the the players. They are the glue that sells/reinforces/enhances everything we do as a program.
They need to be great role models and be willing to take on responsibilities.
They need to implement the system so we can execute it.
They share the program's vision, create positive relationships with student-athletes, teach our fundamentals and techniques, and re-enforce our schemes and values.
They take care of their position
They teach their position, they help out in the off season, they are sounding boards, and are able to help, and not give suggestions
They understand how to accomplish the program goals and get the best from players
They're a group of men who truly understand the life we live as coaches
They're not egotistical. Especially in the sense that there's no task that's too small
They're the most important part of the program.
Thirst for knowledge and willingness to work hard everyday.
Time
Time and effort to improve the team
Time invested like me. Relationship -driven too
To be able to find guys that will grind with you. Do the little things. Manage their groups of athletes, and build into them the same way I build into the program. Guys willing to leave their ego at the door.
Trust
Trust
Trust
Trust
Trust and loyalty
trust and performance
Trust and willingness to anticipate needs of the program.
Trust in delegation.
Trust loyalty
Trust that they're professional in their job.
Trust.
Trust. That's it I want to know that in the heck heat of the moment and when things are going bad I can trust him to put the program before any self interest
Ultimately, and despite how good of a coach they are, I want assistants who are men of great character. If the guy is a good person who wants to coach for the right reasons it is my responsibility as the head coach to coach up my assistants in order for them to teach our players how to play football. Someone can be a good coach but if they are not a good person they can go coach with someone else.
Understand and implement the philosophy of our program.
Understanding that I value their. Loyalty and that they must be good teacher.
Understanding that they spread the same message as me. Those assistants that are willing to take on extra work and put in extra time are always invaluable.
Understanding the vision and executing it as a unit.
Understanding what the HC is trying to accomplish by having patients with and empathy for the HC. I like ACs who are NOT "yes men".
Unified
Want responsibility, good with kids, spend the time, loyal
We aren't only co-workers, we are friends. Each of them understand the culture of our school and they care about our players.
We decide their role and responsibilities before the season and understanding that I've hired good assistants, so I know I can let them do their jobs. This creates more buy-in from coaches, they feel valued and we can operate on a unified front. All this creates a great program
What kind of man they are and role model they provide to the kids.
When they are loyal, build relationships with the kids, and will do whatever for the sake of the program.
When they buy into my core values and aid my coordinators with no I'll intent.
Willing to do anything for the program
willing to do the dirty work and being great men
Willingness to learn
Without good assistants you have no program. No one can do what needs to be done on their own.
Work ethic and vision to think ahead
Work ethic, loyalty, ability to relate to the kids, positive influence in the field house, practice, and school building. Must be a good teacher.
Work hard have pride be good to kids
Working hard and good with kids. Committed
You can count on them being there and they're good for kids.
You can't do everything yourself. It will burn you out. I needed to rely more on them.
You can't do it all by yourself! You need support and knowledge!
You have to let them coach. Don't micro manage.
You have to surround yourself with individuals that are capable of being head coaches themselves. Then, get on the same page. After that, your program flows consistently from top to bottom. They're an extension of you!
You must have great assistant coaches to build the trust and positive relationships you want with your student-athletes
Make sure to go bookmark HeadCoachBlueprint.com so that you will know when this groundbreaking book is available for purchase!
The target date for release is the Fall of 2023.
Chris Fore has his Masters degree in Athletic Administration, is a Certified Athletic Administrator and currently works as a Principal in Southern California (yes, he went to the "dark side" after 17 years of coaching!)  He served as the President of the California Coaches Association for 3 years.  Fore is the CEO of Eight Laces Consulting which specializes in helping coaches nationwide in their job search process.  Fore has been named to the Hudl Top 100 Coaches, and the Top 5 Best High School Football Coaches to follow on Twitter by MaxPreps.  Follow him!