The Two Most Important Characteristics of A Head Coach: Motivation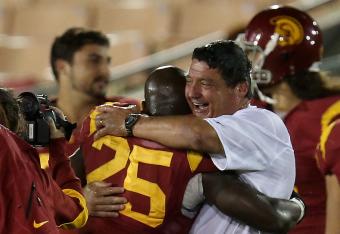 Read about why I'm writing this two part series on "The Two Most Important Characteristics Of A Head Coach," along with part one of this series here.
In my opinion, the two MOST important characteristics are:
ORGANIZATION and MOTIVATION!
This quote from USC Safety Dion Bailey on why Lane Kiffin failed as the Head Coach for the Trojans is one reason I claim that MOTIVATION is one of the TWO MOST IMPORTANT characteristics of being a Head Coach.
"When the coach can't get his players behind him, results aren't what you want.  He didn't include us, he just controlled everything a little too much. If you're having off the field issues, you can go talk to your coach. That's a positive relationship, that means the team's headed in the right direction. And that's pretty much what we didn't have here, and that's the reason we didn't have the results we wanted."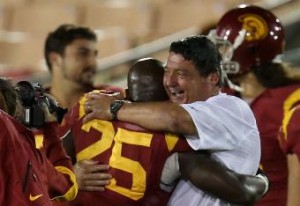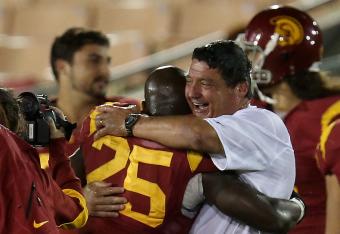 According to Wikipedia, MOTIVATION is "a psychological feature that arouses an organism to act towards a desired goal and elicits, controls, and sustains certain goal-directed behaviors."
Love the definition as it applies to Head Coaches.  Without a doubt, one of the most important jobs that a Head Coach has is to motivate his troops, to arouse his players to meet certain goals throughout the course of the year.
It takes a lot these days to simply motivate some kids to even play football.  It takes quite a bit of time in some schools to even put together a roster.  Football especially can be a very difficult sport to get kids to play.  It's a difficult sport to get kids to push through.  It's a difficult sport to get administrators behind.  It can be a difficult sport to get the community to stand behind in the "down" years.
For these reasons, I think that MOTIVATION is one of the two MOST IMPORTANT characteristics of a Head Coach.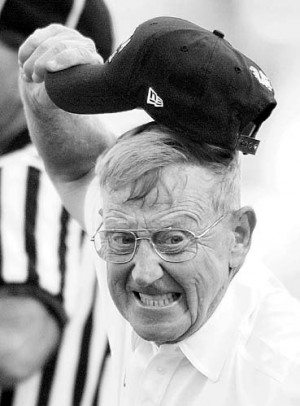 A Head Coach has to be able to motivate his coaching staff, his players, the parents of his players, the school faculty and staff, the school student body, and the community.  This is a total of six different groups a Head Coach needs to arouse to meet certain goals.
The tricky part here is that motivating each of the six different groups is done differently.  A Head Coach will need to use his voice "occasionally" to arouse his team to try harder; he needs to use his reasoning skills to motivate administration; he needs to use his cheerleading skills to motivate the student body, and his compassionate skills to motivate the parents of his players.
One line of questioning I always ask of potential Head Coaches (when I interview them as an Athletic Director) is about motivation.  One of my favorites is "Tell me about a time you had to motivate your team to meet a goal that they failing to meet."  The great coaches have an answer right away.  They start telling a great story about a time his team had to overcome something, and the tools he used to get them there.
Another great one is "Tell me a time you had to rally a community around your team.  How did you do it?"  Again, the best coaching candidates will have a story, and be able to relate how they purposed their community to support the team.
Motivation has a lot less to do with WHAT message you deliver but HOW you deliver it. 
A Head Coach has GOT to know his troops.  Without getting to know what makes them tick, you will fail as a motivator.  What works at one school to motivate the kids might fail at another school. Heck, what works with one TEAM at a school might not work the next year.
The best team I ever coached, the class of 2005 seniors at Linfield Christian were a special group to me.  I started with them at the school when they were freshmen.  "We are freshmen together," I told them on our first day together.  I had every single one of them in my Bible class as I taught all 165 boys in the school.  I was their Head JV Coach for two years before becoming their Head Varsity Coach.  We moved right up through the ranks together.  I could get on those kids, yell at them, whisper to them, laugh with them; I could do it ALL to motivate them.  I could say a captains name, and they could tell by the tone of my voice what I was thinking.  It was a special group of kids.
The very next year, I just didn't know those kids as well.  I was a young Head Coach, 30. It was just my third year of being a Head Coach.  I tried using the same motivational tactics, it didn't work.  I had to get to know those kids before I could really challenge them.
This is the most important key in motivation: getting to know the group you need to motivate.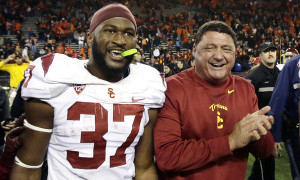 One of the absolute greatest jobs we have seen this year of a motivator in all of football is in Coach Orgeron.
The USC Trojans were having another underachieving year under former Coach Lane Kiffin who was fired after an embarrassing 62-41 loss at Arizona State.  They were 3-2 at that point in the year when AD Pat Haden decided a change at the top was necessary.  What we have seen this year with Trojan football has been nothing less than a spectacular turnaround. Under Coach O, the Trojans are 6-1 with keystone wins at Oregon State and Stanford at home.
What has spurred the winning at USC since Kiffin's departure?  The MOTIVATION of Interim Head Coach Ed Orgeron.  Players are behind him, even arguing for him to be named the Head Coach after the season ends.  Why are they playing hard now for Coach O?  He knows them.  He understands what makes them tick, and he sees to it that the players are happy.
"He's really made it a fun experience, bringing back the fun in the program, and just really emphasizing us enjoying our time here in the program because he knows that college only lasts for so long so he really wants us to enjoy everything,"

explained USC Safety Dion Bailey on the Max & Marcellus Show on ESPN radio.

Some more quotes about the MOTIVATION of Coach O from Bailey:

"He's always looking out for what's better for us, what makes us comfortable, taking care of our bodies. That really made us appreciate him, and from then on, guys have been behind Coach O and would run through a brick wall for him."

"He doesn't really run the program as a dictatorship. It's not really his way or the highway. […] He includes us on a lot of things that concern us and taking care of our bodies: how much we're practicing, hitting, things like that, so guys really appreciate him appreciating us."

"We're not really playing for Coach O to keep his job.  We're just playing for him, in appreciation of him and everything he's done for us."