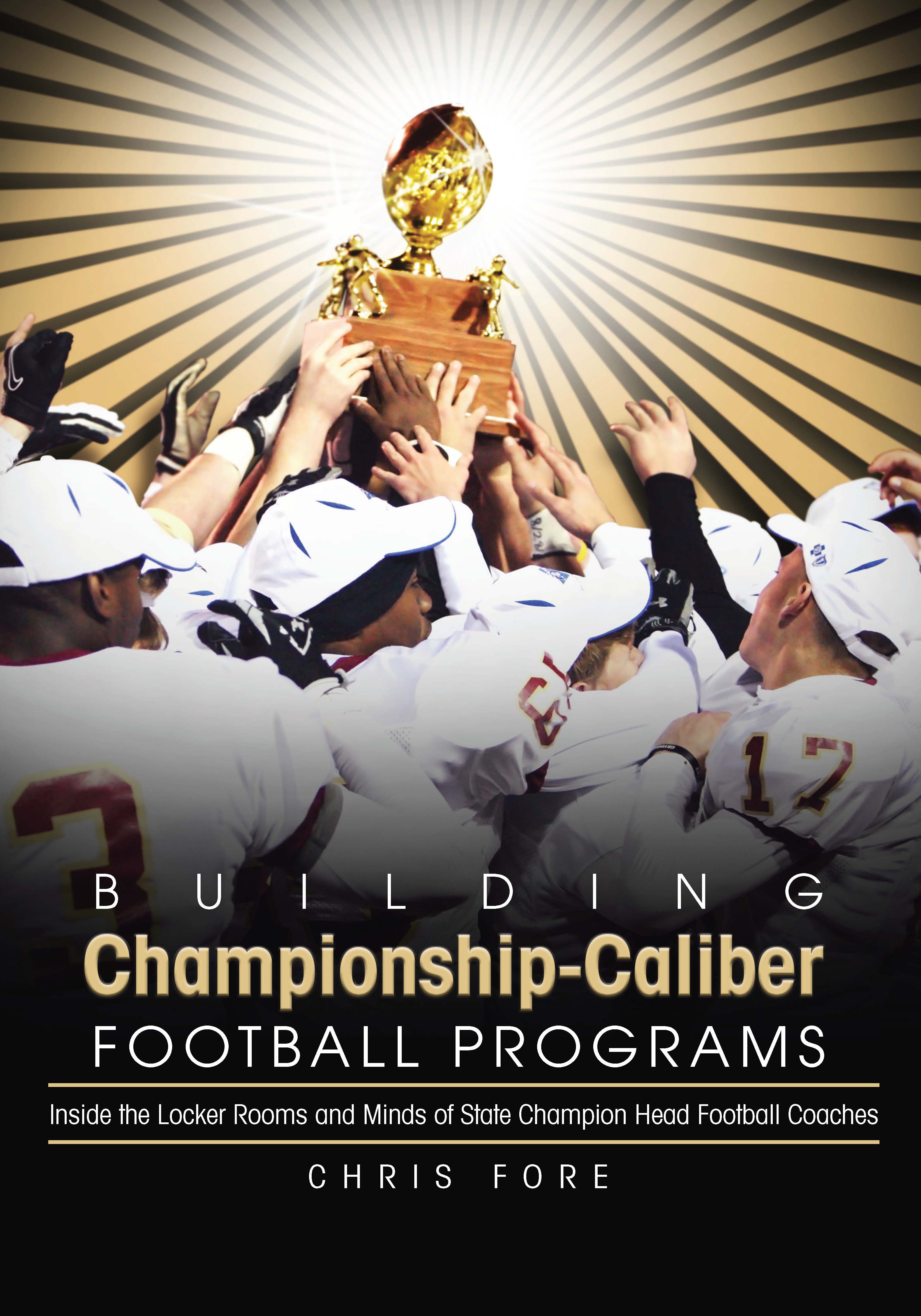 BUILDING CHAMPION-CALIBER FOOTBALL PROGRAMS
A comprehensive, groundbreaking research project of the 2011 State Champion Head Football Coaches, and their secrets to success!
Come inside the locker rooms and minds of some of the absolute best Coaches in the nation.
Only $19!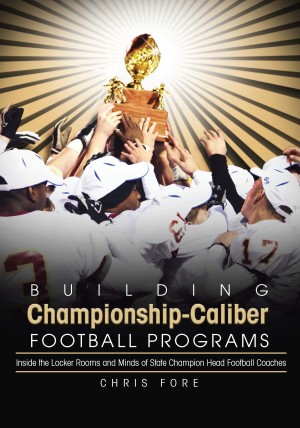 I started this project in January of 2012 with one simple email to ten head coaches who had just won State Championships.
I asked them three questions:
1. What do you do differently than other teams in your league, division and state that helped you win your state championship?
2.  What's one piece of advice you would give to a coach wanting to win a state championship?
3.  What was THE most important aspect of YOUR team THIS year that helped you have so much success?
I was just trying to learn; to make myself better.
A funny thing happened: some of the top coaches in the nation started to respond.
So I kept emailing more, and more coaches nationwide.
Do Y-O-U want to get better this off-season?  I'm sure you did.  If you are reading this blog, YOU want to get better!  
You will be hard pressed to find another book this clinic season that will serve

you

, your

staff

, your

players

and your

community

more than this book!
In the end, 108 State Champion Head Coaches from 42 different states, from 8 man Idaho State Champion (Lighthouse Christian) to the number 2 team in the nation (Florida's Plant High School), these coaches started sharing their secrets with me.  And I took notes!!
A lot of notes.
Then I thought to myself:
There is nothing like this out there, anywhere.  I've never read research from such a vast group of coaches, from such a wide spectrum, about how to build a CHAMPION!
I broke down all of their answers in to the top 10 characteristics of State Champion football programs.
And now, after almost a two year process, my book will hit the shelves next week (December 20th, 2013)!!
Coaches, you are going to want this book!  I'm not saying this because I will make 10% from each sale, I'm saying it because I think that this book will soon become one of those blueprints for coaches nationwide.
It's one of those things I wish I had a dozen years ago! 
Logan High School, Utah – State Champions
Photo courtesy of Brian and Christi Thompson
Every playoff bracket ends with one coach lifting the championship trophy, and countless others searching for solutions for how or why their program couldn't quite reach the summit.  Building Championship-Caliber Football Programs takes coaches where they've never been able to go before… inside the locker room of the most successful high school football coaches in the nation, and reveals the key philosophies that make their programs rise above the rest.
Building Championship-Caliber Football Programs allows you to get behind the scenes of these programs to understand their methods and practices.
To learn how to build a championship caliber team, you must learn from championship caliber coaches, and that is what this book does.
Neah Bay High School, Washington – State Champions
Athletic success is not built overnight.
There are ten philosophies to a championship that Coach Fore has summarized in this book.  From months of correspondence with the best and brightest coaches in the nation, ten key philosophies emerged that form the backbone of championship programs.
The purpose of this book is to give a blueprint to every coach, athlete, parent or businessperson who desires the absolute best for his or her team or organization.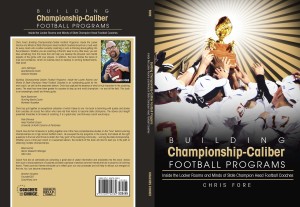 Coaches from Maine to California, from the heartland to the suburbs, from small schools to large schools, all share how they became the best of the best.  Read in their own words what propelled them to victory.
Read to find out how these teams incorporated these ten philosophies into their programs and helped them to win the most coveted trophy in their state!
Union Head Coach Kirk Fridrich
Photo courtesy of Coach Fridrich
FUNDRAISING OPPORTUNITY AVAILABLE
The book is for sale here at EightLaces.org. We have also developed a Fundraising Program with this book that can benefit YOUR football program. If you are interested contact Coach Fore by email.
Testimonials & Reviews
Chris Fore's BUILDING CHAMPIONSHIP-CALIBER FOOTBALL PROGRAMS should be a "Must Read" for every coach who is either coaching at the present time or thinking about getting into the profession.  Whether you are coaching at the NFL level or any level below you will take something from this book that will help develop the physical and mental aspects of the game of football with your players.  Not only does it cover a wide range of physical and mental tools we like to teach our players, but it also tackles the trust and confidence aspects that we are all trying to develop in winning football teams.  Well done!!  John DeFilippo NFL Veteran Coach and Oakland Raiders Quarterback's Coach
Having covered high school sports in Southern California for more than 35 years, I know how difficult it is to come up with new ideas for stories. That's why it was exciting to see a new idea come to fruition _ a book discussing leadership lessons for building championship-caliber football programs by simply asking coaches who guided their teams to state championships in 2011 around the country their secrets to success. Chris Fore is the author, and he came upon the idea after losing his own coaching job. It's a great way to compare, contrast, evaluate, take or leave suggestions, values, understandings, misconceptions and anything else from men who have proven they can lead players and teenagers in a very difficult venue. A book is written to entertain, to inform, to challenge, to make people think. Hearing from so many different coaches from so many different areas of the country provides invaluable information for anyone who loves high school football and admires how leadership is executed.   Eric Sondheimer covering high school sports in Southern California since 1976., a prep columnist at the Los Angeles Times since 1997.
Chris has put together a great collection of what it takes to Win! You will read quotes and stories from coaches all across the nation that have lead their teams to be state champions. The advise and insight you receive translates to all levels of coaching. It is a great read, one that every coach would enjoy.  Pete Shinnick Head Football Coach, University of North Carolina Pembroke  http://www.uncpbraves.com/sports/fball/coaches/Shinnick_Pete
Student-athletics is heralded as teaching important life lessons such as team work, perseverance, and determination.  For many in our society, sport serves a higher purpose than simple entertainment.  Chris' book draws on the collective wisdom of over one hundred coaches from successful high school football programs.   His painstaking effort to illuminate what separates the champion from the also-ran comes through with great clarity.  This book is a penetrating look into various coaching and leadership perspectives.  The "voices" of the coaches come through loud and clear, providing valuable leadership nuggets and lessons for any coach.   Cory Dobbs, Ed.D. Founder and President of The Academy for Sport Leadership  http://www.sportleadership.com/
Chris Fore has hit a home run with his book on championship football! Coach Fore has done an extensive study of state championship teams and the men that built them. I appreciate his willingness to share this vast amount of wisdom with us. If you coach football or really any sport, this is a must read. The insight into creating a championship team is a great read for the veteran and rookie coach alike.  I enjoyed this book. Once I began reading it I had to finish. I appreciate both the author and the coaches that were willing to discuss their outstanding insight into championship football. Thank you coach Fore for the hundreds of hours of research you have put into this book. More importantly , thanks for sharing it with us!   Gregory Ireland Head Football Coach, Murrieta Valley High School
This book is well researched and is a must for every coach's library.  All coaches, regardless of their experience, can gain from its contents.  Leadership Lessons for Building Championship-Caliber Football Programs gives the reader the insight to build a championship team at any level of football.    Dan Dodd 26 year NCAA Football Coach (TCU, New Mexico, Tulane, Utah State, Western Illinois)
Coach Fore did a great job compiling so much useful information & anecdotes into this book.  The advice from such a broad spectrum of coaches provides a glimpse of several common themes that are in place for all winning teams.  These common themes stimulate us to reflect upon our own processes and will help to refocus our energies so that we, too, can become a champion.  Brandon Huey Online Coaches Forum (CoachHuey.com) http://CoachHuey.com
Chris Fore's Building Championship-Caliber Football Programs should be on the bookshelf of everyone interested in high school football. It is for coaches, parents and fans at all levels. The content is an instant classic. It is insightful, poignant, humorous, thought provoking as well as a guide to success that transcends sport.    Harry Welch 3x California State Champion Head Football Coach, Head Football Coach, Santa Margarita Catholic High School
Chris Fore took an ingenious idea and executed it well, just like you'd expect from a football coach. Taking people inside the locker room and inside the minds of the most successful high school football coaches in the nation is fascinating, and relating the information from the viewpoint of a coach makes How We Won informative and entertaining. I absolutely loved so many parts of this book, and I recommend it for every coach and aspiring coach.   Kevin Acee San Diego Union Tribue columnist and Chargers beat writer

Coach Chris Fore is one of the best in the coaching business at passing along football-coaching knowledge to his coaching brethren. In putting this book together, Fore scoured the country for valuable input from over 100 STATE CHAMPION football coaches. He does a masterful job of blending high-level coaching concepts and time-tested football strategies into an easy-to-follow, digestible format that football coaches from all levels will be able to apply to their own football programs. This book is fully loaded with championship ideas that will help your team win more games!   Mike Podoll Editor-In-Chief, This Is AFCA Football-Coaching Magazine FootballCoachDaily.comhttp://www.footballcoachdaily.com/
Coach Fore did his homework in putting together one of the more comprehensive studies on the "how" behind winning championships as a high school football coach.  He surveyed the top programs in the country and asked all the right questions to find out what it took to obtain the "holy grail" of the coaching community- winning the State Championship. So whether you're a first year coach, or an seasoned veteran, the contents of this book will start to lead you in the path of obtaining multiple championships.   Mike Kuchar Senior Research Manager, X&O Labshttp://www.xandolabs.com
It is appropriate that the title of Chris Fore's book was changed from 'How to Win' to ' Building Championship-Caliber Football Programs' as it deals not necessarily with winning games or even state championships but rather building long-term successful programs and developing student-athletes on and off the field.  Fore utilizes not only the responses of 108 coaches who won state championships in 2011 but also his own experience as a coach which includes a trip to the Southern California section semifinals and a league championship and his years as a player which took place between Fallbrook High School's two San Diego Section championship seasons but with coaching staff members who were affiliated with those two championship teams.  As Fore's first chapter following the introduction notes, the true mission of a coach isn't necessarily to win but rather to build and develop, and Fore's research and personal experience will provide excellent guidance for coaches to improve their programs and their players. Because Fore wrote the book prior to the 2012 high school football season, his experiences didn't include the part about using the knowledge gained from his research to help Excelsior Charter School win the Southern Section 8-man championship and the mythical 8-man state championship as the Eagles' athletic director and special teams coordinator, but his role in Excelsior's championship is perhaps the best illustration of how applying the content of Fore's book can make a football program successful."             Joe Naiman San Diego County sportswriter, Fallbrook/Bonsall Village News