Under The Headset: Preparing For A State Championship Game Pt 3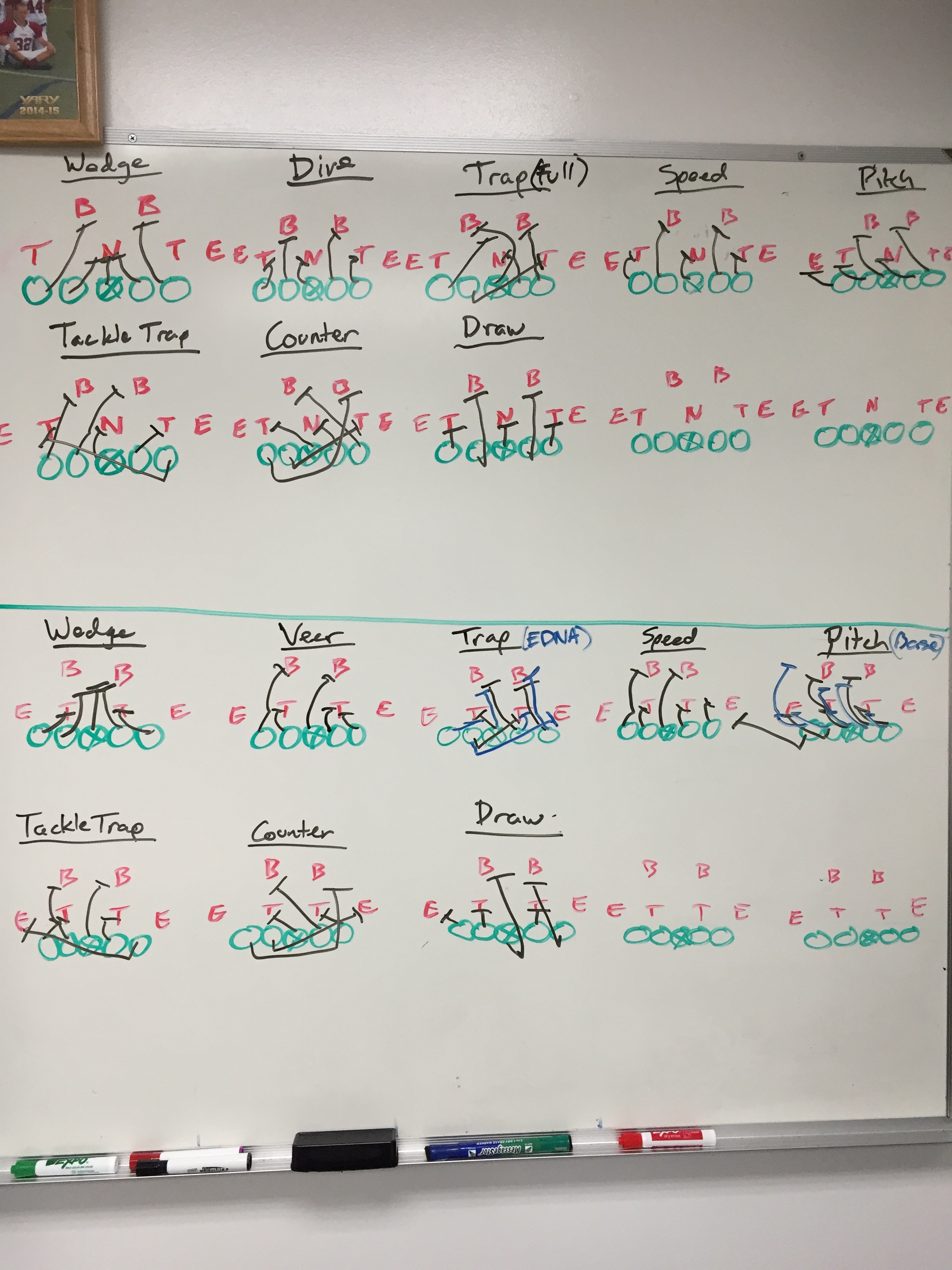 This is Part 3 of a series in which  St. Margarets' Offensive Coordinator Robb Fahrion documents his week leading up to playing for a State Championship here in California.  Coach Fahrion played for me back in 2003-2005.
See Part 2 here.         See Part 1 here.  
We pick up with Coach Fahrion with his Saturday and Sunday preparation.
Saturday, December 13, 2014 – The Day After
8:00 am, Football Office
Our kids pile into the football office and it is great to see that we made it out generally unscathed from the night before. Coaching at a small school, I have really learned to value every single kid we have on the team. When one kid goes down, it could mean replacing a two-way starter as well as a guy that plays on many different special teams. If anything, we will be healthier for our next game.
We decide to make this a heavy maintenance day for the kids. They will not be watching last night's film and will only be doing a light workout to hopefully get them out by 9:00 am.
Every year, we put 16 weeks into our Hudl schedule at the beginning of the season. This was my first year of coaching in which I did not have to leave the week 16 slot with the words 'CIF State Bowl Game' and instead I replace it with our opponent. The coaching staff will break down the film from the night before and begin scouting for next week's CIF State Bowl Game opponent – Central Catholic, defending two-time Division IV State Champions.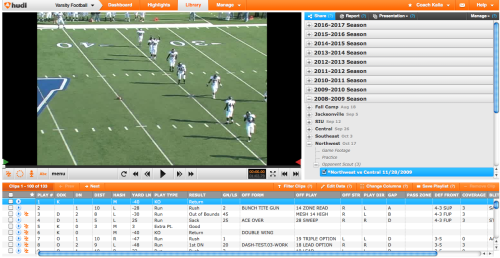 2:30 pm, Leaving for Home
We got a lot of good work done today. We broke down the entire game from the night before including notes of improvement for our specific positions and slight adjustments we will need to make for the next week. We were very impressed with the way we played and I was extremely proud of our offense, as well as my defensive position (DB) that had four interceptions. Our stat guy informed us that we had 687 total yards of offense. Unbelievable. The entire team from top to bottom played incredibly and the film showed it.
After breaking down our own film, we began to breakdown the Central Catholic film. We only exchanged three films with them, and only one film really gave us a good look against an offense like ours, which was concerning. Northern California teams tend to run the ball more in double tight sets or the wing-t look, so it was tough finding an opponent that ran our spread offense. We did find one, however, and we believe it gave us decent insight on what we will see from Central Catholic.
The staff splits up, defensive guys into one room and offensive guys in the other. My main goal upon first viewing is to get a feel for the team and identify the different fronts and coverages they will give us. The first thing I notice is that they are big from top to bottom. We are NEVER bigger than our opponent, so this is not too much concern for us. We feel our best bet is to use our speed and we could present them with some problems on the edges. All in all, the staff is pretty exhausted, so we call it a day and head home for some time away from the game.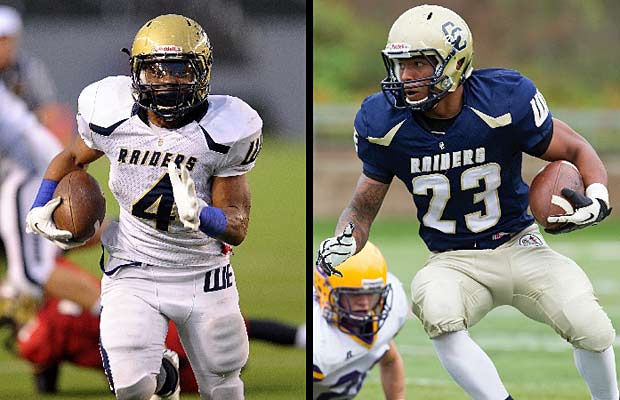 Sunday, December 14, 2014 – Final Preparation
2:00 pm, Football Office
Coach Barbee, Coach McCarthy and I meet for one final prep before the week of practice begins. I have watched more film and seen that Central Catholic runs a few different fronts and a couple of coverages. Mainly, they run either a 5-2 or a 4-2 and sometimes will jump into an odd 4-2 front with a nose. With that, based on our blocking schemes, we identify that we will only need to prepare against a 4-2 and an odd 4-2 since we would block an odd 4-2 the same way we would block a 5-2, leaving the wide hang ends unaccounted for. Coverage wise, Central mixes between a cover one, zero and sometimes a three, but very rarely. We are hoping for the 5-2 cover 0, but think we will get some variation of the 4-2. They like to guess and take chances with the blitz so we remind ourselves that they will guess right sometimes, but like Vegas odds, the longer you guess at the table, the more likely you are to lose. We have to stick with what we do and trust the path that has gotten us here.
To finish up preparation, I draw up every single one of our run plays (see below) on the board for our kids to see against both of their fronts. I will also draw up the run plays and blocking schemes on Hudl and distribute to our kids via email for them to study and review. We always have to be the smartest players on the field.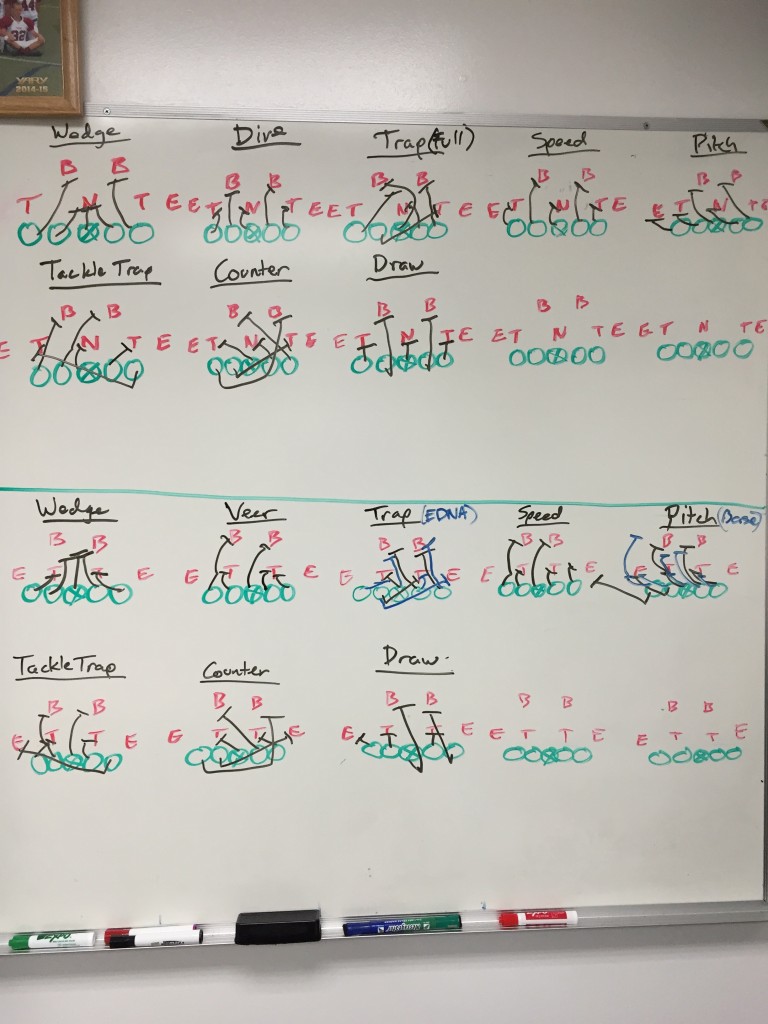 Again, we are still exhausted and call it a day around 4:00pm. However, a lot of my heavy lifting in regards to data breakdown still needs to be done.
11:00 pm, Home
I finally get a chance to sit down and enter film data after attending church and a pre-Christmas family dinner. This is the time in which I will really learn who Central Catholic is, what they do and how they do it.
My breakdown begins by sorting every play into either Offense, Defense or Special Teams playlists. We use Hudl and I recommend every single football coach in America uses it and learns how to use ALL of its' capabilities. I use it to breakdown film, create practice scripts, playbook cards, communicate with players, draw up blocking schemes, create film presentations for the kids, film exchanges, etc.
By breaking up the play types, it allows me to isolate only the things I need, the defensive plays. From here, I go through every single defensive play and identify if the opponent is running something that we run, and if they are not, I throw that play out. Why watch a defense against something that you do not run? Next, comes the breakdown. I identify the play type (run/pass), input the offensive play into our terminology (as if we were calling the play), identify the defensive front, defensive coverage and any blitzes ran on this play. This is an exhausting process and takes a lot of time, but it is worth it once completed.
Now that I am finished with this, I can sort by formation and play type to see what it is they do against what we do. Right away, I run a report to identify that Central Catholic runs a 4-2 against dubs 75% of the time, a 4-2 against trips 60% of the time and a 5-2 100% of the time against a split back or I-formation set. I also notice that Central Catholic blitzes 100% of the time when they line up a MLB with a four front. These are just a few of the things I gather, but they are invaluable and tell the story over the course of three games. Could they line up and do something completely different? Sure, but at this point, you stick with what got you here.
It is now about 2:00 am, and I need some sleep. I have work early in the morning and will try and fit in some more film preparation in the meantime. We are ready to go.
About the Author
Robb Fahrion is the current Assistant Head Coach/Head Junior Varsity Coach and Offensive Coordinator for the St. Margaret's Episcopal School in San Juan Capistrano. He has been coaching for eight varsity seasons. During his career, he has been a part of two CIF Championships, one CIF South Bowl Championship, seven league championships and many deep runs into the postseason.
He can be reached via email at robbfahrion@gmail.com or by cell phone at 951-218-3523. He welcomes any and all inquiries and questions.