An Insider's Guide To Scoring Your Next Coaching Job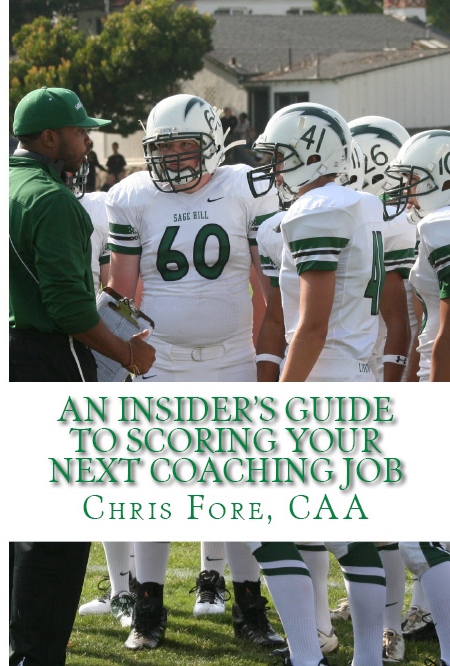 Are you kind of shooting in the dark when trying to find a new job? Not sure of how to create your resume, or which letters of recommendation to send?  Need interviews tips from a Superintendent who has interviewed more than 1000 people?  Check out the table of contents below!
Coach Fore has put together a manual of more than 1oo pages to help YOU land that next coaching gig of your dreams.  He uses his experience as an Athletic Director and Head Football Coach to weave together a great plan as you pursue the next job in the coaching world.
You can purchase either the paperback book version, or the PDF version which can be downloadable right from your receipt!
"As a career assistant coach, it is normal to think you can do a better job by making changes.  This book provides a great guide to help take that next step successfully.  Combining this information with the Outside the Lines Manual and the Santiago Road Map also offered by Eight Laces, I feel very confident that I have a better understanding and that I am better prepared to be effective in that role."  —  Coach Tom Sousa
Coach Fore is a Certified Athletic Administrator, has his Masters degree in Athletic Administration, serves on the California Coaches Association Executive Council, and has helped to increase League Championships through building and rebuilding two different athletic programs at the high school level.
TABLE OF CONTENTS
So You Want To Leave? Now What?
Where and How To Look For A Job
Hiring Coaches: One Of The Best Parts About Being An Athletic Director
I Want That Job: What Should I Send Them? 5 Keys To Reaching Out To A School For That Job You Want
5 Keys To Writing An Athletic Cover Letter
4 Pieces Of Advice About Your Resume
6 Things An Athletic Director Looks For On Your Resume
Your Letter of Recommendations Quiver
10 Recommendations From A High School Principal About Your Application Process
How To Know If You Are In A Sham Interview
Interview Questions To Expect
10 Interview Suggestions From A Former Superintendent
10 Things To Consider Before Taking A New Job
99 Questions To Ask To Get To Know Your Perspective School
Athletic Resume Template
BONUS MATERIAL
3 Tips To Get Along Great With Your Athletic Director                                                                                       A To Do List Once When You Take Over As A Head Coach                                                                                 Don't Take A Coaching Job Like This: Ones Coaches Experience
You can purchase either the paperback book version, or the PDF version which can be downloadable right from your receipt!