The Only Assistant I Ever Fired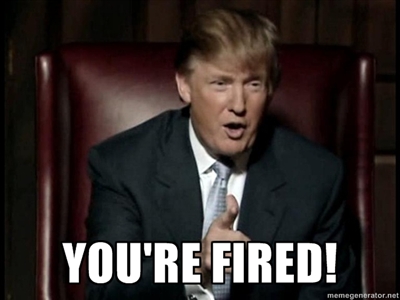 I've been a Head Football Coach for 8 years, and luckily have only had to fire one assistant coach.  It was an interesting situation. I was hired by a private school in Orange County, CA.  They had a young coach on campus there who started working with the kids right after their 0-10 2005 season.  They won 2 games in 2 years while he was on staff.  He wanted the head coaching position.  But he was young, and inexperienced.  The school choose me.
He was the Defensive Coordinator, and although I knew he by no means had the experience to be the DC, I was hired so late that I was stuck with him as the DC.  I didn't start there until late May.  So, after meeting with him, I decided to keep him on staff.  He went to school there.  He was very well-liked.  The kids loved him.  Admin told me that it was totally up to me.
I knew that he didn't know football well enough to be a varsity football coach about 3 minutes in to our conversation.  But, I made a decision that he could stay on board with us, and I would help to mentor him, and teach him the coaching profession.
One of the worst mistakes I've made as a Head Coach . . . . . 
It was a long season with him on board.  And just a few weeks in (although we won our first two games after they hadn't won a game the previous season!!), he became a cancer.  He was jealous.  He was jealous that he wasn't the Head Coach, and that the kids and parents bought in to what I was doing.  That was all there was to it.
I reached out to the Defensive Coordinator I worked with from 2001-2006, a great friend of mine, and he drove 75 miles one way 3 days a week to help me out at about the half way point in the season.  I named him the for the last four games.
I thought doc below would be informative for assistant coaches to see.  It is the document I created for my admin when I decided to fire him.  I've removed the coach's name, for obvious reasons.  He never returned to coaching after that, sadly.
JUSTIFICATION FOR FIRING COACH (NAME WITHHELD)
320 points against us this year – 30 points per game. Simply unacceptable.
No defensive philosophy as a team. Who are we?  What do we do?  Kids never bought into our defense this year.  They expressed this to me several times throughout the year.  The first time was after our Saddleback game when I surveyed the players about what was going right and wrong.  Only one kid said something good about defense out of the 34 players surveyed.  Each player had 3 chances to say what was going good.  Every player said something about defense in response to "What needs to be changed?  What is going bad?"
The players no confidence in Coach (Name withheld) as a defensive coordinator and football coach.
No defensive playbook ever produced by Coach (Name withheld) . The team had our offensive playbook in their hands 11 days after I was hired.  I repeatedly asked Coach (Name withheld)  for it so that our boys could see and learn about our defense.
No punt return installed during Training Camp when I asked for it to be installed. It wasn't until I literally gave (Name withheld)  a couple of punt returns that we had them installed.
Coach (Name withheld)  was absent from our first coaches meeting of the year, right before Training Camp and failed to contact me for two and a half hours.
Had a discussion with Coach (Name withheld)  after the La Jolla Country Day game about his preparation and organization of the defense. Saw no improvement after that discussion.
Irresponsible with football gear that he was assigned as a coach – forgot all of his gear at SCHS after the first game and left it there for 6 days. This was approximately $600-700 worth of gear.
At several times throughout the year, failed to update the "extra equipment bag" so we were missing needed items in it. Ex: helmet at LC game.
Sage Hill week – no show at coaches meeting and no scouting report done.
Use of inappropriate language on the field with players and coaches.
Poor use of individual time during practices. Linebackers were not properly coached and taught the most basic of fundamentals.  Ex: reading guards.  When we are teaching junior and senior LBs how to read guards in weeks 4 and 5, it is obvious that Coach (Name withheld)  had not done in an effective manner.  Doing bag quickness work for 10 of 15 minutes during individual time in weeks 6, 7 is ridiculous.
Inappropriate behavior with players – Throughout the whole year, Coach (Name withheld)  demonstrated too much of a friend-friend relationship with the players instead of a coach-player relationship. Ex: Sitting in the back of the team bus with players vs. W.C.  Communicating during practice while players are being taught other things.  These actions make it harder for the players to respect, learn, and appreciate the coaches.
Unwilling to admit mistakes or ignorance – Unfortunately, Coach (Name withheld) had a difficult time taking responsibility for his inexperience. Instead of asking for help or advice, Coach (Name withheld)  would resort to being defensive.  As coaches we are aware of our imperfections, but we need to admit them and work on them. Coach (Name withheld)  felt uncomfortable when these problems were put to light. We want a coaching staff that can build off each other.
Unprofessional conduct – Coach (Name withheld)  struggled with being on time to meetings and some practices. He flatly failed to appear at our Thursday practice versus Saddleback Valley Christian and never communicated with the Head Coach about this until later in the day.  We had no idea where he was and we were not able to run through our team defense the day before a game – a game that we ended up losing on the last play!
 This document prepared by Coach Chris Fore.  November 18, 2006
I fired him on November 19th.