CHAMPIONS LOCKER ROOM: California 3A State Champ – Rancho Bernardo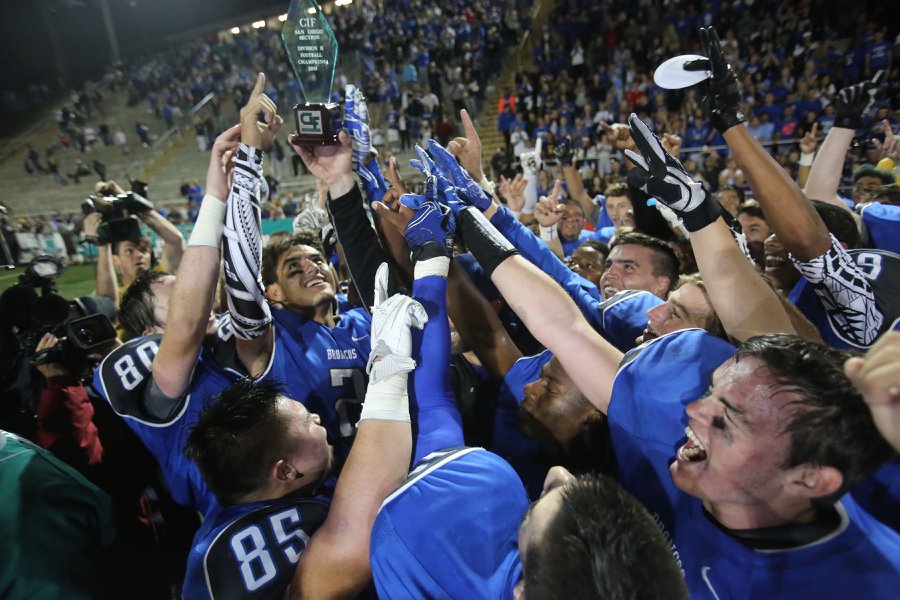 The 2015 CHAMPIONS LOCKER SERIES presents California 3A State Champ: Rancho Bernardo High School from Rancho Bernardo, California.
Head Coach Tristan Mc Coy led the program to a 13-2 record, and the number 1 ranking in all of San Diego.  In his first three years, the Broncos were 7-25.  Over the last two years, they are 23-5!  Quite a difference.
What does your football program do differently from other programs in your league, conference, state that helped you win a State Championship? 
I don't think we do anything "differently" or necessarily "better" than anyone else, but I think what we do well is building a team and focusing on the little things.
What do you consider to be the most important aspect of your state championship? 
As mentioned above, we really emphasize team building.  I think a lot of programs give lip service about "team" but aren't willing to spend the time necessary to really do that.
What is one piece of advice that you would give to a coach wanting to win a state championship? 
Don't focus on winning a state championship.
What kind of offense did you run?  
Pro-style, multiple formations
What kind of defense did you run? 
4-2-5, 3-3
Which of the Special Teams was most valuable this year, and why? 
We were fortunate enough to have a great kicker.  He set the section record for field goals, and constantly flipped the field with his punts.  Scheme wise, we just kept things really simple, and let the kids play football.
Do you incorporate some type of character development program within your football program? If so, what program do you use?  
Yes. We use a combination of things taken from lots of different sources, including coaching to change lives, 3-Dimensional coaching, etc.
Do you incorporate some type of leadership development program within your football program? If so, what program do you use?  
Again, we use a combination of sources. I really love Jeff Janssen, Academy for Sport Leadership, as well as sportsleader.com
What is the number one obstacle you face in building a Championship caliber football program in your community? 
Our community is very supportive, but kids have a lot of demands on them with their time; they are under constant pressure to achieve academically and be involved in many extra-curricular organizations.  Also, football is experiencing a bit of a decline in our area, so getting kids to come out is a big factor.
Who do you consider to be your main mentor in this profession and what about that coach do you try to emulate in your program? 
Well, probably number one was my high school coach (Bill Christopher).  He is a huge influence on the man and coach that I am.  Mostly, I learned from him how to focus on the kids' overall development and experience, and building the team.  Other than that, I borrow and absorb so much from as many people I can.
Thank you Coach Mc Coy for participating in the CHAMPIONS LOCKER ROOM Series, and congratulations to your team, State Champs!
2015 Champions Locker Room Series
Oklahoma 3A State Champ – Heritage Hall
California's Division 5 AA State Champ: Mater Dei Catholic High School
Alabama's 7A State Champ – McGill-Toolen Catholic School
Alabama's 4A State Champ – Leeds High School
Coach Fore is the author of several books and manuals that have helped coaches in building their programs, and the job search process: Building Championship Caliber Football Programs, Outside The Lines Manual For Football Coaches, Outside The Lines Manual for Athletic Directors, the Shield Punt E Clinic, and An Insider's Guide To Scoring Your Next Coaching Job.  You can find each of these items at EightLaces.