CHAMPIONS LOCKER ROOM: California 2AA State Champ – Del Oro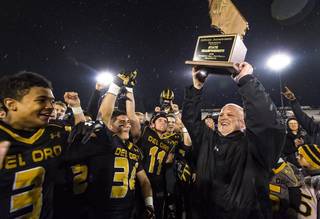 The 2015 CHAMPIONS LOCKER SERIES presents California 2AA State Champion Del Oro High School.
Set the scene: one team with 6 losses vs one team with none.  15-0 vs. 9-6.  State Championship.  December.  Cold brisk air.  That undefeated team averaging 53 points per game.  Could they be beat?
Yes, they could!  And Del Oro proved it!  Del Oro (Loomis) defeated Camarillo, 16-13 to win the California 2AA State Championship in 2015.  This was their third appearance in 5 years in the State game, and their first Championship.  Thank you to Coach Casey Taylor for giving us some insight in to their season.
What does your football program do differently from other programs in your league, conference, state that helped you win a State Championship?
Character Development and giving back to our community.
What do you consider to be the most important aspect of your state championship?
Dealing with adversity, we were 2-6 at won time and won 8 straight games to win the State Title
What is one piece of advice that you would give to a coach wanting to win a state championship?
Believe in the process and stick to it
What kind of offense did you run?
Multiple power run team
What kind of defense did you run?
Multiple 3-4 Cover 2-4
Which of the Special Teams was most valuable this year, and why?
Punt/Spread Punt battle of field position
Do you incorporate some type of character development program within your football program? If so, what program do you use? 
Yes we do.  Team Dinners Thurs, Team Breakfast Fri each week.  Leadership meetings, Character Combine, Community Reading Program and Evening of Dreams
Do you incorporate some type of leadership development program within your football program? If so, what program do you use? 
We have 2 coaches that pick themes for the year.  Usually a book that we will go through together.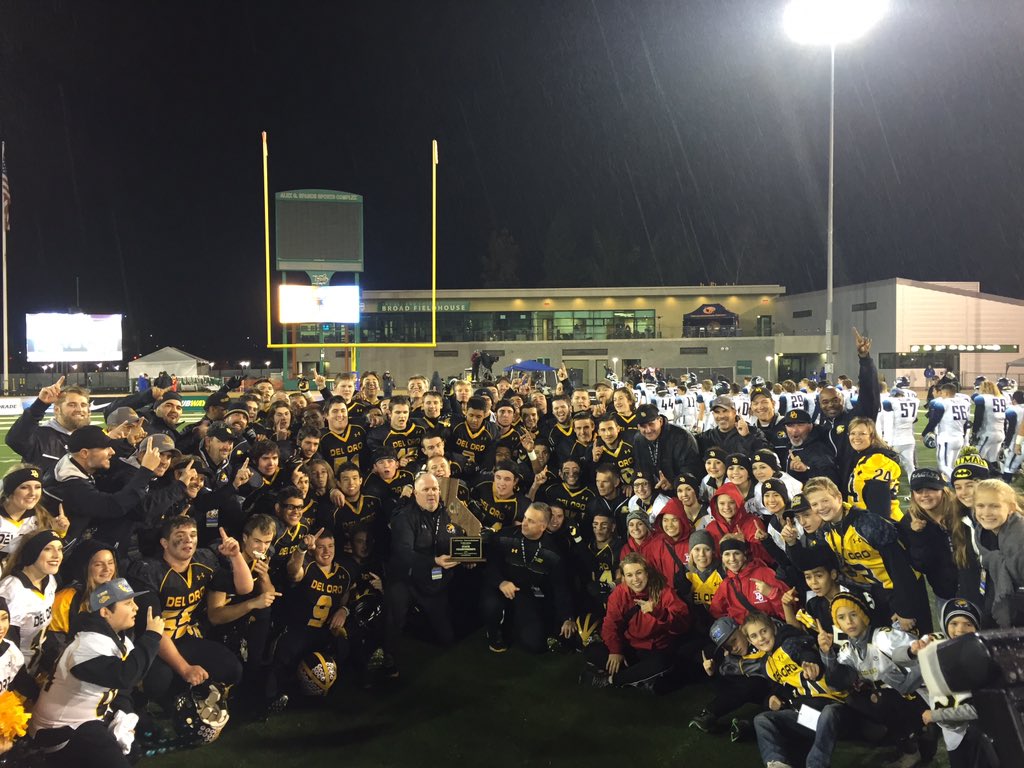 What is the number one obstacle you face in building a Championship caliber football program in your community?
Fundraising and getting coaches on campus teaching
Who do you consider to be your main mentor in this profession and what about that coach do you try to emulate in your program?
Mark Watson, Oak Ridge HS.  Father figure and mentor.  Work ethic and effort
Thank you Coach Taylor for participating in the CHAMPIONS LOCKER ROOM Series, and congratulations to your team!
2015 Champions Locker Room Series
Ohio DIV State Champ DIV – Bishop Hartley
Texas 3A-II State Champ – Waskom High School
Idaho 3A State Champ – Emmett High School
California 3A State Champ – Rancho Bernardo
Oklahoma 3A State Champ – Heritage Hall
California's Division 5 AA State Champ: Mater Dei Catholic High School
Alabama's 7A State Champ – McGill-Toolen Catholic School
Alabama's 4A State Champ – Leeds High School
Coach Fore is the author of several books and manuals that have helped coaches in building their programs, and the job search process: Building Championship Caliber Football Programs, Outside The Lines Manual For Football Coaches, Outside The Lines Manual for Athletic Directors, the Shield Punt E Clinic, and An Insider's Guide To Scoring Your Next Coaching Job.  You can find each of these items at EightLaces.