CHAMPIONS LOCKER ROOM: Ohio DIV State Champ – Bishop Hartley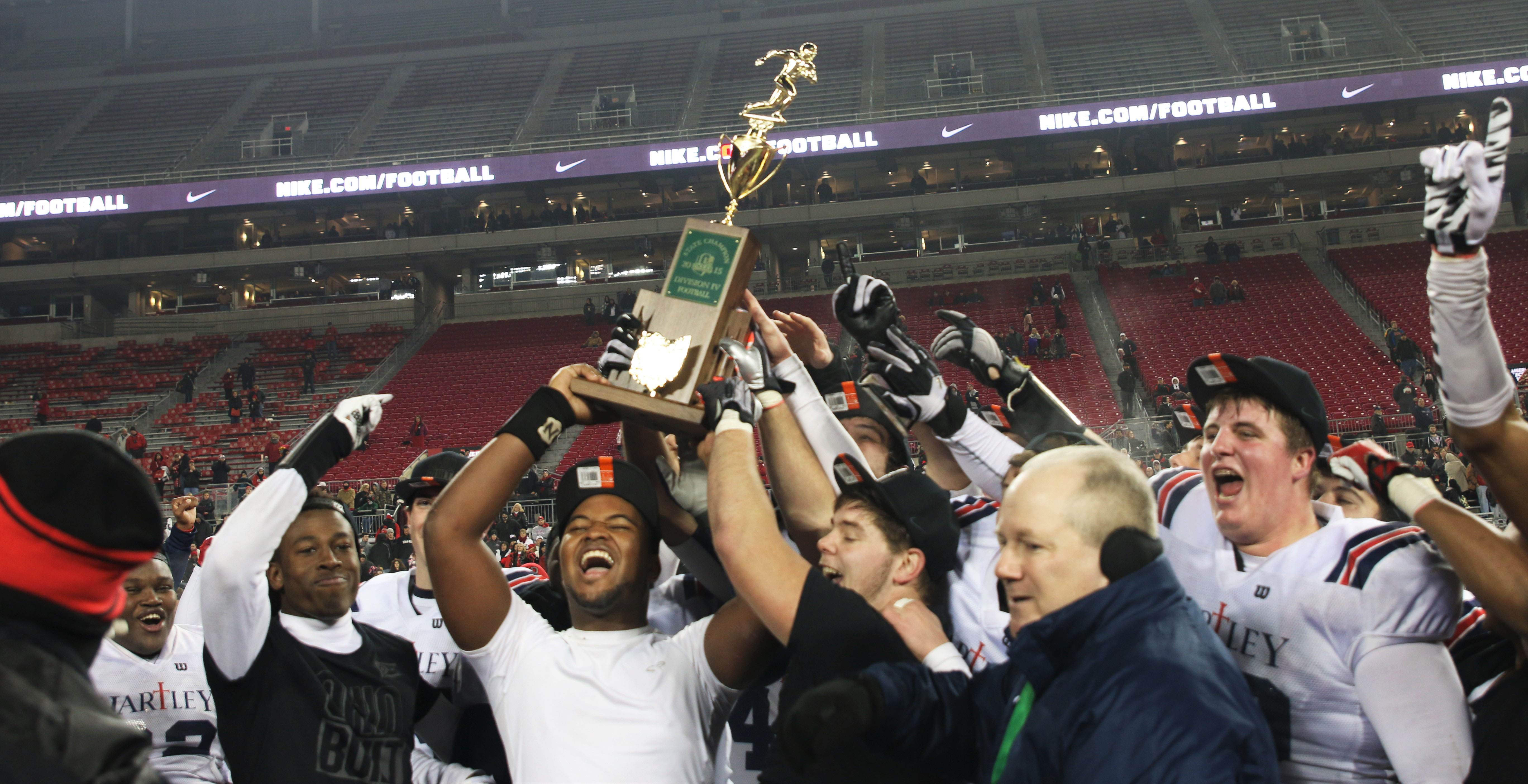 The 2015 CHAMPIONS LOCKER SERIES presents Ohio DIV State Champion Bishop Hartley High School.
Head Coach Brad Burchfield was kind enough to give some insight to their tremendous 2015 season.  The Hartley Hawks won the 2015 Division IV State Football Championship with a 31-28 victory over previously undefeated Steubenville.
According to the school's website, "this was Hartley's third state championship, joining the 1986 and 2010 teams. The Hawks are tied for the most state football championships in Franklin County history."
"(Winning the state title) means a great deal to our school. We have a fantastic school and we've had one of the best school years ever. Among teams in our league, we're tied for the most state championships, and that's important to us," Head Coach Brad Burchfield said.
What does your football program do differently from other programs in your league, conference, state that helped you win a State Championship?
I really don't know what other programs in our league do different that we do.  I know what we do.  But I will say this:  We play in a league with 5 teams, and between 4 of us we have 9 State Championships.  That is significant.  There is a legitimate expectations to do really well.   The standard to be the best in our league means that we are among a handful of the very best in Ohio.  The phrase "A High Tide Rises All Boats" applies to teams in our league.  
What do you consider to be the most important aspect of your state championship?
There is no question that the most important aspect in having high level success is the amount of care that the team has for one another.  That means coach for player, player for player, coach for coach and everyone for the school.  We are not 'football players' we represent Bishop Hartley High School and our coaches and kids love our school and we take the responsibility of representing our school seriously.  
I think that the more everyone cares, the harder everyone is willing to play.  Things are invariably going to get really tough during a season and that care is what enables us to 'keep going.'  When that care doesn't exist, its easy for people to not try as hard; easy for everyone to say, even if its just for a second, "well maybe this just isn't that important."  It sounds corny, but when there is genuine care combined with legitimate high expectations…that's when powerful culture is developed. 
That culture has to be cultivated all of the time.  "One bad apple" spoils everything.  If you have a kid or a coach and to them, its just not really that big of a deal…or its just a game…or I'm in it for myself…that destroys everything.  
We really believe in Growth Mindset…the journey…the power of the word YET.  (We are not very good…YET..but we will be;  We embrace mistakes and look forward to getting better.  We see failure as a necessity of growth at least temporarily) and that is a school philosophy.  This creates a unified vision within our students
What is one piece of advice that you would give to a coach wanting to win a state championship?
Embracing the GROWTH MINDSET philosophy.  Read.  Study.  Grow. 
Embrace a genuine family environment and cultivate it.  Think about what family means.  I see a lot of coaches and they just don't like their players.  That's not good.  It becomes easy to have an out and blame the players.  We are all in this together:  For better or for worse.
Emphasize to your players and team all the time that CHAMPIONS ARE MADE WHEN IT MATTERS THE MOST.  Sometimes I see clever t shirts that say "Champions are made in the off season."  Certainly the off season is critical, but more critical is how the team performs against the top competition.  They have to be at their best against the best.  That takes significant GRIT and TOUGHNESS and that's not natural.  It has to be taught and reinforced.  Everyone is excited at the beginning of the season.  Come to practices in mid-October.  Who is still really, genuinely motivated?  
What kind of offense did you run?  
Multiple Formation Wing T, Play Action Passing Game with an influence of Double Wing Philosophy
What kind of defense did you run?
Odd Stack/ 3-4
Which of the Special Teams was most valuable this year, and why?
In recent years we have been really good in our special teams.  We were not this past year, so take it for what its worth.  Our Field Goal and PAT team were our best.  We had a great kicker and protected well in that unit.  But overall our special teams were pedestrian and in recent years our special teams have been really good.
Do you incorporate some type of character development program within your football program? If so, what program do you use? 
We study from SportsLeader (Lou Judd) and take some from his program.  We also address our players with specific character building curriculum every day during our Hawk Days (Summer Practices/Pre Season).  We call this intentional time "Team Time"  Subjects vary year to year based on the identity of our team. We have devotionals  once a week where our coaches witness their faith journey with the players
Do you incorporate some type of leadership development program within your football program? If so, what program do you use? 
Yes.  We have a curriculum that we intentionally develop and we teach to all of our upcoming seniors.  We meet every Sunday Night in the spring.
We use all kinds of materials.  We have used Jeff Jansenn, John Maxwell but the two people whose material has been the best for us are Tim Kight (Focus3Culture) and Dr. Kevin Elko.  We use anything we can from those two.  We have attended many seminars with the Kights.  
What is the number one obstacle you face in building a Championship caliber football program in your community?
The expectations are very high and our opponents are among the very best in the state.  I don't think of that as an obstacle, in fact that probably has a ton to do with why we do well.  
We have a tremendous school, community, tradition, players and staff.  What obstacles can there be when you have those things???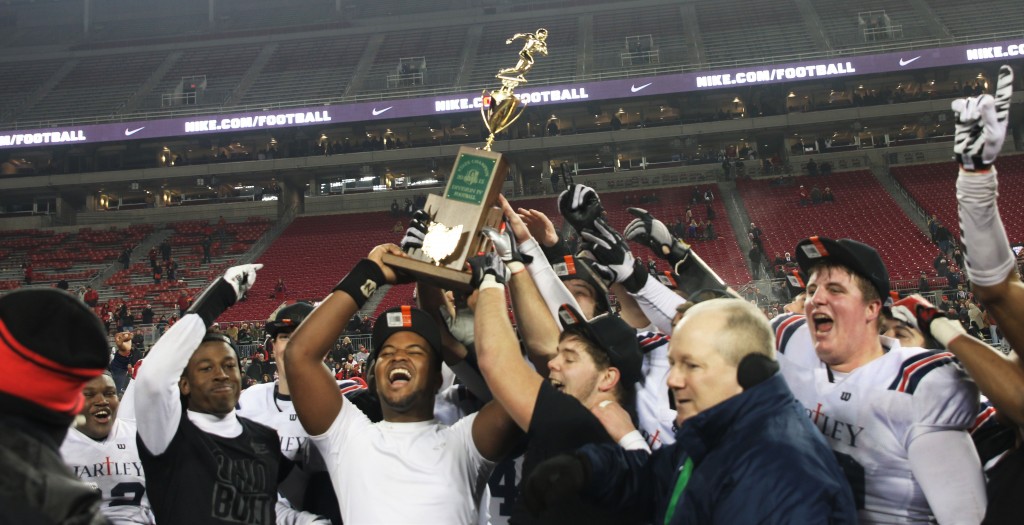 Who do you consider to be your main mentor in this profession and what about that coach do you try to emulate in your program?
I coached with a man named Tim Hale at Marietta High School fresh out of college.  I learned from him that to be successful you have to have a comprehensive plan and that plan has to change and adapt all of the time.  There is a fine line between having a plan and adapting that plan, but you have to walk that line.  You have to constantly evolve and learn.  
Be a teacher not a schemer.  Answers can be found in fundamental corrections rather than moving the Xs and Os around
He would say to his coaches "If I told you the truth, would you still be my friend?"  meaning that you cant be sensitive, you must take a good hard look at yourself and what you are doing.  You have to be honest whether you are doing it the BEST way or not…or are you just doing it?
Thank you Coach Burchfield for participating in the CHAMPIONS LOCKER ROOM Series, and congratulations to your team!
2015 Champions Locker Room Series
Texas 3A-II State Champ – Waskom High School
Idaho 3A State Champ – Emmett High School
California 3A State Champ – Rancho Bernardo
Oklahoma 3A State Champ – Heritage Hall
California's Division 5 AA State Champ: Mater Dei Catholic High School
Alabama's 7A State Champ – McGill-Toolen Catholic School
Alabama's 4A State Champ – Leeds High School
Coach Fore is the author of several books and manuals that have helped coaches in building their programs, and the job search process: Building Championship Caliber Football Programs, Outside The Lines Manual For Football Coaches, Outside The Lines Manual for Athletic Directors, the Shield Punt E Clinic, and An Insider's Guide To Scoring Your Next Coaching Job.  You can find each of these items at EightLaces.