A Full Circle Journey For La Var Arrington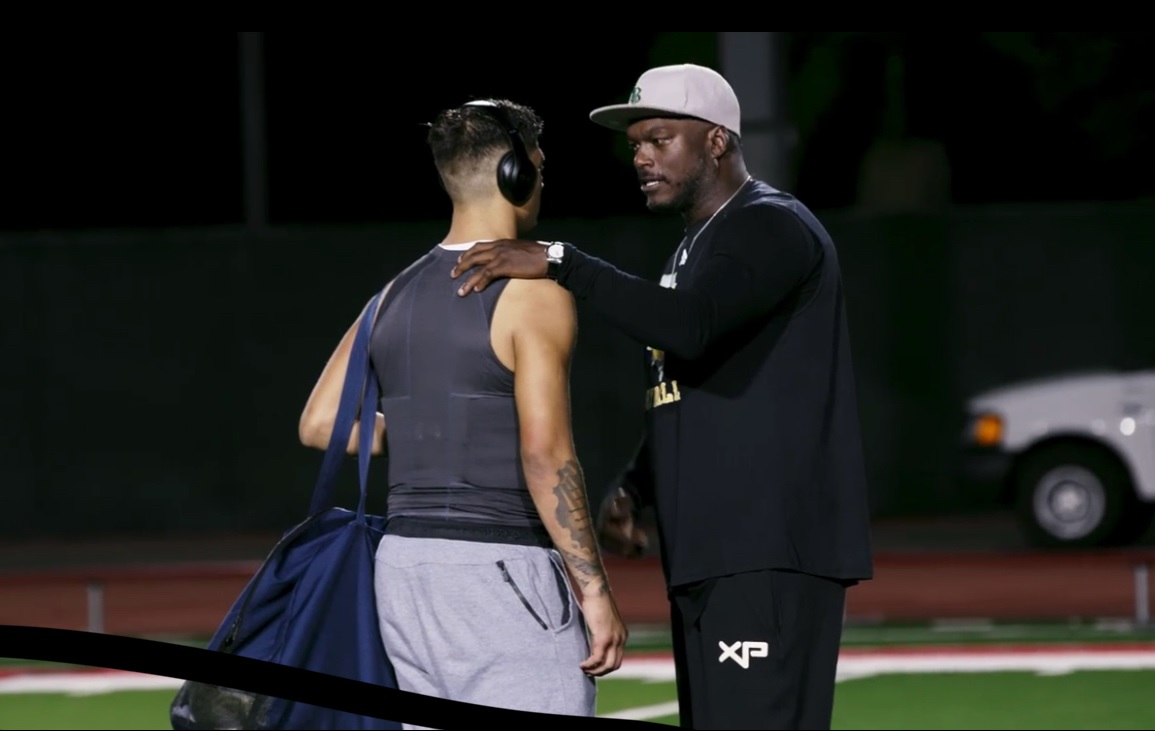 A young, eight year old football player saw the local high school football team come to his school in Pittsburgh, Pennsylvania.  They wore their Letterman jackets with pride. That caught this young child's attention.   The North Hills  Indians were the 1987 USA Today National Champions.  To La Var Arrington, those players and coaches were gods.  "I can still name that whole team, by position, and I'm 39 years old, that's how much that team meant to me as a young kid.  That's when I fell in love with high school football."  
Who did he idolize the most from that team?  "Easy, the Head Coach."  
And now, all of these years later, La Var is considering becoming a Head Football Coach at the high school level.  He's been an assistant for the last two seasons at Long Beach Poly.  No other football program in the Nation has sent more players to The League than Poly.  But with a head coaching change (Antonio Pierce left Poly for Arizona State), Coach Arrington is also moving on to something new.  
La Var Arrington was chosen as the second overall pick of the 2000 NFL Draft by the Washington Redskins.  Before that, his stellar collegiate career landed him on the "The Mount Rushmore of Penn State Football."   While attending Penn State, Arrington was in the discussion for the Heisman Trophy in 1999 (finished 9th), and won several honors including the Chuck Bednarik Award, the Dick Butkus Award and the Lambert Award.  He was an All Big Ten selection, and a First Team All American in 1998, as well as a consensus All American in 1999.  (I had to look up all this stuff, he really didn't want to talk much about his own career.)
In high school, he was a multi-sport athlete.  Ran the 100 meters in 10.85 seconds, was recruited to play basketball by Georgetown, U Mass and North Carolina among others.  But football is where he really shined.  He was named the 1996 Parade National Player of the Year, Bobby Dodd National High School Back of the Year, the Gatorade Player of the Year and USA Today Pennsylvania Player of the Year.
I sat down to ask La Var about his path to coaching and what intrigues him about coaching high school football.  
FORE: When you retired from the NFL, what was your next step?
ARRINGTON: I created a company called Xtreme Procision after going on a two year pilgrimage interviewing the top coaches in America, and many of the top players in the NFL.  I did this to figure out how to make teaching fundamentals better, and easier.  I started creating products to help coaches with teaching tackling and blocking.  
I then went on a two year cycle with USA Football, going out to their camps to teach.  I was asked to join the USA Football Heads Up planning committee, so my wife and I joined that and helped them start that process for Heads Up football.  I went around the country with the NFL Commissioner, and speaking on behalf of the Commissioner.
I then started my own system of tackling system.  The more I can take thinking out of the process, the better equipped you're going to be to have success during that play.  Part of having success on the football field, and knowing what to do is having confidence every time they snap that ball.
We went around the world, with Under Armor as a partner to teach the fundamentals of football.  That's something we are still doing now, camps to teach kids the fundamentals.
FORE: How did you get into coaching high school football?
ARRINGTON: I didn't want to at first. I wanted to keep working with my own products and camps.  But Antonio (Pierce, Head Football Coach at Long Beach Poly) told me that I was too good to be sitting on the sidelines, and too important for the kids not to have.  
I had just lost my job at NFL Network because of pay cuts.  The first year I coached, one of my kids was named the Player of the Year in the Moore League.  I loved it.  I enjoyed the camaraderie.  I enjoyed being with the kids and coaches every day. Once I started that day to day coaching, I was hooked!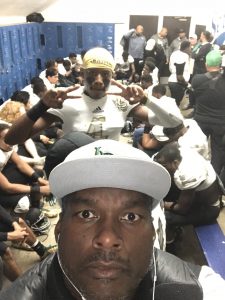 FORE: What do you think makes a great coach?
The ability to connect with your coaching staff and your players.  Within that connection, creating the standard for the philosophy you're bringing to the table. My philosophy to be disciplined, play with pride. I don't subscribe to running a million plays or personnel packages.  I think a lot of people have gotten way to cute with how they approach the game of football.   
The coach's job is to prepare the players for what they're going to see.  In high school, if you come across a team that has more than three really gifted players on one team, that's a rarity. Unless you're talking about Mater Dei, or Bosco. In reality, we identify their most dangerous players, make sure that we neutralize those few real assets on the opponent's team, keep things simple, be strong, and let the kids play.  Be champions when other people aren't working. Work out and keep your conditioning up.  
FORE: Who was the best coach you had and why?
Jack McCurry, my high school coach, he taught me the most.  George Edwards and Greg Manusky would come in a close second. That's just purely defense.  But Coach McCurry is the only coach who ever understood me 100%, who understood me personally, and how to get the most out of me.  
Part of why I've been interested in coaching is because I was so intrigued with their 1987 National Championship team.  I was still playing youth football, but I looked up those guys.  I could name that whole team today, at 39 years old.  I'm a fan of the high school football game.  I looked up to those guys, more than I looked up to college or pro players.  And Coach McCurry was the man in charge of those boys, and so I looked up to those coaches.  
FORE: What was your biggest success as a coach?
The production that I got out of our kids.  I took a few kids, two specific ones, one safety and one receiver, and I feel like I did a commendable job of turning those kids in to football players on a daily basis.  Took them both and turned them into linebackers.
FORE: Why do you want to be a head coach?
I'm ready to take on that challenge to be a head coach.  I've been studying how to coach and teach the game since I retired.  After I was able to see the elements to see, I developed those elements about coaching.  I had the toolbox to be a great coach, the playing background and then now I had the resources on how to teach kids and what to teach kids about this game.  I've had a great experience the last two years in the most competitive division in all of America, and I'm ready to take my own program over.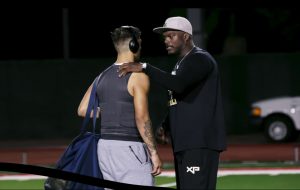 FORE: What kind of school are you looking to be a head coach at?
I want to be a head coach where they take football serious.  Where they commit to having the resources to build outstanding young men.  If there resources aren't there, then the structure will be there.  As long as the structure is at the school for me to build, then I have the best opportunity to build young men. I don't want to babysit kids, I want to build them.
If I'm able to put together the right coaching staff, and bring to the table what I know I can bring to the table, the value, I know we can do it right.  You have to manage the expectations of the school, the parents, the coaching staff, the kids.  That's a constant deal.  
The more you stay in tune managing expectations, the more opportunity you have to find success. I'm all about solutions.  Taking in the information. I liken myself to the back of a woven bookmark. You see all different patterns, and colors of strings, and it's all out of whack.  But when you turn it over, it reveals what you were making. When I played I was labeled a freelancer. What's interesting about that is that when I played I was one of the most well prepared players. I took so much pride in my work ethic.  What you mistook for me running over the line to make a play, I took for confidence running up and knowing where the play was.  If I have kids take that kind of ownership, I'm not going to shame them or create a public persona that protects me as a coach, I'm going to support those players.
————————————————————-
La Var is married to Trishia for close to 13 years.  They live in Arcadia, California.  She is the Head Basketball Coach at San Gabriel Mission in San Gabriel, this is her first year as the Head Coach. She played Division 1 basketball, and has been coaching youth basketball for quite a while now.  It started with just coaching their oldest child, who is 12.  The Arringtons have 4 children, their oldest born during LaVar's last season in the NFL.  Their other children are 10, 10 (yes, twins!) and 2 years old.  They will be around kids for quite a while!
I wish Coach Arrington all the best in his future coaching endeavors!
If you're an Athletic Director or Principal looking for a Head Football Coach, email me at Chris@eightlaces.org for Coach Arrington's contact information!