An Ode To Those Hard Working Sports Reporters!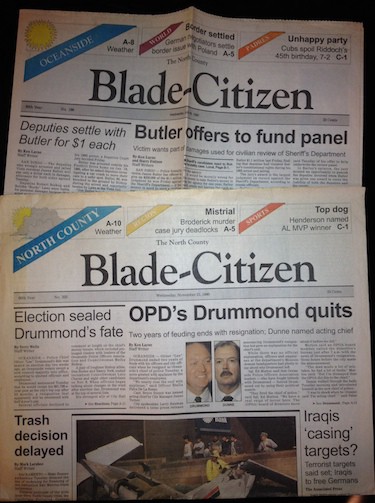 Saturday mornings and Thursday afternoons were two of my favorite times growing up as a big high school football fan in a small town called Fallbrook in rural San Diego County.  On Saturday mornings, the Blade Citizen (later to be named the North County Times) was delivered to our house, and I would run out to get it.  Most mornings, it was sitting there under my basketball hoop in the driveway.  Some days I would catch that paper; the friendly old man would see me waiting for it, and huck it from his car right at me.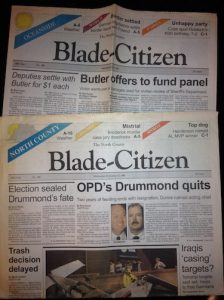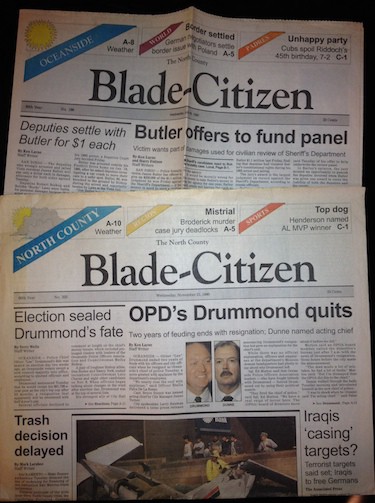 John Maffei, Dick Scholfield and many others covered Prep Football in those days.  John still works covering prep sports in San Diego.  I would run that paper in to the house, rip the rubber band off, and find the third section: Sports.  I never read the rest of it, maybe the comics on Sundays!  The only thing that mattered to this elementary school kid was the Fallbrook Warriors Football team!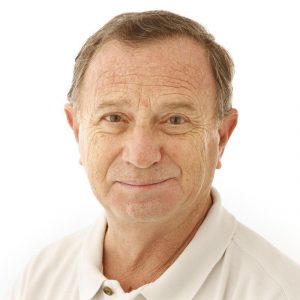 I would first find the story about the Warriors' game!  Sometimes, if I couldn't go to an away game, this was how I found if they won or lost!  The sports page!  No internet, no twitter, nothing.  It was those writings that would set the tenor for my day.  If the Warriors lost, I would be mad.  If they won, I would be ecstatic.  I would go replay the scene in the backyard with my brother, or with my neighbor Brian up in his backyard.  We would make the text of story of the previous night's game come alive in our backyards, turning the black and white print in to living color.  
All thanks to those hard working sports reporters!
"Barrick threw a 70 yarder to Darrow Nelson!  You be Barrick, I'm Nelson."    
"Miramontes threw for 300 yards again, man!  Let's go throw it around in the backyard."  
"The Warriors' defense came up with an interception in the final minutes to seal the victory.  I get to intercept your pass!"
The reporters hard work became our Saturday morning playground script.  
After we played for a while, and after my dad read the paper, I would cut those articles out.  I LOVED when the San Diego paper had a picture of the Fallbrook Warriors game.  Usually, the front page was color, and every now and then you would find the red and yellow uniforms in full color.  I carefully cut those pictures and articles out and put them on my walls with thumbtacks.  
My peers thought I was weird.  
The Enterprise was delivered to our mailboxes on Thursdays.  It was the local newspaper in our Friendly Village, the nickname for Fallbrook.  I couldn't wait to see all of the pictures taken by local legend Dick O'Brien.  Mr. O'Brien snapped every picture that meant something to Fallbrook residents for a long, long time.  He would go out and take pictures at night if there was a fire, or a major car accident, and he would be at all of the varsity games in town.  Snapping away for The Enterprise.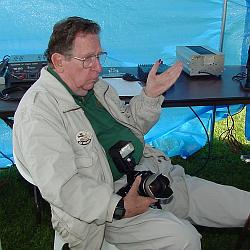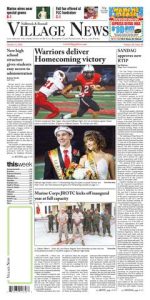 And I would cut out those pictures of the football, basketball and baseball players I looked up to.  I saw those teenagers as gods, and Dick O'Brien captured them in action that I dreamed of one day being a part of.
The Blade Citizen.  The Enterprise. 
I remember reading those papers more than any other book I ever read as a kid.  Those sports reporters served as my reading teachers.  That's how I began to fall in love with sports.
I'm convinced that those articles and pictures I spent hours cutting out and organizing on my walls served as the foundation for me joining the yearbook staff at my school as a junior.  I loved writing about sports!  My senior year, I became the yearbook Sports Editor.  
All thanks to those hard working sports reporters!
When I went on to Azusa Pacific for college, I volunteered to take pictures for the school newspaper, but only sports!  And then the Sports Information Director Gary Pine (now the Athletic Director) saw my work, and paid me to come take pictures at football games for the sports department to use.  Are you kidding me?  I got paid to be on the field to take pictures!  And eventually they ended up on the front of the game day magazines!  
All thanks to those hard working sports reporters!
I remember meeting a reporter named Greg Ball with the Californian down in Temecula.  He was the first person to interview me when I became a Head Coach.  Eric Paul Johnson was the second.  He came to see me in person, so that meant a lot.  I also met Landon Negri during my time in Temecula.  I've communicated with those guys ever since, that was 2003.  When I moved over to San Juan Capistrano and took over as the Athletic Director/Head Football Coach at Capistrano Valley Christian, I met Dan Albano; a reporter with the Orange County Register.  He came down to watch a practice and interview me during my first week of summer ball.  That was 2006, and we still talk now.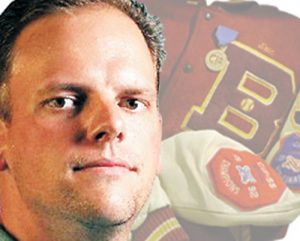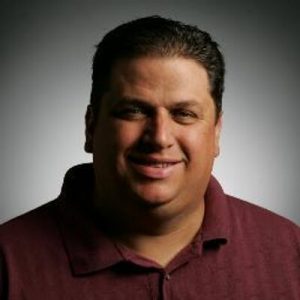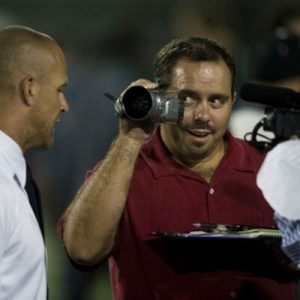 Joe Naiman works for several different outlets, and one of them is in Fallbrook, my hometown.  He has written a number of stories about me over the year for the folks back home to read.  I appreciate that very much Joe!  It's been really neat to hear from long time friends, and to make my grandmother feel special when she sees her grandson in the local paper.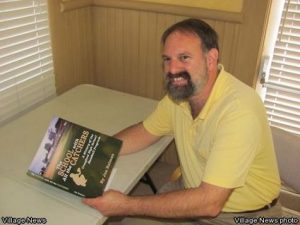 I moved to the High Desert in 2012 as the Athletic Director at Excelsior Charter.  Here I met the guys from the Daily Press.  First it was Kyle Glaser.  We hit it off as we found out we were both from North San Diego County.  Kyle moved on to become a National Writer with Baseball America.  I also met Matt Peters, CJ Daft and Jose Quintero (who I sat and watched a football game with one time).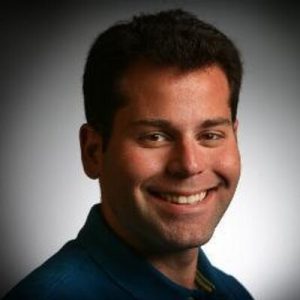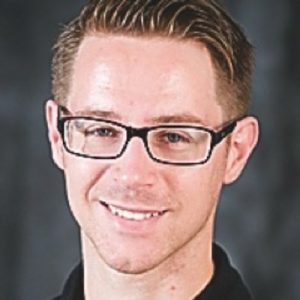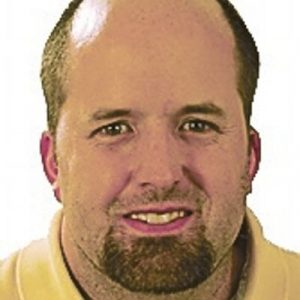 And online, through a variety of discussions about football and coaching changes, I've gotten to know people like Michelle Gardner, Pep Fernandez, Fred Robledo, Eric Sondheimer, Aram Tolegian and many more hardworking sports reporters, of which I know I'm forgetting to name some.
It's been very sad to see so many great sports reporters lose their jobs over the course of the last few years, and specifically the last few months.  Last week, about 100 newspaper workers were let go by one large group who runs them all.  It's awful to see some of these people now out of work.  That's the real story here; real human beings out of work.
Secondary to that is the thousands of games and athletes and their stories that will not be told.  Pictures that will not be cut out of the paper, stories that won't be forwarded to grandma in Iowa.  

It's true, high school sports might be "overexposed" these days.  Everyone has their own newspaper outlet on social media.  But they aren't telling stories and they aren't reporting stories.  Not like the sports reporters do.  
I love to write.  I teach English to Special Education students.  I've written three books.  I've written 400 articles for this website you're reading now.  I write a weekly column for MaxPreps, "America's Source For High School Sports."
All thanks to those hard working sports reporters!
Please take a minute to sign up for my newsletter.  I promise not spam you!  I will send out 2-3 newsletters per month, packed with information and a discount for my newsletter subscribers only!