Why should we hire you over the other candidates?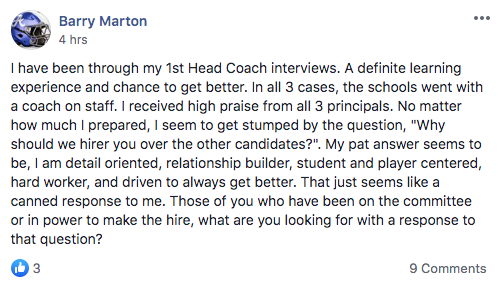 I am a part of a few different Facebook groups of coaches.  This one today came from Football Coaches Connection.  Check it out if you're on Facebook.
I've never done this before, turned someone else's post into an article. But I get this question a lot.  So, I wanted to give some feedback to help you coaches in your job search.
I've written extensively about the job search process, as I really, really enjoy helping coaches with this process. One reason that I like to help coaches in this area is because I couldn't find ANY trustworthy source at a time I really need some great sources in my first job search ever, 2011.
It was very stressful, and there wasn't anyone out there who had been an Athletic Director, or a Head Coach, or in this business who had any resources for me: a career coach.
So, I wrote a book called An Insiders Guide To Scoring Your Next Coaching Job as one resource to help coaches.  Another thing I've done is write about the job search process here, check out my article library, and have done quite a few podcasts on the job search process as well.
But here is the post I saw tonight, and what I want to address to answer this question.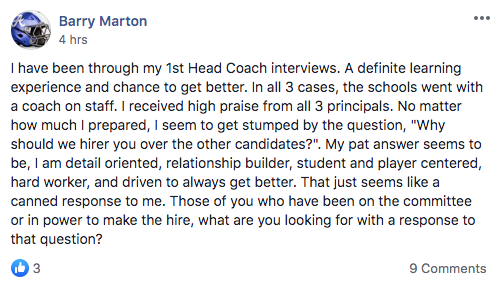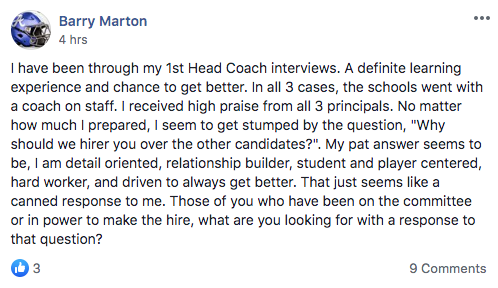 My answer: The number one mistake coaches make when interviewing: they fail to match THEIR gifts, talents, abilities, experiences with the school's needs!
As an Athletic Director for 6 years, and a Vice Principal of Athletics for 2 years now, I've hired about 30 Head Coaches.  I've also hired a whole bunch of assistant coaches as a Head Football Coach.
But speaking specifically to the Head Coach interview process, and this question above.  Coaches have GOT to get to know the school they are interviewing at.  They've GOT to know that school insight and out.  They've GOT to know what the school is looking for.
DO YOUR HOMEWORK!  
So, this is a long answer to the above question on how to nail this interview question "Why should we hire you over the other candidates?"
I wrote about this in my book referenced earlier.  I titled the chapter "SHOCK THE INTERVIEW PANEL."
One of the best things that you can do for yourself during the interview process is to "shock" the interview panel with your knowledge about the position and program you are interviewing to be a part of.  I have been in a few interviews as a head football coach candidate, or athletic director candidate, where I knew more about the football program, or athletic department than some of the folks on the other side of the table.
For instance, I had an interview in April of 2012 for an athletic director job at a public charter school.  I did hours and hours of research on the history of their athletic department.  I found out that they had won only 3 League Championships in their first TEN years of athletics; that's an awful record.  I did some research on the longevity of their coaching staff, and this led me to the diagnosis of their problem, in my opinion.  Their head coaching turnover was too much.  For instance, they went through 5 head softball coaches in 5 back to back years.  The program just cannot get stabilization for success with this kind of turnover.                                                                 
The two board members, and even the principal on the panel didn't even know this much about their own softball program.  So, when they asked a question of me in regards to how I would help to establish a winning culture, I first spoke to the fact that we needed to stabilize the head coaches.  I pointed to the fact that they had gone through 5 softball coaches in 5 years.  One of the board members stopped me and said "how do you know this?  I don't even know that, and I've been here for 10 years!"  I said "Well sir, I've done my homework."  I then looked in my notes and named all five coaches.  He turned to the principal and superintendent and said "I had no idea we were going through coaches like this in softball, why is this happening?"  This is one way to "shock" the interview panel!         
Being prepared for your interview in a manner in which you might shock the interview panel will help to put you in the second round of interviews.  You need to do your homework on the position, and the program you are looking at by getting to know that program so well, you can diagnose the good, the bad, and the ugly during that interview process.  I'm going to tell you some of the ways that you can study the program you are going to interview with.
1. First of all, use the internet!  Make great use of the technology available to you.  If you're a football coach, get on Maxpreps and do research on the current roster.  Find out who they have coming back.  Find out who their leading tackler, leading offensive player from the year before was; see if that person is coming back or not.  Going in to the interview knowing that their 3 year starting quarterback is graduating is a VERY important key.  On the other hand, imagine finding out that their two time All League QB has one more year left!  Are they graduating 10 of their 11 starting defensive players?  Are they returning 9 offensive starters?  What about their kicker?  These are things that you need to study about the program.
Take a look at the schedule that they just played last year.  What are the strengths and weaknesses of that schedule?  Did they blow people out, go 12-0, and the head coach got promoted to a better job in another district?  Or, did they go 0-10, and the coach got fired?  Knowing what happened last year is important.  Get a great feel for the league.  I interviewed at a school that was .500 or a game above .500 for about 5-6 years in a row.  But as I studied their results over the last ten years, I found out that they were 0-20 the last 4 years in their league!  Then you have to ask yourself why they have not won a league game in the last 4 years.
2. The next step in getting to know the program is through making phone calls or sending emails to the coaches in that league.  "Hey, I noticed such and such school hasn't won a league game in 4 years.  I'm interviewing for that job over there.  What is going on there?  Why are they not winning in league?"  This school I told you about, I found out through making these phone calls that they are the ONLY school in the league that does NOT have "extra" financial aid for student-athletes.  It just is not a part of their business plan.  So, the playing field really isn't level when one school is bringing in athletes by giving them extra financial aid and one school isn't.  I wouldn't have known that without picking up the phone to call some coaches in that league.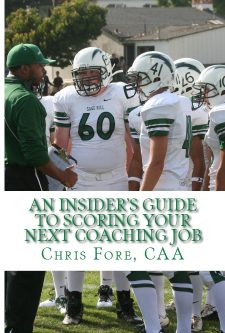 With that AD job I referred to earlier this chapter, I called a few ADs in the league to get a feel for the school.  One told me "It's a mess over there in terms of sportsmanship; the other ADs in the league have a pretty tough time with them.  They go through ADs pretty quick too."  These were two HUGE red flags about the school.  The internet wouldn't have told me those things.  You have to pick up the phone as you prepare for your interview.  Get to know that athletic program better than the panel does!
3. Contact some media members in that area.  I've always worked very well with the media.  I have great media contacts with every section here in Southern California.  From all the way down in San Diego, up to Los Angeles, from Orange County beaches to the desert out in Palm Springs, I can pick up the phone and call a reporter to get an idea about most of the 600 Southern California schools.  Media members can give you some GREAT insight on schools that you might not be able to garner from anyone else.  If you are able to develop a great relationship with media members where there is great trust, and you can simply talk off the record with them, it will help you gain valuable insight.
4. Search and scour the school's website for information that you can use in your interview.  Know the school's history.  Memorize their mission statement.  Are they going through a great time in their school's history, a period of growth and success?  Or are they struggling in different areas?  If it is a private school, spend time on the admissions page so that you are familiar with this process.  Try to find out what the school holds dear on their website; what is important to them?  Do they have 5 pages about their drama program, and only 1 about athletics?  This might be a bad sign as a coach.  Are there bios for the faculty?   If so, do they list the years these teachers have been there?  Are there more teachers who have only been there 2-3 years or teachers who have been there 12-15 years?  This will tell you a LOT about the type of school it is, and what kind of place it is to work.
5. Do the best that you can to find out who is on the interview panel.  This can be another way to "shock" them.  Again, use the school's website to learn about these individuals.  If Mrs. Susie Jones is on the panel as a faculty member, look her up on the school's website.  You might find out that she played for the USA Olympic Softball team in 2000, and that she has an extensive background in athletics.  This is GREAT to know.  You might also read that she has a son who is 16.  Check out that roster on Maxpreps, does her son play football?  Again, GREAT to know!  If there is a Booster Club representative on the panel, google him or her.  Find out what they do for a living.  I've been in an interview where one of the Booster Club members was a sports doctor in the community.  So, I spoke a lot about Sports Medicine, and even referred specifically to him a few times.  I called him by Dr. (Last Name).  One of the members on the panel said "Well, you did your homework didn't you?"  I found out that lady was in real estate.  So I responded back to her "I hear real estate is picking up!"  Everybody around the table laughed!  This was a way to "shock" the panel!
Shocking the interview panel means being prepared to answer this question "Why should we hire you over the other candidates?"
If you know the school and the position INSIDE AND OUT, you'll be able to match THEIR NEEDS with your background and experience and talents to explain why you're the perfect fit!
Hiring Head Coaches comes down to FIT more than anything.  If you do not know about the job and the position, you will not understand their needs, period.  Not understanding their needs puts you at a real disadvantage to answer this question, and you'll probably fail that question in particular.
Chris Fore has his Masters degree in Athletic Administration, is a Certified Athletic Administrator and serves as an Adjunct Professor in the M.S. Physical Education –  Sports Management program at Azusa Pacific University. He serves as the President of the California Coaches Association.  Fore also runs Eight Laces Consulting which specializes in helping coaches nationwide in their job search process.  Fore has been named to the Hudl Top 100 Coaches, and the Top 5 Best High School Football Coaches to follow on Twitter by MaxPreps.  Follow him!