There Is A Gap In Student Athlete Development…
High School Student Athlete:
-Practices their sport and trains hard in the weight room.
-Focuses on their grades and academics.
-Messages coaches to get exposure and earn a scholarship.
-Dedicates nearly 70 hours a week towards their sport and academics.
-Coaches invest thousands of dollars into your performance.
-New environment with added responsibility and pressure.
We save athletes and their families money, time, and stress while preparing for college.
Are you a student athlete who has the dream of earning a scholarship and competing in college? ✅
Are you a student athlete who leads your team and represents your community? ✅
Are you a student athlete who focuses in the classroom and prioritizes their academics? ✅
What if you could show up to your first practice in college with more knowledge and preparation than most of your upperclassmen teammates? Imagine the majority of freshman student athletes on campus struggling to adjust to their new expectations in college while you hit the ground running leading your team and impressing your coaches.
Sign up today!  Use the code FORE10 for a $10 discount!
The owner finished high school destroying every goal he set out for himself. Being awarded 1st Team All-State honors, being voted team captain, breaking seven school records, and scoring a 27 on my ACT had him feeling excited and confident about competing in college. The problem was that despite attending camps, and using paid recruiting services he wasn't receiving the attention he had hoped for from college coaches.
Although he was frustrated and defeated after graduating high school with no clear plans for continuing his athletic career, he wasn't prepared to give up yet. He made the decision to walk-on at a local community college. It was during his freshman year of college that he quickly realized despite his high school success, he wasn't prepared for college athletics at all. After a challenging few years, he was able to transfer on a scholarship that eventually allowed him to graduate debt-free. He went on to develop this very course to help YOU, the student-athlete, be much better prepared!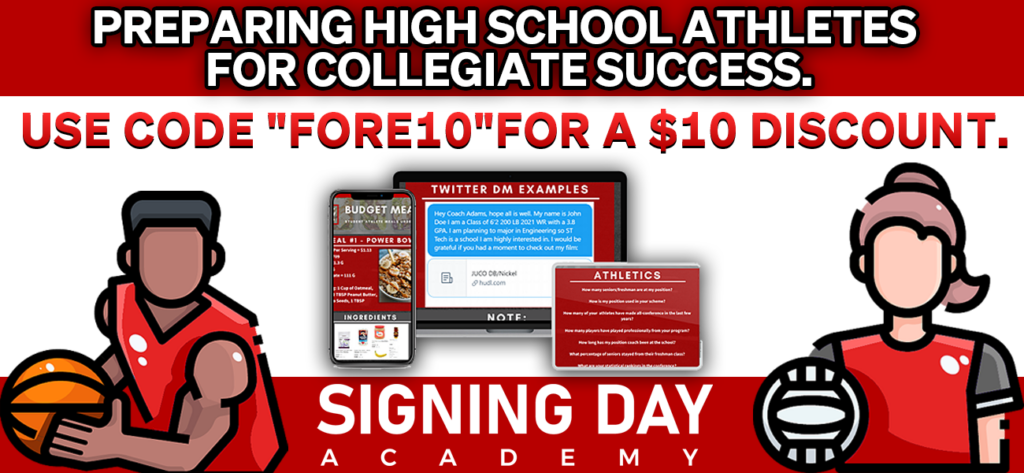 While other students on campus are pulling all-nighters with energy drinks in the library during finals week, you can relax in your dorm room knowing that you followed our academic playbook for success and excelled in the classroom all semester.
When your team offers community events and optional professional development, you will be one of the first athletes to sign up because you will understand the value of leveraging your student athlete experience for growth inyour career. The other athletes on campus will be scrambling to prepare for their next move weeks before graduation.
Signing Day Academy will put you in a position to have the most rewarding student athlete experience possible. If you want to leave a legacy and impression on your campus, you're in the right spot.
Sign up today!  Use the code FORE10 for a $10 discount!