Planning Preparation and Practice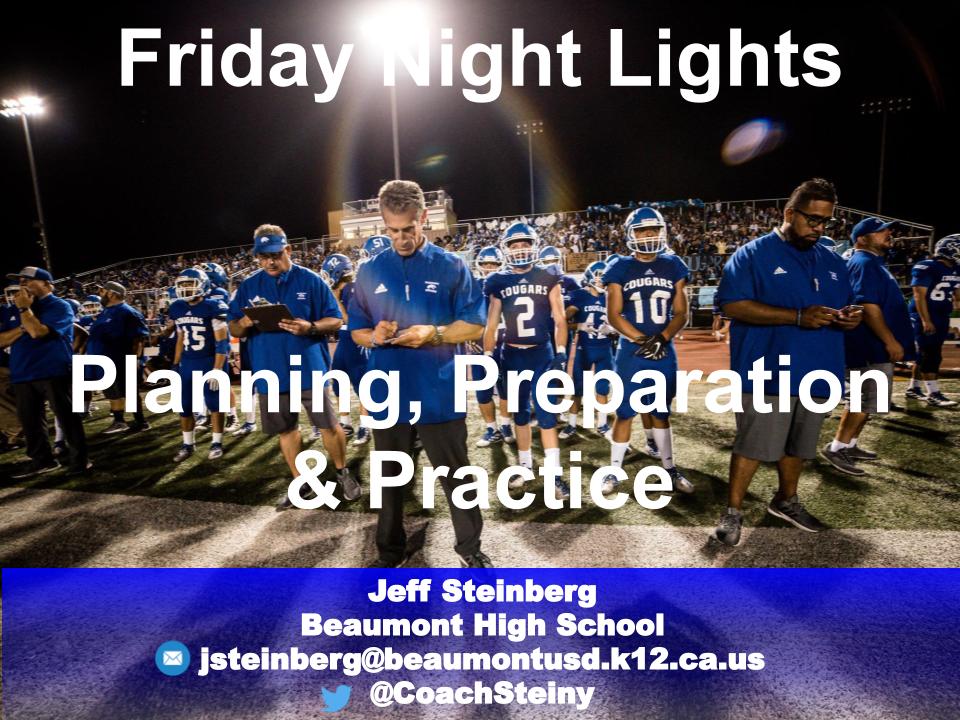 I recently saw a tremendous clinic by Coach Steinberg at the Los Angeles Glazier Clinic. The clinic was about practice planning and hearing about the overall week from Coach Steinberg.  He has won several CIF Championships here in Southern California, and is a dynamite head coach. Currently, he is the Head Football Coach and PE teacher at Beaumont High School.  You can find his YouTube videos here.
3 Key Components of Assistant Coaches
Passion/Enthusiasm/Industrious – Beyond Passionate in working with HS student-athletes.  Understands his role in developing them as young men.  Will do everything to develop strong relationships with players in the program.

Loyal – Understands the Vision of the HC & can help sell that vision to EVERYONE.

Competent – Has a strong knowledge of the position he will be assigned to.
Success is a byproduct of doing the right thing!
Keep the focus on the process, your program & players.
Faceless opponents.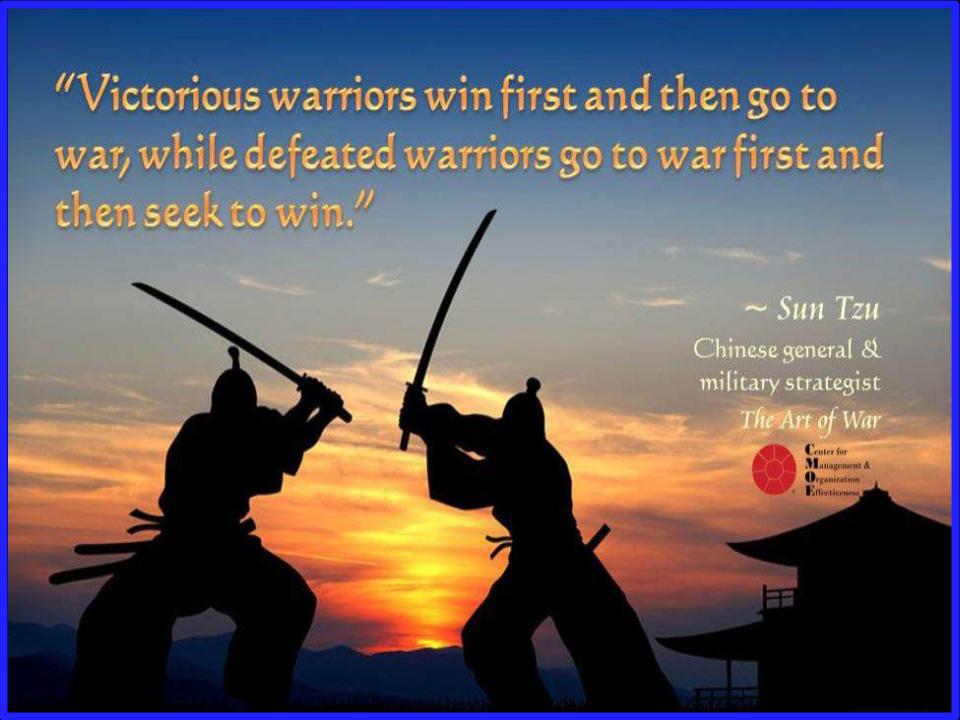 TIME
The one element all programs have in common is TIME.  It is what we do with that time that determines our success.
We will attempt to outwork our opponents with the time we have.
We will be OBSESSIVE with the efficient use of practice time.  
Quality control – Identify the ways you & your staff inadvertently waste time & create remedies ASAP.  Make the remedies into routines.
Game Week Prep – Friday
POST GAME
Rock Award

Brief Team Meeting – Keep comments extremely brief.   Absolutely no critique or analysis of game.  Emotions are high whether it was a win or loss.

Brief coaches meeting.  Ensure all post game duties of staff are complete.

Win or lose remind players we love them (unconditional).

Post game food/snacks.

Athletic Trainers Report following game.
Game Week Prep – Saturday
Preliminary Prep (on own)
Players day off (treatment at Sports Clinic).  Communicate with players that need treatment.

Review & Evaluate Friday's Film-ensure comments/points of emphasis are indicated on

Hudl

for players to review.  Have coaching points loaded & out to players by Noon.

Communicate Injuries/Discipline etc. that may have an effect.

Preview Film of Upcoming Opponent (most recent game first)

Study minimum of 3 games of Opponent
Scouting Your Opponent
In Scouting Your Opponent develop a report based on: 
System

Personnel

The Playcaller
Must List of 10 Items We Identify
What is their overall Defensive Philosophy?

What is their Base Front(s)/Coverage(s) vs teams similar to ours?

What are their top Blitzes?

What is their Red Zone Defense?  What yard line to they start playing this?

What do they do on Short Yardage, Goal Line, vs Offense backed up?

Who are their top Defensive Players?

Who are players that we should attack?

Do they show any flaws in their system/scheme?

Are there any 2 way players?

Have their been any recent changes to personnel (injury or other)?
Preliminary Prep (continued)
Prepare Scripts & Cards (Front Cards, Coverage Cards, Blitz Cards, Inside Run Script, Perimeter Script, 7 on 7 Script)

Assess Practice Needs for the week (Share through text/email,

Google Docs

, etc.)

Begin working on Game Plan Sheet (Highlight Formations & Plays we will be successful with)

Update locker room boards (goal boards)
10 Ways To Win A Game
Win The Turnover Margin (or 0 Turnovers on Offense)

Score on first drive of the Game

Hold opponent from scoring on first drive

Outscore opponent in the 2×4

Win Special Teams game (Points & Yards)

Fewer than 15 loafs in the game

Outnumber Opponent on Average Yards on 1

st

down.

1 Big Play on Special Teams

100% Scoring in Red Zone

Fewer Penalty yards than opponent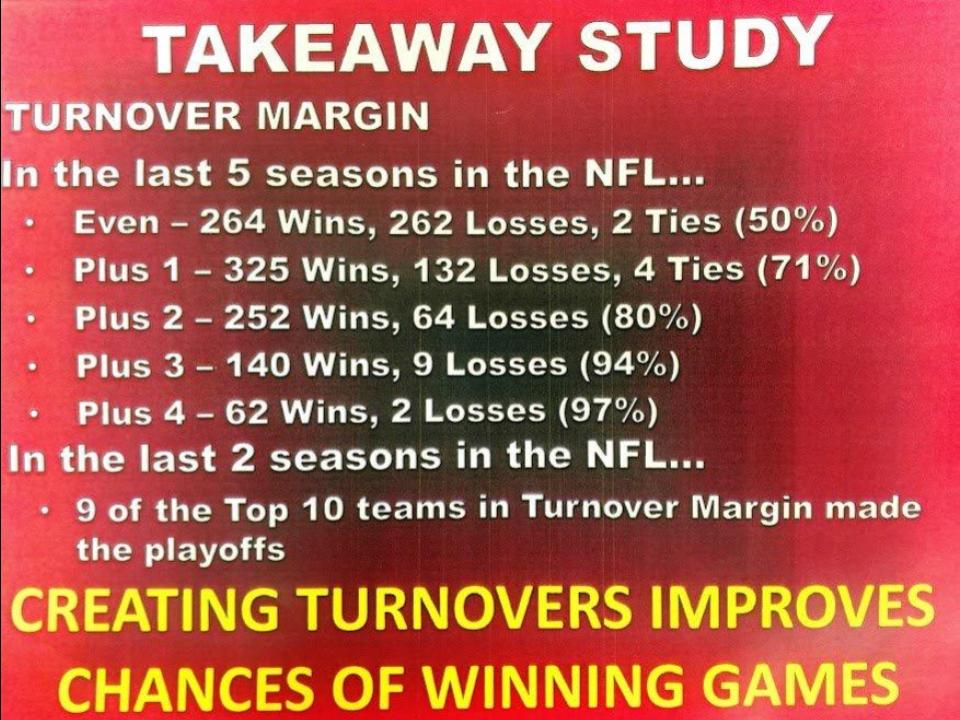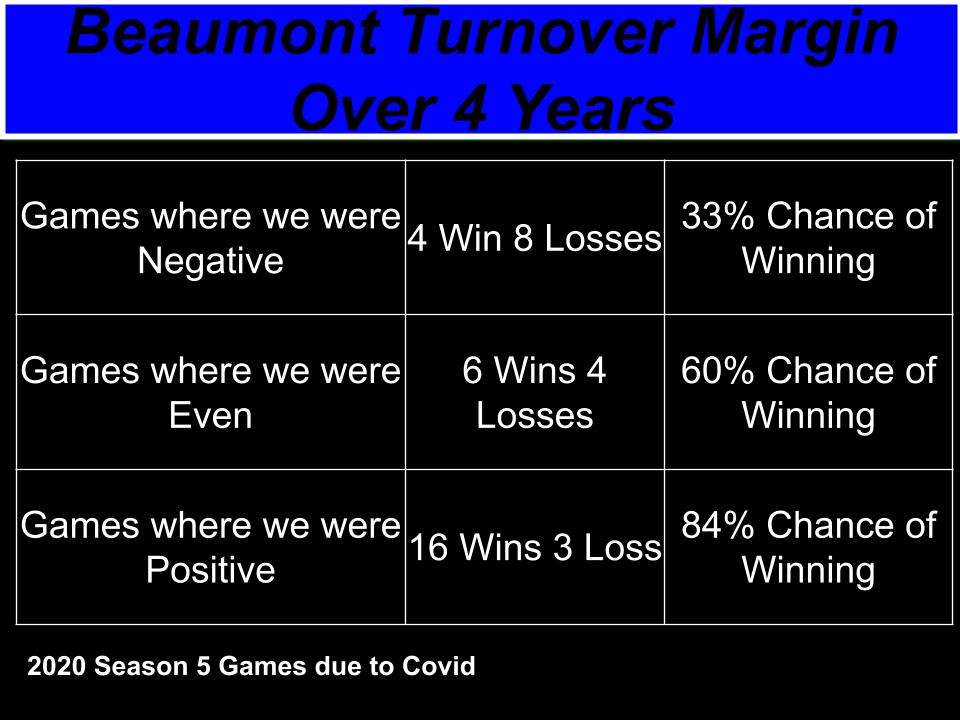 Defensive Game Goals
Hold opponent under 100 yards rushing

Hold opponent under 150 yards passing

3 Take a Ways

8 TFL's

50% Pass Completion

Score or set up a score

Hold to 3 yards or less on 1

st

Down.

Hold to 33% 3

rd

down conversion – 3

rd

Down Defense is most Critical

50% 3 & Outs

Limit opponent to 4 Explosive Plays
Offensive Game Goals
70+ Plays

0 Sacks

100% Ball Security

400 Yards Offense

65% Pass Completion

100% Red Zone Scoring

Average 4+ Yards On 1

st

Down    75% 3

rd

down conversion

Outscore Opponent in 4

th

Quarter

0 Dead Ball Penalties

8 Explosive Plays (20 Yards Pass/12 Yards Run)
Special Teams Game Goals
Score/Set Up a Score

100% Punt Get Off

100% FG/PAT Get Off

Block 1 Kick or Punt

100% Scoring on PAT

100% Scoring on FG

Avg 12 yards per Punt Return

Avg 25 yards per Kick Return

Limit opponent to 5 yards per Punt Return

Penalty Free
Game Week Prep – Sunday
Send out weekly Google Form to players Sunday morning. They must have it filled out by Sunday evening.

Mental & Physical Health Check

Goal Setting for the Week

Include Commitments for the Week.

Scouting Report sent out Sunday evening for players to review.

Staff Planning Meeting

Staff Meet & Share thoughts. Each position coach to report.

Game Awards

Position Reports provided.

Discuss Opponent System & Personnel for deficiencies

Finish Up Scouting Reports (Coordinators)

Scouting Reports/Film available for players online (

Hudl

)

Prepare/Discuss Practice Plan for the Week

Discuss THEME for the week

Determine What it Will Take to Win (Game Goals)
Game Week Prep – Monday
Tone Setter Monday  (Helmets/Shells)
QB's film before school or lunch (15 min)

Players fill out commitment cards (3 Commitments)

Football Class – Weights & Special Teams Film (60 min)

Team Meeting (Theme for the Week)

Film before practice (20 min)

Scouting Report, Spec Teams & Base D,
Run Down tendencies

Practice – Install & review Base Fronts/Covgs/Run Downs

Meet/Review/Update Practice Plan for Tuesday
Game Week Prep – Tuesday
Take Away Tuesday (Full Gear)
Football Class – Weights/Review Blitz Pick Up & Opponent Pass Tendencies (60 min)

Study Hall after school (60-90 min)

Team Meeting & Film before Night Practice 

10 Minute Team Meeting

15 Minute Unit Meeting

Song Night

Discuss Preliminary Game Plan with Team

Meet/Review/Update Practice Plan for Wednesday
We don't rise to the level of competition in game situations.  Rather we fall to the level of our training.
Game Week Prep – Wednesday
Competition Wednesday (Helmets/Shells or Full Gear)
AKA The Day Before The Day Before
Football Class – Weights (60 min)

Film before Practice – Practice Film & Review Opponent (15 min)

Game Simulation Practice (Hashes, D & D, Fire Alarm Series, Red Zone, Backed Up, Mayday, Cougar Ball)

Meet/Review/Update Practice Plan for Thursday
Game Week Prep – Thursday
Perfect Preparation Thursday (Helmets/Shells)
Football Class – Run Through Practice

Review Game Plan on Field
Review Opening Script
Review Special Plays
Review Goal Line, 2 Point, Backed Up
Review all situations & sideline procedures.
Under 60 min
After School – Varsity film review & Kahoot test (15 min)
Print Up Game Plan Sheets, Sideline Sheets & Pressbox Sheets
Game Week Prep – Friday
Payday
Football Class – Light Indo work & Walk Through

Review Situations & Sideline Procedures
Review all special teams & 2 point plays
Review Game Plan on Field
Review Offense & Special Plays
Review Defense & Assignments
After School
Players on lock down
Team Meal, Weekly Awards, Honorary Captain
On field for Stretch, Warm Up & Spec Teams Call Out
Staff meeting to review coin toss, special situations, 4th down situations, weather
Pre Practice Meetings
Keep Meetings brief .  If it's a longer meeting have a break (maybe a 1-2 question trivia quiz)

Make meetings interactive.  Make "Cold Calls".  Keep players on the edge of their seats.

Spend time on Opponent film but always review practice film.

If you are doing install in a meeting follow it up with walk thru on the field.

Have opponent film arranged in playlists (Base, Blitz Package, Red Zone, Goal Line, 3

rd

Downs…)
Practice Planning
Practice is planned on Sunday for the entire week

Needs are discussed & submitted by position coaches.  Every minute of practice is scripted in 5 minute segments.

No Stretch – Players responsible for stretching Hamstrings & areas needed prior to practice or as early outs are being conducted.

Uptempo Practice – reps, reps, reps.  Stay on the clock.  Coach off the film & pull guys out for corrections.

Strive for minimum of 3-4 reps per minute on Inside Run & 2.5 reps per minute on 7 on 7/Perimeter & Team

Pressure Practice – Make Practice so intense mentally & physically that the kids feel the games are easier.  Competition as much as possible.

Practice Harder, Smarter & with Greater Intensity than our opponents.  This is where you create an Edge.
Be demanding on all players.
Emphasize & communicate what periods are Teach, Review, Tag, Thud & Live. 

We run VERY LITTLE Live Period work. Lots of Quick Whistle.

Emphasize what periods are 1's vs 1's & which are service.

Coaches responsible to set drills up to maximize reps.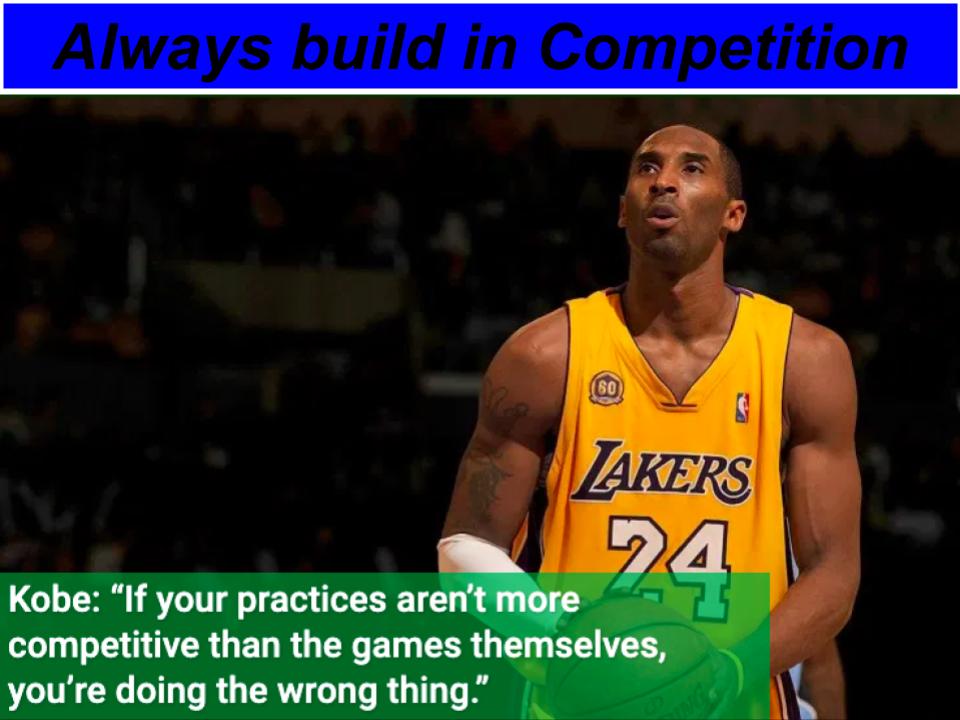 MON – EO (Install/Walk Thru)Inside Run, On Air, ½ Side Pass, Play Action, Boot, Quick Pass

TUES – EO (Fire Alarm) On Air, PUP, Blitz Beaters, 3

rd

  Down, Cougar Ball

WED – EO (Spec Series & Gadgets) Inside Run, PUP, 1 on 1's, 7 on 7, Cougar Alley, King of the Boards, Cougar Ball

THUR – "Perfect Practice" – Game Script, Opening Script, Review Special Plays, Gadgets, Fire Alarm, Mayday, Review Game Plan

FRI – Walk Thru

During special teams players that are not directly involved are doing skill work with coaches or working on Offense/Defense.

Practice is filmed Monday through Wednesday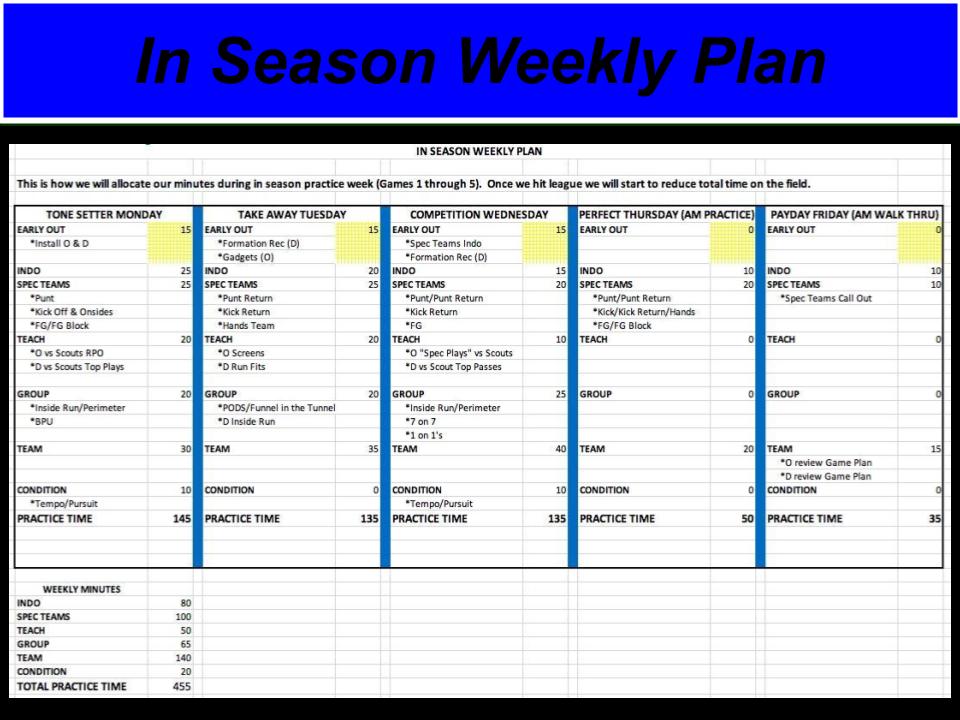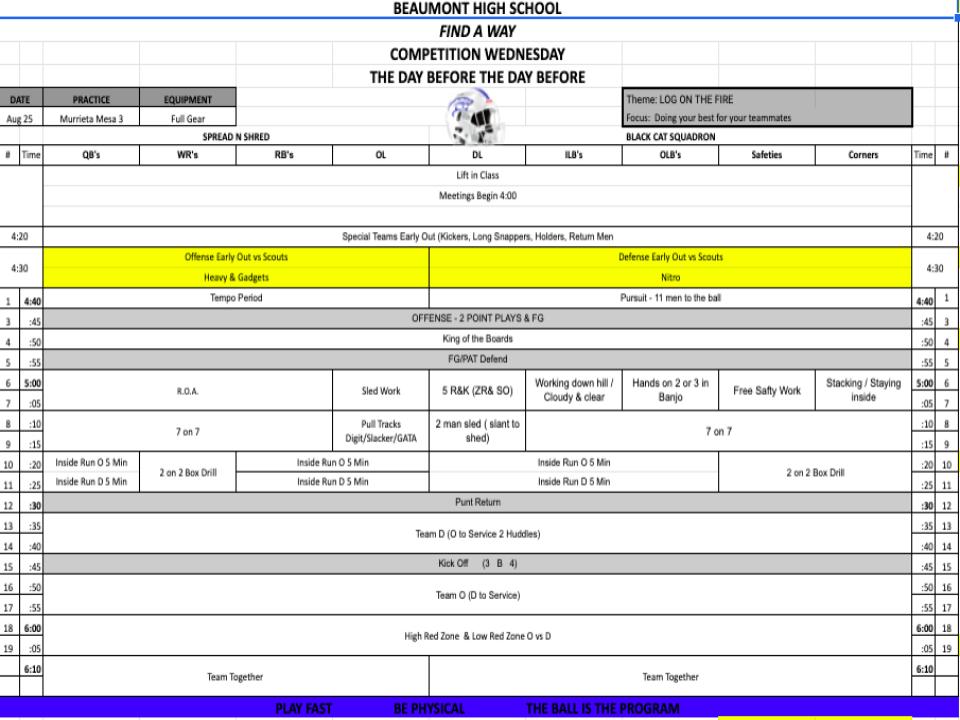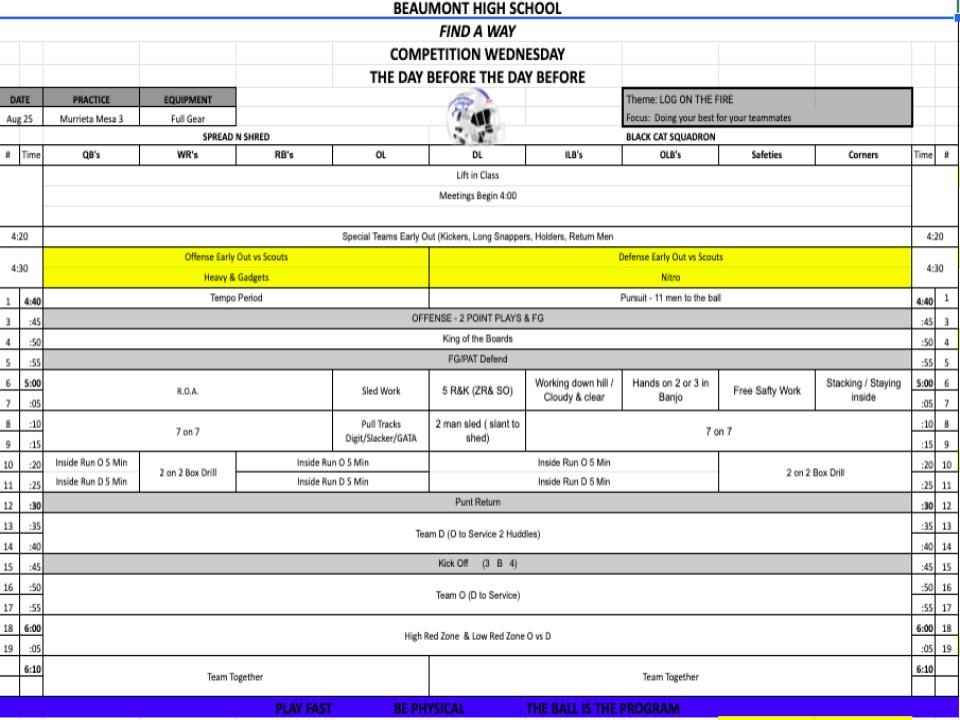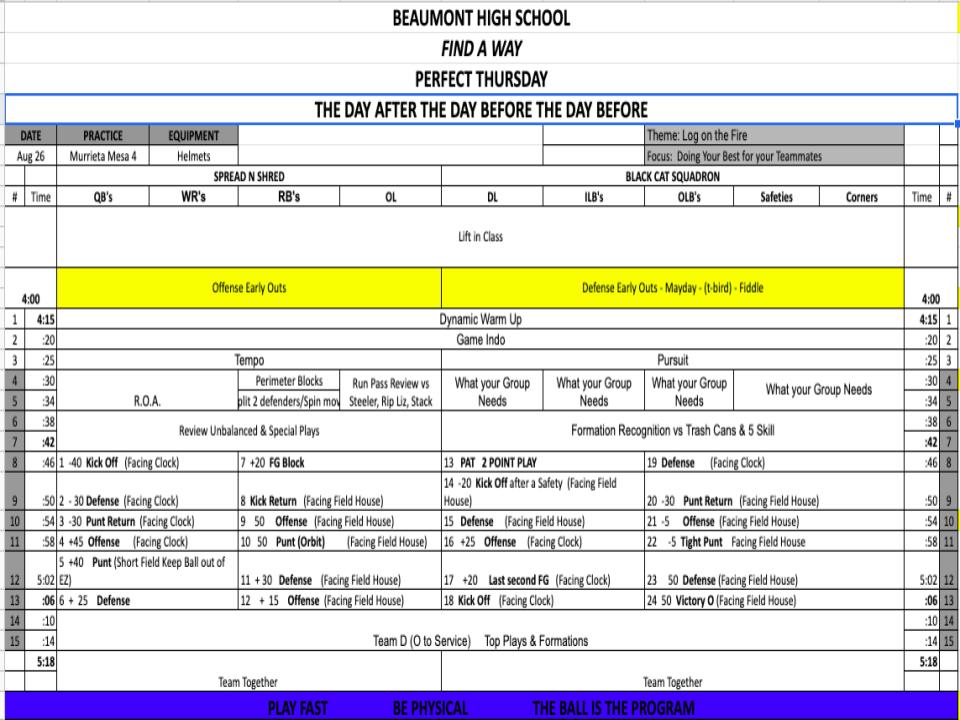 You can find his YouTube videos here.