8 Coaching Lessons From Hoosiers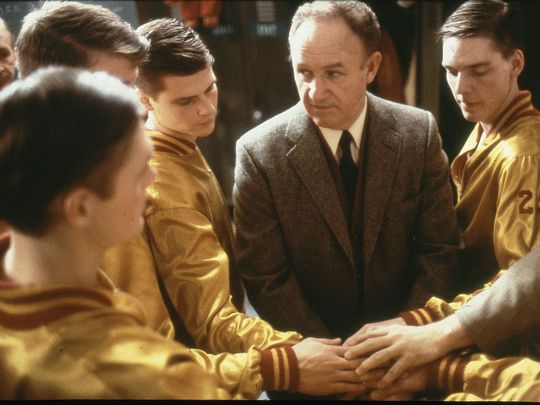 Friday nights at the Fore household, outside of those precious Fall Friday nights under lights, are reserved for movies!  It's family movie night every Friday. My wife makes homemade pizza, and we rotate between the three kiddos (12, 10 and 7 years old) for whose choice it is for the movie selection.
Outside of seeing some flicks like Frozen 1,629,275 times, I really treasure Friday nights!
My oldest kid, Nate, recently got to choose, and he asked me for "a good sports movie we haven't seen."
It.
Was.
Time!
H-O-O-S-I-E-R-S!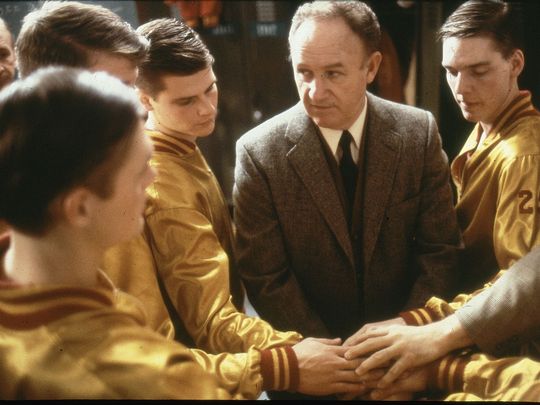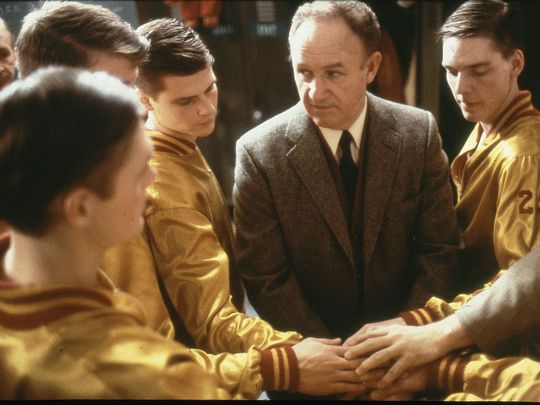 I've been saving it for when they all got to be old enough to really appreciate it, especially my oldest.  It is one of my favorite movies.  He loved it by the way.  Basketball is his favorite sport!
As we watched it, I saw SO MANY dynamite coaching principles.  I started writing them down, and here they are!
Ignore the noise
Coach Norman Dale is introduced to the townsfolk for the first time.  It did NOT go well.  It was at the local barber shop.  One of the dad says "It looks like you need a little help, since I've been helping out, I'll keep doing that."  The new Head Coach doesn't like that.  They ask about man to man or zone defense, and try to tell him that zone defense is the only thing we've played in the past, and it's the only thing that will work "'round here."  They want to tell him their philosophy of how things should go.
He cuts them off.  "Gentlemen, it's been real nice talking to you."  Good night.
The first lesson to learn from Coach Dale: Ignore the noise!  Focus on YOUR philosophy and go!  
The very first practice that we see, he kicks a kid out of practice for talking out of turn, and asking when they start doing basketball.  They didn't understand his unorthodox purpose and plan to practice.  They aren't using a ball at all in fact.  But the coach knows what he needs to do, he has a plan to do it, and gets after it.  He isn't persuaded by the kids who want to change practice, and are whining.  He is determined to carry out his plan.
The second lesson to learn from Coach Dale: Set the tone early and often!  It's your program.  
Apologize For Nothing
The town literally gets together to vote on his job.  Do they keep Coach Dale, or get rid of him.  The season isn't going well according to the community, but it is going just as planned for Coach Dale!  He is carrying out his vision, and his plan.  So, he gets up and says "I was hired to teach the game of basketball, and I've done that to the best of my ability.  You might not be pleased with the results, but I am.  I'm very proud of these boys.  I apologize for nothing."
The third lesson to learn from Coach Dale: Stick to the plan, and apologize for nothing. You can't please everybody.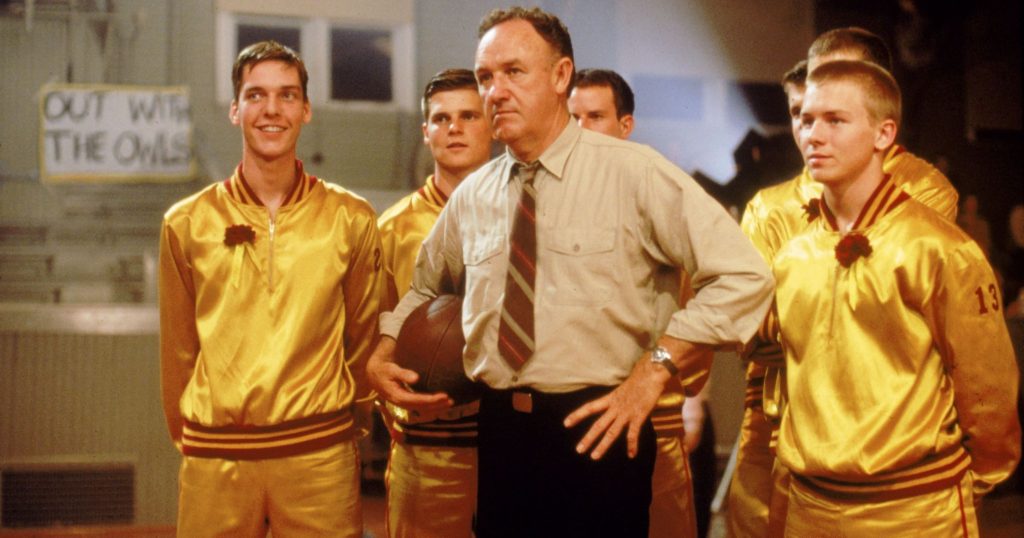 Fundamentals Led To Success
Coach Dale emphasized the fundamentals of the game right from the start!  Footwork, conditioning, rebounding.  He also emphasized team, team, team and more team.  It was ALL about the team for the Hoosiers, nothing else mattered!
Not even the best basketball player in the town got the new Coach off his game, his plan and his vision.  Jimmy didn't want to play.  Coach Dale wasn't going to go and beg him to play.  He didn't care.  In fact, he said "Basketball is your gift, not anybody else's.  I don't care if your own the team or not."  The townspeople did.  The coach didn't.  He wasn't about to lower his standards for the star player.  He was going to focus on the kids who were there, and the fundamentals of the game. period!
The fourth lesson to learn from Coach Dale: fundamentals and team first were the two foundations of his success!  Stick to these things.
Confidence In His Plan
He has faith in what he is doing.  He's a veteran.  This isn't his first rodeo, and he knows how to build a winner!  The principal questions him in the locker room at the very first halftime.  Coach Dale's response:  "I know what I'm doing!"
Coach sticks to his principles.  A kid fouled out right after he had benched another kid for a lack of effort.  He absolutely refuses to put that star athlete back in the game.  Why?  It's team first and putting that kid back in is not part of his plan and philosophy!  His principles are more important than that.
He tells the kids during a timeout in the Semi Final game "Don't get caught up in winning or losing, focus on the fundamentals we've been using all season."
The fifth lesson to learn from Coach Dale: have confidence in your plan and philosophy, and stick to that plan and philosophy no matter what the cost.  
Sticks Up For His Team
At the first pep rally of the year, the student body starts chanting for the star player:  JI-MMY!  JI-MMY!  JI-MMY!  He wasn't yet playing, and everyone knew that he was being missed from the team.  Everyone but the coach that is.  He gets on the microphone after putting the boys through a very tough workout in front of the pep rally, and says "That kind of effort demands your respect, THIS is your team."   He then walks away.  What do you think that did for those kids on the team?  They puffed out their chest a little.  The coach just validated them in front of the whole school!
The sixth lesson to learn from Coach Dale: don't just tell the team that it's "Team First."  Practice it in your words and deeds!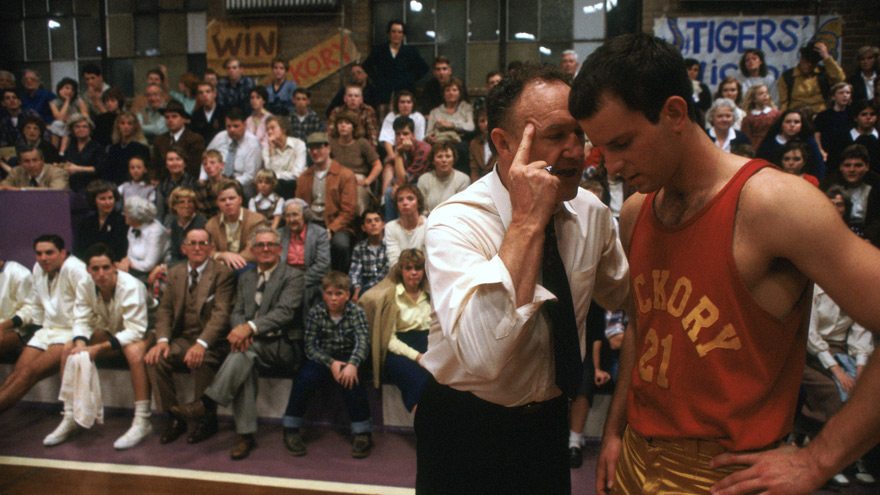 He Lived What He Preached
There is a scene where a kid's shoulder stitched came loose during the game.  At first, Coach Dale wanted him to stay in the game.  Then, he realized he was putting winning first.  He was about to sacrifice the health of a student-athlete for a win.  He caught himself in the heat of the moment, and decided against that.  He then called a timeout to sub the kid.
The seventh lesson to learn from Coach Dale: Winning isn't everything!
Believed In His Players
In the State Championship game, with just 18 seconds left, and the Hoosiers on the losing end, there was a timeout.  Coach Dale called a play.  The team didn't like it.  They felt more confidence in something else at that time.  Jimmy said "I'll make it."  So, the coach changed the play.  He believed in them enough to make it happen because his plan and philosophy from the start were all coming together.  He built a TEAM.  They were of one mind!
The eighth lesson to learn from Coach Dale: be humble enough to recognize when you've made a wrong call. 
Chris Fore has his Masters degree in Athletic Administration, is a Certified Athletic Administrator and serves as an Adjunct Professor in the M.S. Physical Education –  Sports Management program at Azusa Pacific University. He was recently appointed as the President of the California Coaches Association.  He runs Eight Laces Consulting where he specializes in helping coaches nationwide in their job search process.  Fore was named to the Hudl Top 100 in 2017, and the Top 5 Best High School Football Coaches to follow on Twitter by MaxPreps in 2016.  Follow him!