Fore's Complete Resume Building System Available Now On Demand
My resume business has been booming the last three years!  I started writing resumes for coaches in 2012.
For the last 8 years, I have written close to 1,000 resumes for coaches (90% of the business), teachers and administrators all over the Nation, (and even a few internationally)!
Not ONE coach has taken us up on the offer of a money back guarantee, ever!!  Now that is an amazing stat!
Fortunately for me, unfortunate for coaches who have not yet purchased a custom resume, I have landed a Principal job, and will be starting that on July 1, 2020!   I'm VERY excited about this great new opportunity!
However, something has to give . . . . .
I spend far too much time writing resumes between November and February specifically.  It is something I absolutely love doing, I love helping coaches land the job of their dreams.  However, I love my family more!  I get home from my day job, have a quick dinner with the family, and go to my home office to meet the needs of coaches.
The resume business is just getting too time consuming.  
So, supply and demand will raise my resume prices from $159 to $225 (minimum level) starting on July 1, 2020.  I really hate to set this new price, but I have to do what is best for my family.  (Even at $225, we are still below what many professional resume writers charge.)
But here is what I'm doing for coaches: I have created an on demand video course via CoachTube with close to 6 hours of instructions on how to write a coaching resume!  (If you think a business resume will get you a coaching job, you are wrong.)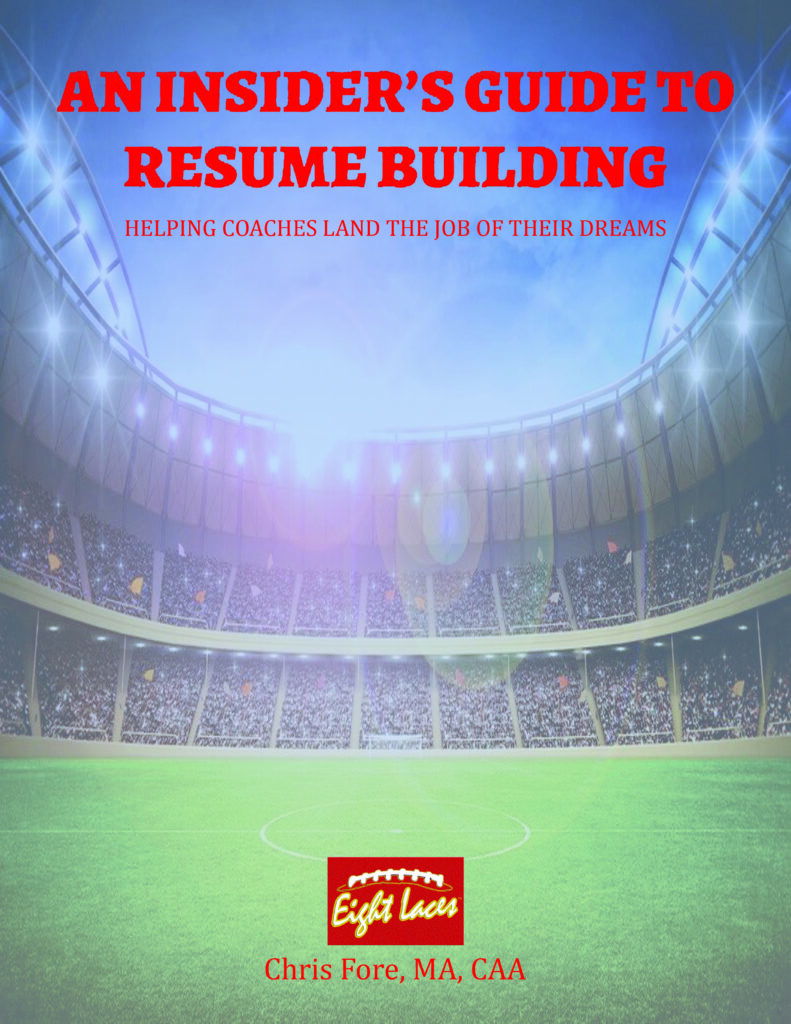 I'm taking the time tested philosophy and methods (of which nobody has used in writing coaching resumes until I did) that I've used to help 100s and 100s and 100s of coaches from all over the nation, and creating a video series!   But you're not just getting a video series.
Check out the YouTube video below to learn more about this course.
98% of coaches make the same TWO mistakes on their resume that are keeping them from moving to the top of the stack. 
Are you making these same mistakes on YOUR resume?
CLICK BELOW TO BUY THE VIDEO COURSE NOW
Your coaching resume can't look like your professional resume!  Most coaches don't understand this, and they don't understand why they aren't making it to the interview stage.
"COACH FORE, THANK YOU SO MUCH FOR HELPING ME WITH MY RESUME.  IT HAS TURNED MY PURSUIT OF MY FIRST HEAD FOOTBALL COACHING JOB INTO REALITY.  MY RESUME IN TERMS OF APPEAL AND EFFECTIVENESS IS SECOND TO NONE COMPARED TO MY RESUME PRIOR TO USING YOUR SERVICES.  I LIVE IN TEXAS AND AFTER 4 YEARS OF SEARCHING FOR MY FIRST HEAD FOOTBALL COACHING POSITION AND COMING CLOSE AFTER ONE YEAR OF USING YOUR RESUME SERVICE I HAVE LANDED MY FIRST HEAD COACHING JOB!  YOUR SERVICES ARE SO GOOD THAT MY WIFE WILL SOON BE REACHING OUT TO GET HELP.  SHE IS CURRENTLY A FIRST YEAR PRINCIPAL AND AIMING TO BE A SUPERINTENDENT AND WE BELIEVE THAT COACH FORE WILL GET HER THEIR WITH HIS PROGRAM.  I DON'T HAVE WORDS THAT CAN EXPLAIN HOW MUCH YOUR SERVICES HAVE CHANGED THE PLAYING FIELD."
– JASON BROCK, TEXAS, 2019



"Make sure everything on your resume is honest, accurate, complete and it stands out.  Spend a lot of time on that part of it.  The portfolios and everything else can come later." – Bill Bradshaw, Athletic Director (retired) at Temple University
"I highly recommend Coach Fore's resume service. I was a Head Varsity Coach at a 4A school in Arizona.  After using his service I received NINE interview requests for Head Coaching positions 3 of which were at the 5A level. I received 5 job offers to become a Head Varsity Coach! In addition I received 3 job offers from 3 colleges/universities.
Ultimately,  I decided to accept an offer to coach at Brevard College, a private division 2 school in North Carolina as Linebackers coach & Recruiting Coordinator. Coach Fore's resume builder service helped highlight my coaching accomplishments in an organized manner that is easy for administrators and decision makers to navigate." – James Fitzgerald, Arizona, Fall 2018 Client
"I got 4 interviews using the resume we put together using your system, including an interview to be a middle school Athletic Director and Head Football Coach. The method of developing resume's around accomplishments not just experience is an outstanding approach. Keep up the good work helping coaches get the opportunities they deserve." – Brad Cooley, Georgia, Spring 2019 Client
"I would wholeheartedly recommend Chris Fore's resume service! I was able to update my resume and it has helped me tremendously. Chris is committed to helping coaches and educators further their career. Chris, I'm in Texas, and it is an extremely competitive coaching market and I can say that without a doubt, your product is helpful!" – Houston Moos, Texas, Fall 2018 Client
"When I received my updated resume from Chris, I immediately started using it for my new job search. Almost at once I started seeing much more interest from potential schools. They liked the overall layout of my resume and said that it stood out so much that they had to give it a look.  I will continue to work with Coach Fore to update my resume and I highly recommend it to everyone." – Daniel Sousa, Mississippi, Fall 2018 Client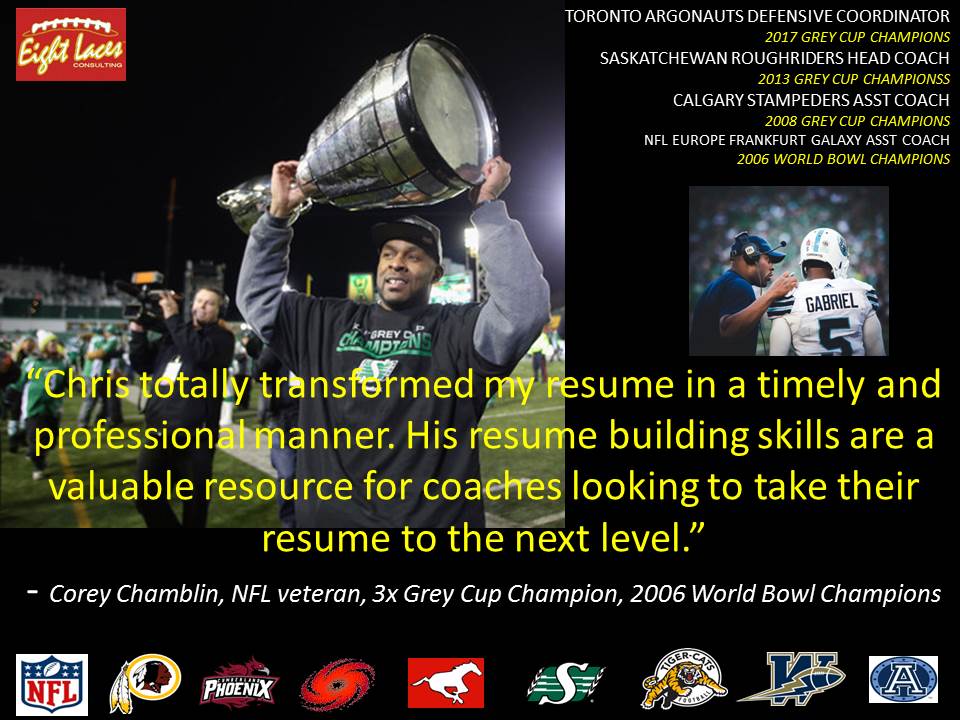 "When the right job opened up for me, I looked for the best support person I could find to make sure I would get an interview. Chris was able to help me organize my resume and supported me in producing an infographic that got my foot in the door. Thanks Chris!"  – Ian Shoemaker, former Head Coach, Central Washington University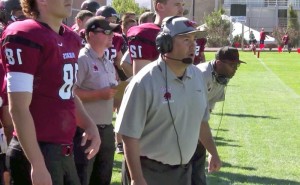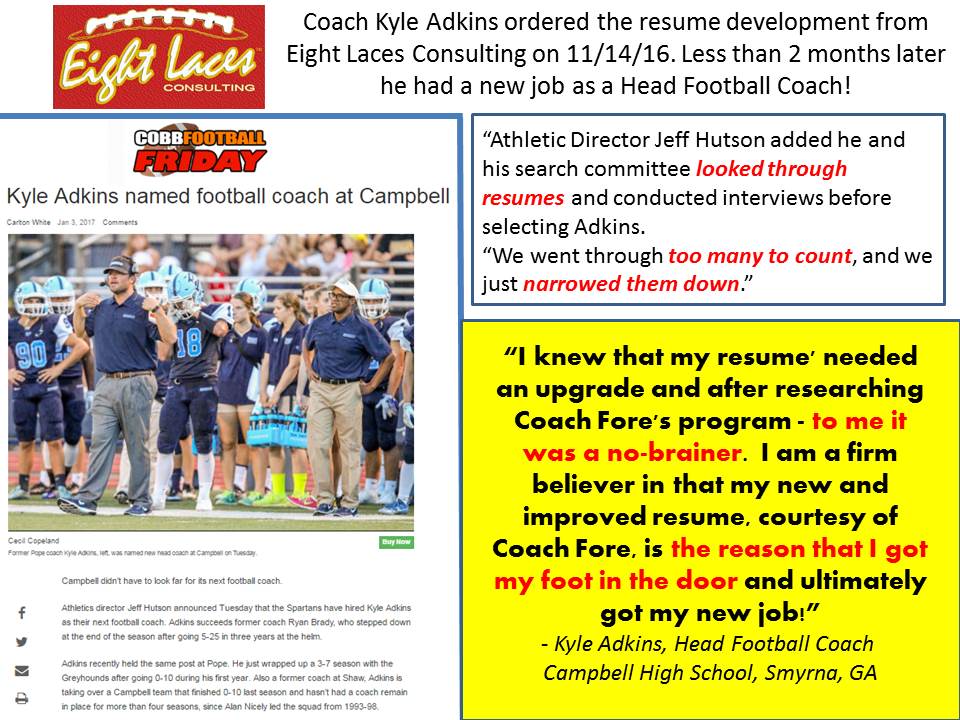 If the job you're wanting is doing a "paper hire" (one from paper, not word of mouth) then I can help you craft an eye catching resume that will get you from the hands of the Athletic Director or Hiring Committee in to the INTERVIEW pile instead of the NO pile.  How do I do this?  By creating a resume using a dynamic formula that 98% of coaches have never thought of!
CLICK BELOW TO BUY THE VIDEO COURSE NOW