5 Steps To Begin Blogging For Booster Clubs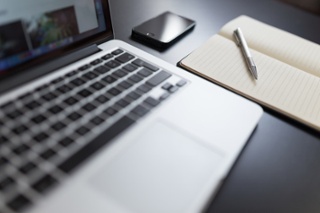 This is a great article by a guest contributor, Rusty Pixton.  He is a High School Football Coach and helps teams with their fundraising efforts at www.athleticfunder.com.
Blogs are pretty much everywhere these days covering every topic imaginable.  They provide a space for their creators to share thoughts and ideas that they are interested in.  Booster clubs are no different.  Blogs dedicated to a booster clubs mission can be an excellent medium to deliver news and information about the goings on with the teams they support.  They can act as a hub for booster club activities to inform, entertain, and recruit new members.  In this post we will go through some of the basics of what should go into your blog and how to get started off on the right foot.  It isn't that hard and in the long run a well maintained blog will pay dividends not only for your team but as a way to generate excitement around you athletic programs.
1. Secure a domain and install WordPress
This part may sound pretty intimidating if you are new to the world of the interwebs, but honestly it is very simple even for a beginner.  Start by visiting a site like www.godaddy.com orwww.bluehost.com and pick an easy to remember domain name of your choosing (www.fakehighschoolboosterclub.com).  I personally like Bluehost and host several on my sites there.  My favorite feature is the one step WordPress install, and  being able to do this takes alot of the technical mumbo jumbo out of getting your site live.
2. Outline what you hope to get out of your website and blog
This sounds simple enough, but it is a step that bloggers often forget to do or even skip over.  It is important to outline what you hope to acheieve with your blog.  Will you use it for game coverage, to let members know about upcoming events, or recruit incoming parents?  It is important to know who your audience is and how you hope to connect with them.
3. Create a simple design
Do not stress about design.  What we are going for here is just something simple that reflects your colors and logos potentially.  Don't worry about getting any fancy templates or anything like that just yet.  Those are only distractions for the time being and can be added with time.  More important than design is the next step.
4. Create some captivating content
This is the whole point right.  You as the booster club have a story to tell, now go out and tell it.  Do you plan on having a cheerleading tailgate fundraiser or possibly holding a golf tournament for your football team, this is the place to write about it?  WRITE ABOUT IT!  Did your team win the big homecoming game against their bitter rival in dramatic fashion?  WRITE ABOUT IT!  Are you holding a big membership drive for community members and incoming freshmen parents?  WRITE ABOUT IT!
You get the point.  A blog is only as good as the content held within it.  There are tons of things that can be written about and one person does not need to carry that burden all by themselves.  Delegate members to write a blog post on certain events they are heading up or even create a "content creation committee."  You will really start to see results if you try to blog at least once weekly.  This is considered best practice in the world of blogging and will keep visitors coming back often.
5. Promote, Promote, Promote
Blogs are great but they only work well if people are reading them.  Put up a sign at your teams games proudly displaying your shiny new blog.  Promote it on social media.  Everyone has Facebook, Twitter, Instagram, and Snapchate these days.  They are all fantastic way to promote your content and teams to the people who already want to read about them.  Remember you are doing them an invaluable service by writing about the things that they already want to know about.
BONUS
If you've got the blogging down and are creating some buzz with your amazing content, it may be time to start thinking about creating an email list.   An email tool provides an effective way to keep all of your members up to date on what's happening with your booster club.  Most booster clubs have email lists in one form or another but having a lead capture tool like SumoMe and tying it to an email tool like MailChimp can aid in having one place to email all members or segmented groups as you choose.
Have you ever thought "How do I recruit new members to my booster club?"  Recruiting new members is a breeze with an email collection tool.  You already have interested parties coming to your site.  Get them on board quicker by letting them know how they can help through emails.
So should my Booster Club have a blog?
The answer is yes.  Blogs can help booster clubs with organizational efforts, marketing thier events, and informing fans about the happenings surround thier teams.  The workload can be spread out between members and it can also serve as a recruiting tool to bring in new members and sponsorships. If you haven't already start your blogging for you booster club today!