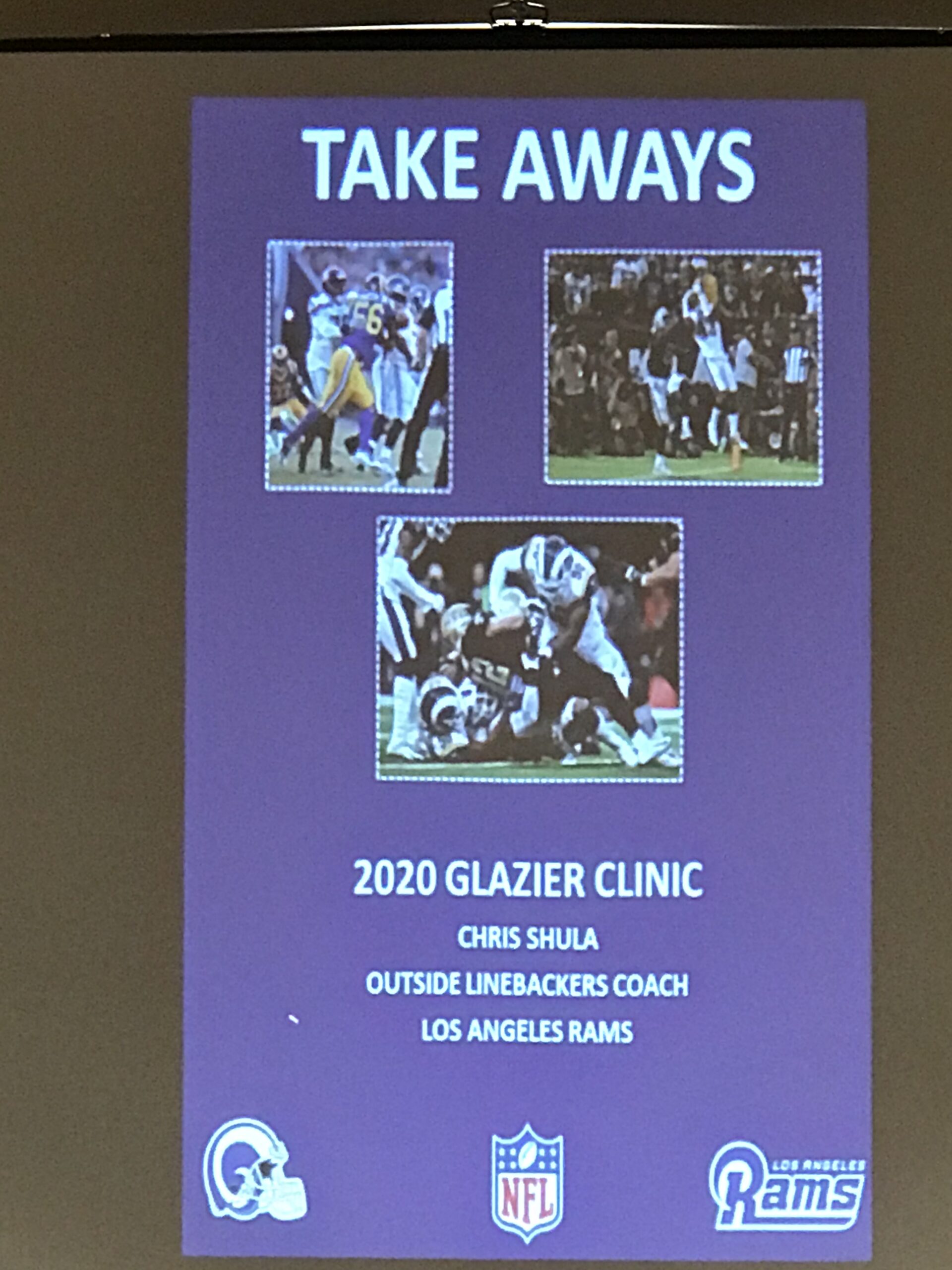 I've been attending football coaching clinics since 2001!  I love them!  Heck, I'm even attending them still, and I currently serve as an Assistant Principal!  But I love the game, and I love the coaching community.
I attended one of THE best clinic talks I've ever attended last night (Feb 21, 2020) at the Glazier Clinic here in Southern California.  The speaker/coach was the Outside Linebackers Coach for the Los Angeles Rams, Chris Shula.  (Yes, from THAT Shula family.  I grew up a die hard Dolphins' fan, so it was fun listening to Coach Shula talk!)
Thank you Coach Shula!  I reached out to him by email, and he quickly responded with his permission for me to share this research and these pictures with my audience here.  Thanks Coach, a real pro!
I was so, so impressed with the preparation that Coach Shula put in for this clinic.  Many times you get canned talks with no current data/research, etc.  I usually don't attend NFL coach talks to be honest with you.  Because so much of the time they just don't translate to high school ball.
This one was different!  If I were a Head Coach right now, I would definitely take the steps Coach Shula talked about in order to create a Turnover Mentality!  I like to think that we did a decent job of this when I was a HC for eight years, but this really inspired me, and made me look back saying "Coulda, shoulda, woulda."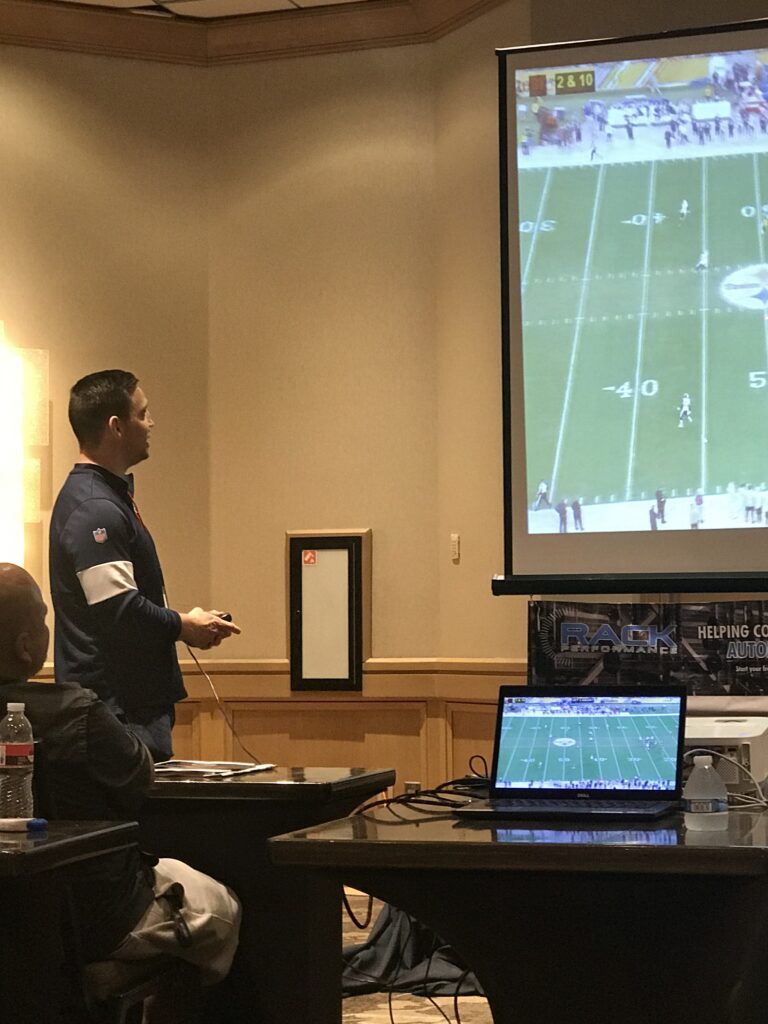 Coach Shula said "If a newspaper had information about a game, but didn't put the score in there, and you have to find one stat to see who won, find out who won the take away battle!  Most of the time you can tell who won the game!"  
He then went on to say that you get what you emphasize in the turnover battle.  If you don't teach it, if you don't focus on it during practice time, take aways aren't just going to happen!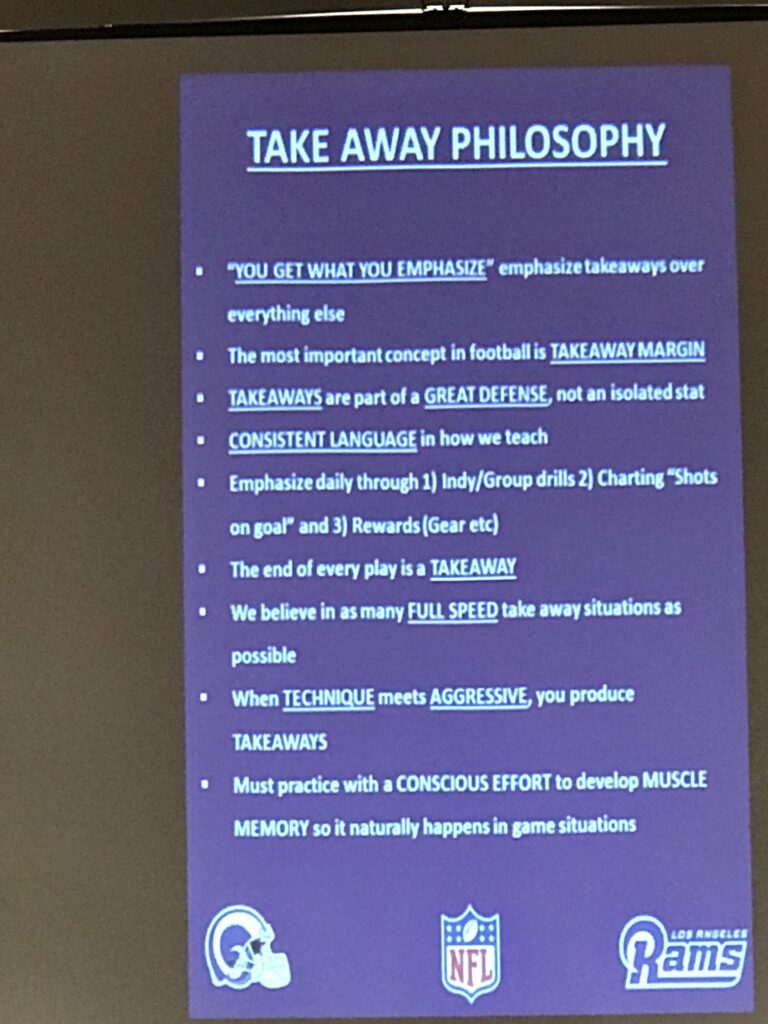 If you are not taking the ball away, you are not a great defense!  I loved this quote from Coach Shula!
The Rams recently hired a brand new Defensive Coordinator.  The defensive staff spent their whole first day talking about Defensive Philosophy, their second entire day talking about tackling, and the third day talking about take aways.
Look how amazing the Patriots have been since 2009!  It's just eye popping to see how many more take aways they have, and measuring that to their success and all of the Lombardis they have won.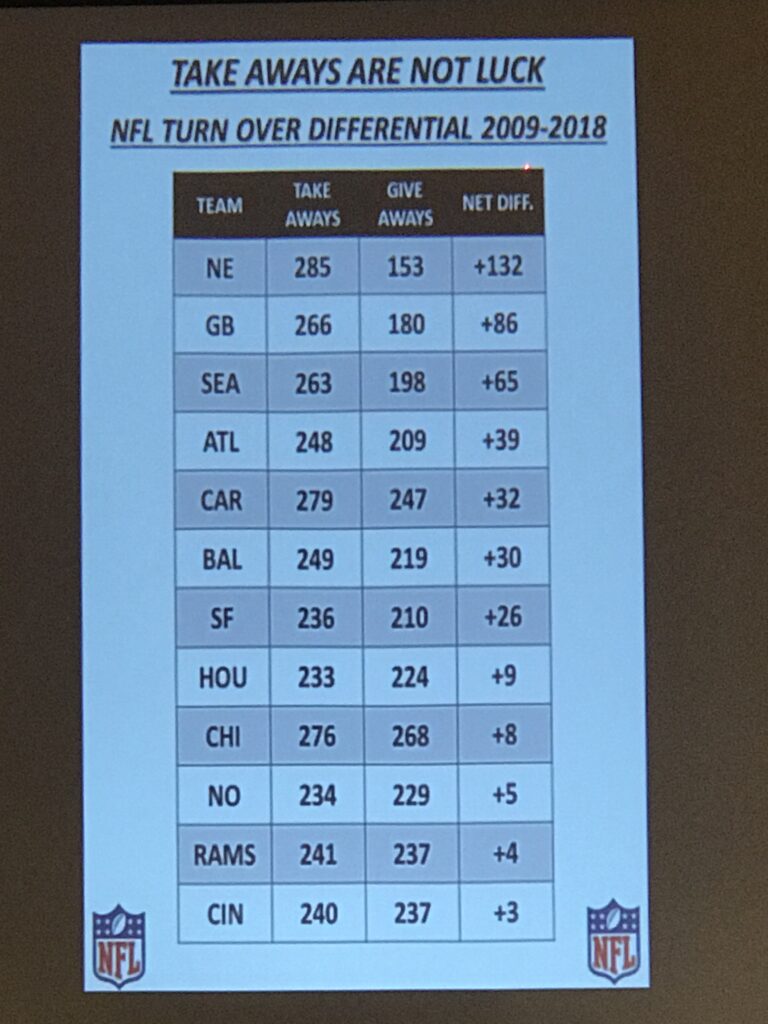 The win percentage rate increases with each and every take away you get!  That's kind of a no brainer, but have you practiced with this in mind?  I mean if you knew that ONE stat would increase your chances to win by such large percentages, wouldn't you practice that one thing a lot?  This might be the thing that stuck out to me the most.  Yes, I always used a "turnover circuit" during training camp, but we never worked on take aways every single day of the year.  Why not?  Your chances to win increase SO MUCH with each and every take away!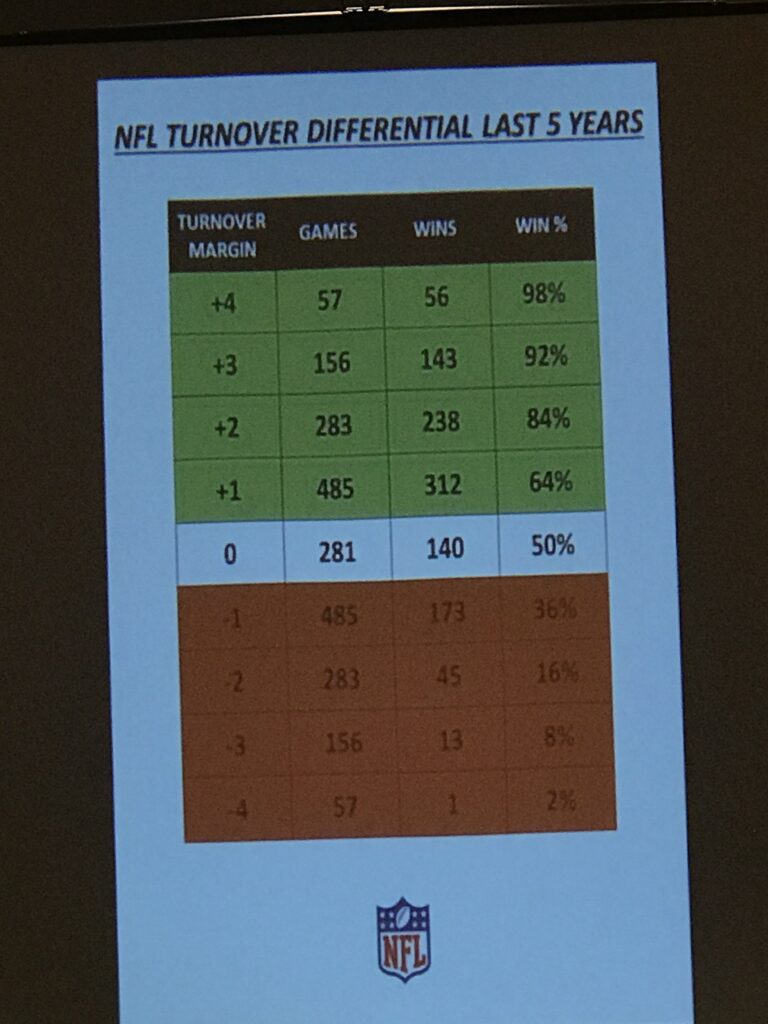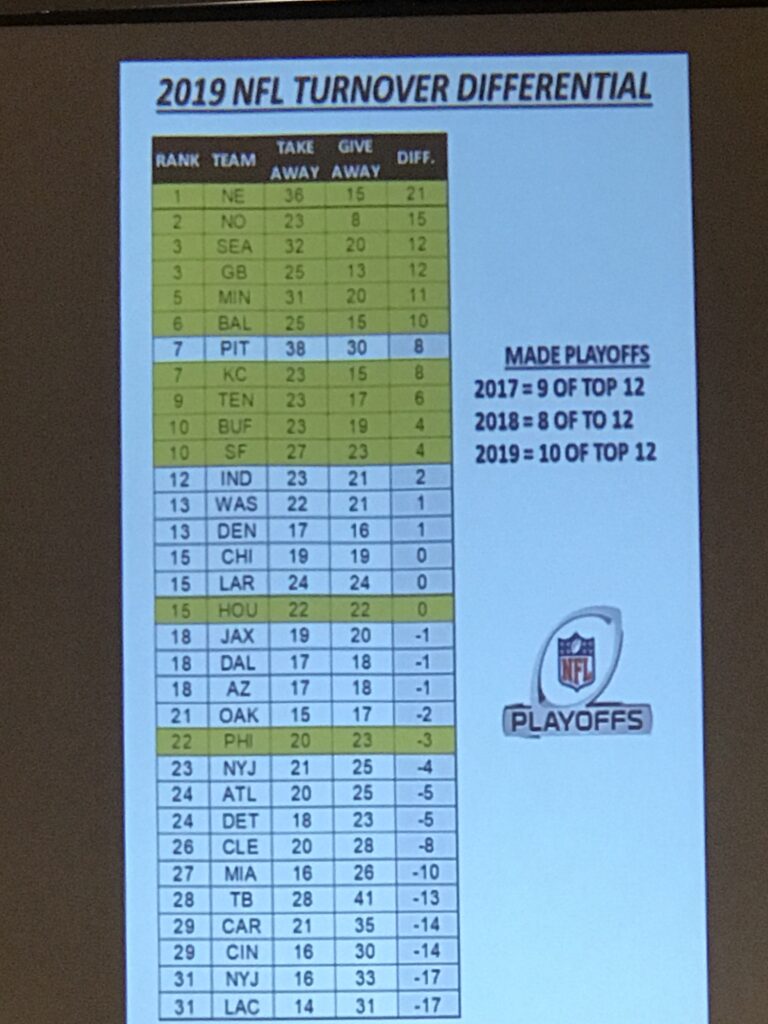 One of the things the Rams do is track their players efforts and results in the area of take aways. Now, they have the ability to do this every single practice because, well, $$$$$$$$$$$$$$$$$$$ and personnel.  We don't have the ability at the high school level usually.  BUT, it is something that you can chart during games.  You'll see below how they gave out points to their defensive players EVERY single practice!
One thing he said that really stood out: "These MULTI million dollar guys like to be singled out for doing good things!  They make millions a year, and fight over these points!"  So, if these guys fight over points, what do you think high school kids will do?  I've seen this first hand with my Special Teams Player of the Year program, where I do something similar: give kids points on every special teams play during games.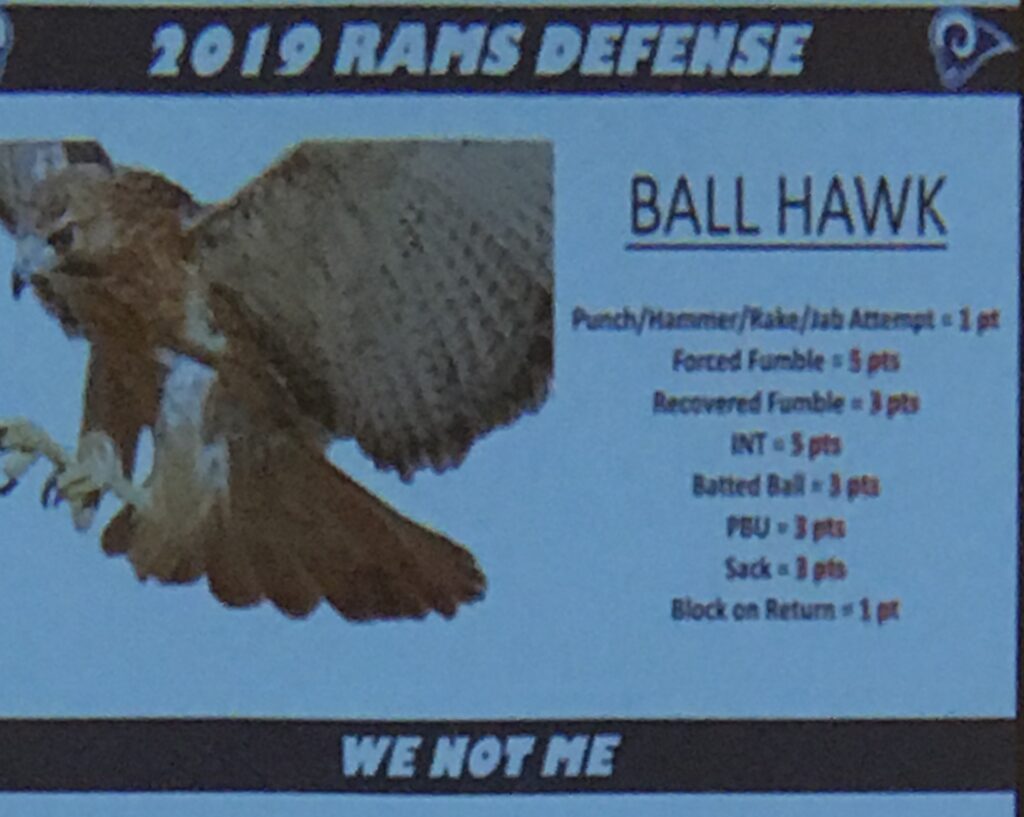 Take aways are NOT luck, they are a MENTALITY! – Coach Shula
Coach Shula recently watched EVERY SINGLE fumble from 2019, and created a spreadsheet to document and classify every single punt.  He said that a "conscious effort" fumble was when the defensive player used some type of technique to remove the football from the offensive player.  There was some type of effort, a conscious effort. You'll see below that this was 62% of all fumbles in 2019.
He then broke down how each of these fumbles was created, by labeling five different techniques.  (Each of these techniques are below.)
The "violence" stat means that a player was hit with so much "violence" or force and mass that the offensive player fumbled the ball. There wasn't necessarily any type of technique used with these fumbles.  It was just a big hit that caused the offensive player to lose possession.
So, violence and conscious effort accounted for a total of 81% of the fumbles! That's a ton!  And again, that's why I'm thinking that many coaches have GOT to emphasize take aways a lot more than they do, and they've got to spend more time practicing take aways.  It's so important to give players these tools and techniques so that they can create take aways!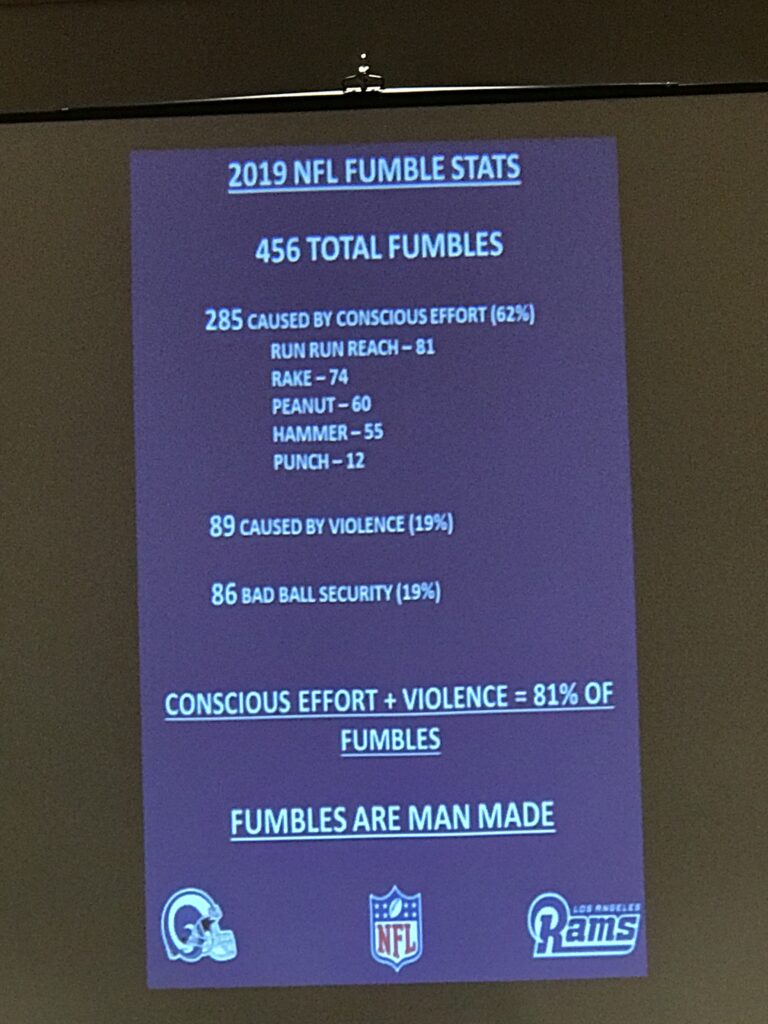 The first technique is called "Peanut" and it's named after Charles Tillman's "peanut punch."
Below are the 5 techniques that Coach Shula shared, which are the 5 that the Rams teach.  They are very self explanatory.  He showed video as well, but I don't have that for this post.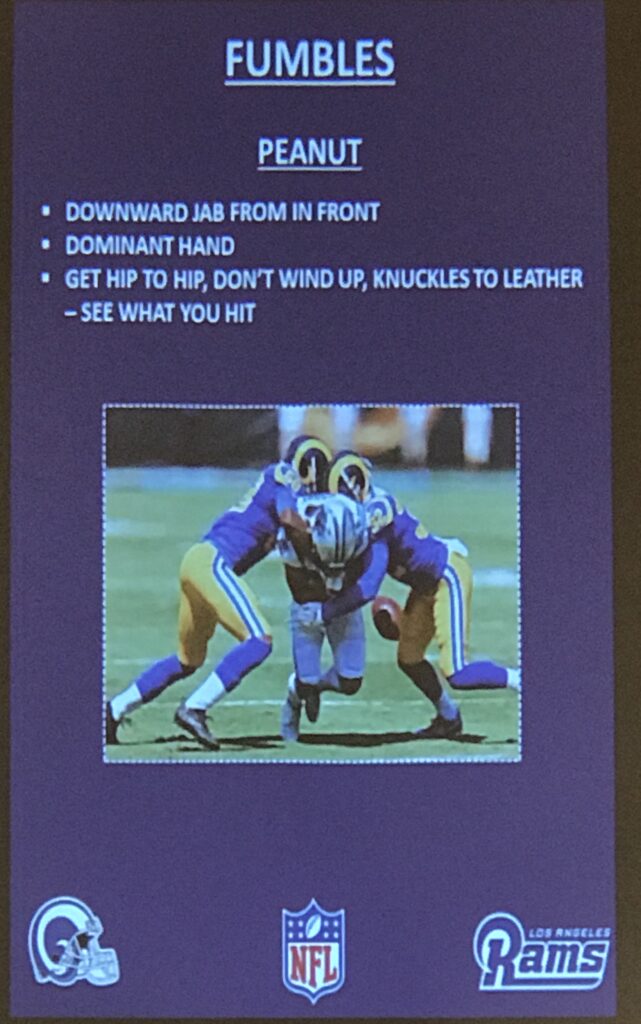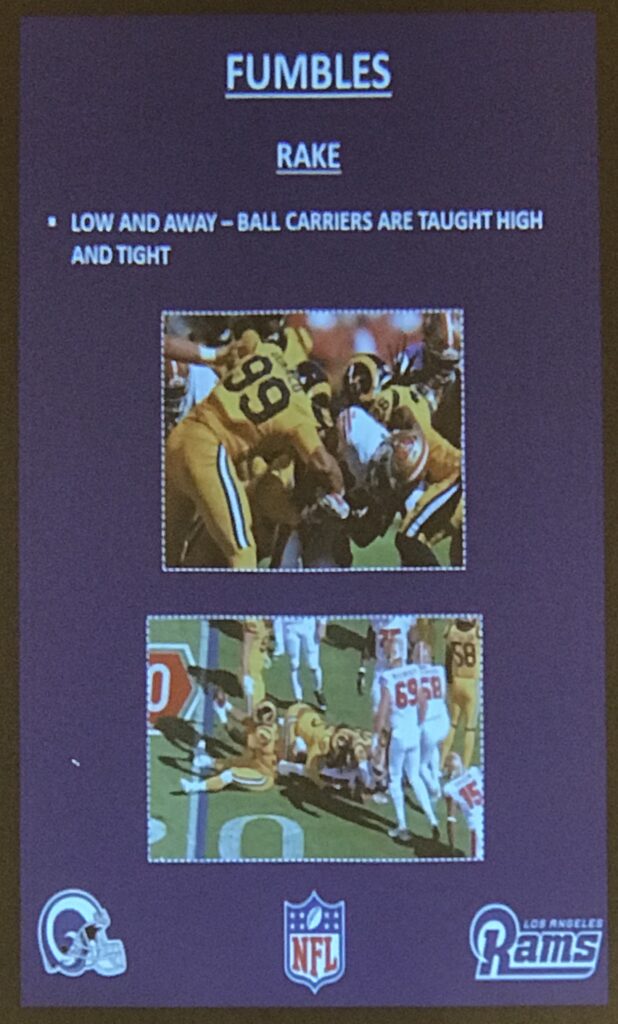 I hope that you learned something here!  It was a great clinic!  Thanks for reading!
Chris Fore has his Masters degree in Athletic Administration, is a Certified Athletic Administrator and serves as an Adjunct Professor in the M.S. Physical Education –  Sports Management program at Azusa Pacific University. He serves as the President of the California Coaches Association, and serves as an Expert Witness in athletically based court cases.  Fore also runs Eight Laces Consulting which specializes in helping coaches nationwide in their job search process.  Fore has been named to the Hudl Top 100 Coaches, and the Top 5 Best High School Football Coaches to follow on Twitter by MaxPreps.  Follow him!